Paraguay Energy Information
Population: 7.05 million
GDP growth rate: 0.0 %/year
Energy independence: 100%

Data of the last year available: 2019
Total consumption/GDP:* 103 (2005=100)
CO2 Emissions: 1.11 tCO2/capita
Rate of T&D power losses: 25.8%

* at purchasing power parity
View all news, archive your new and create your own daily newsletters only on your topics/countries of interest with Key Energy Intelligence
Paraguay Related Research
Total Energy Consumption
Total energy consumption stands at 1.0 toe/capita and 1 820 kWh/capita for electricity (2019).
Total energy consumption increased at a rapid pace between 2013 and 2017 (9%/year), and has slowed down since then (2%/year), reaching 7.3 Mtoe in 2019.
Graph: CONSUMPTION TRENDS BY ENERGY SOURCE (Mtoe)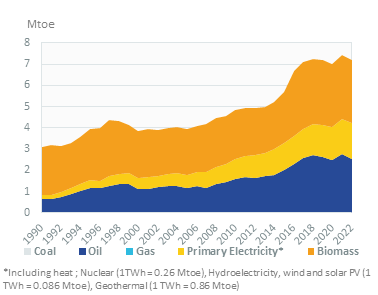 Graph: TOTAL CONSUMPTION MARKET SHARE BY ENERGY (2019, %)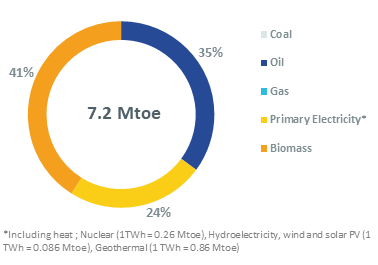 Interactive Chart Paraguay Total Energy Consumption
Crude Oil Production
The country's only refinery ceased operating in 2005. Since then, oil products consumption is entirely based on imports. In 2019, oil product imports rose to 2.6 Mt, nearly 80% more than in 2010.
Interactive Chart Paraguay Crude Oil Production
Renewable in % Electricity Production
The National Development Plan (2014-2030) sets a target of 60% of renewables in total energy consumption by 2030. In order to achieve this objective, the country authorizes private investment in renewable energy. IPPs are allowed to sell renewable electricity directly to companies or electricity distributors. ANDE will have to bid to buy this electricity.
Interactive Chart Paraguay Share of Renewables in Electricity Production (incl hydro)
CO2 Fuel Combustion/CO2 Emissions
In its first NDC, the country aims to reduce its GHG emissions by 20% in 2030 compared to a BAU projection (10% conditional target and 10% unconditional).
CO2-energy emissions grew very rapidly between 2014 and 2018 (by around 11%/year) due to surging oil product consumption, particularly in the transport sector. In 2019, these emissions declined by 3% and were around 4 times higher than in 1990. Paraguay has the lowest CO2 emissions per capita in South America, mainly thanks to the high share of hydropower and biomass in the energy mix.
Graph: CO2-ENERGY EMISSIONS (MtCO2)
Shopping cart
Your shopping cart is empty.
Secured payment by