India Key Figures
Population:

1407 million

GDP growth rate:

6.83 %/year

Energy independence:

65.0%
Data of the last year available: 2022
Total consumption/GDP:*

76.7 (2005=100)

CO2 Emissions:

1.76 tCO2/capita

Rate of T&D power losses:

17.9%
* at purchasing power parity
India Related Research
Total Energy Consumption
Total energy consumption per capita remains around 0.7 toe (2022), half the Asian average. Electricity consumption per capita reached 990 kWh in 2022, about a third of the Asian average.
Total energy consumption continued to grow very rapidly (7% in 2021 and 2022) and exceeded 1 Gtoe (+7.3%) in 2022 for the first time. It had increased rapidly over 2010-2019 (3.7%/year).
Coal is the country's top energy source with a share of 46% in 2022, followed by oil (24%) and biomass (20%). Natural gas covers 5% and primary electricity (hydro, nuclear, solar, and wind) 4%.
Interactive Chart India Total Energy Consumption
Crude Oil Production
Oil production has been declining since 2010, reaching 33 Mt in 2022 (-10% since 2019).
India is the world's third largest importer of crude oil, reaching its highest level in 2022 at 240 Mt (+9.6%). In 2021, crude oil imports represented 86% of the country's oil needs. The country is a net oil product exporter (21 Mt in 2022), although its exports have fallen by 33% since 2018.
Interactive Chart India Crude Oil Production
Oil Products Consumption
Oil product consumption fell and rebounded in 2021 after a sharp drop in 2020 (-13%) and reached its highest level in 2022 at 233 Mt (+11%). It had increased rapidly over 2010-2019 (4.4%/year).
Of the total consumption for 2022, 44% was used in transport, 29% in industry (including non-energy uses), and 20% in the residential, services, and agriculture sector. The remainder is consumed in power plants (1%) and in the hydrocarbon industry (6%).
Graph: OIL CONSUMPTION (Mt)
Interactive Chart India Refined Oil Products Production
Natural Gas Consumption
Gas consumption fell by 2.7% to 61 bcm in 2022, below 2017 levels. It increased by 2.8% in 2021. Between 2014 and 2019, gas consumption increased by 4.8%/year.
Industry is the main consumer of gas with 52% in 2022 (mainly fertiliser plants). It is followed by electricity production (21%) and, to a much lesser extent, transport (5%) and the residential and services sector (6%).
India aims to promote the use of CNG vehicles to reduce pollution in cities; 5 700 CNG stations had been deployed as of April 2023.
Graph: NATURAL GAS CONSUMPTION (bcm)
Interactive Chart India Natural Gas Domestic Consumption
Coal Consumption
Coal and lignite consumption reached 1.2 Gt (+8.3%), its highest level, in 2022. Between 2015 and 2018, its progression had been significant (around 5%/year). It decreased in 2019 and 2020 and rebounded in 2021.
In 2021, power generation and industry were the main consumers of coal and lignite, with 76% and 19%, respectively (3% only for households and services).
Graph: COAL CONSUMPTION (Mt)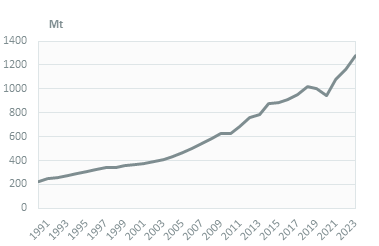 Graph: COAL CONSUMPTION BREAKDOWN BY SECTOR (2022, %)
Interactive Chart India Coal and Lignite Domestic Consumption
Power Consumption
Electricity consumption increased by 10% in 2022 to 1390 TWh, after a 7% progression in 2021. It grew rapidly over 2010-2019 (7%/year) and fell by 6.7% in 2020.
Graph: ELECTRICITY CONSUMPTION (TWh)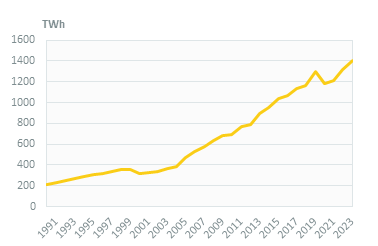 Renewable in % Electricity Production
IREDA, the Indian Renewable Energy Development Agency, finances the development of renewables.
SECI, Solar Energy Corporation of India, under MNRE, manages the implementation of the Jawaharlal Nehru National Solar Mission (JNNSM).
Interactive Chart India Share of Renewables in Electricity Production (incl hydro)
CO2 Fuel Combustion/CO2 Emissions
In its updated NDC (2022), the country reiterated a target to reduce its CO2 emission intensity of GDP by 45% in 2030, compared to 2005 levels. It also aims for 50% of the total electricity capacity to be based on non-fossil fuel sources in 2030 (the previous target was 40%) from 36% in 2022. It is also considering implementing a carbon market.
In 2019, the government announced a 100% railway electrification target in 2030 as part of its strategy to reduce its CO2 emissions.
In 2021, the country pledged to reach net-zero emissions in 2070.