Global Energy Statistical Yearbook
Enerdata releases the 2018 edition of its free online interactive application
The Global Energy Statistical Yearbook is Enerdata's free online application that provides global energy statistics, diffused on an interactive interface with maps and graphs.
Access to:
Statistics on production, consumption and trade of oil, gas, coal, power and renewables
By world region and country
Updated until 2017
CO2 emissions from fuel combustion
An intuitive and user-friendly online interface, which includes graphs and map
Free data export in *.xls files for advanced analysis
2017 Key Figures :  World Energy Consumption and  CO2  Emissions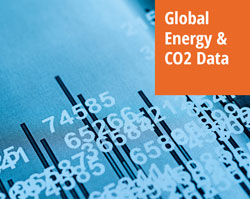 Access to Enerdata Global Energy Database, the most comprehensive (186 countries, up to 2 000 indicators by country) and up-to-date information source in its area.
This web-application is an introduction to Enerdata suite of online information services dedicated to the energy industry.
Interested in embedding a customised version of the Yearbook on your web site? Click here