Hourly power market data, captured prices and market value
Delivery

Between 3 and 7 working days
Buy Electricity Prices Monitor
Price without VAT. Depending on your statute and location, VAT might be applicable. Get in touch with us for more information.
Overview
Enerdata's Electricity Prices Monitor provides hourly power market data aggregated at yearly level elevated with key technology specific indicators: the Captured Price and the Market Value.
It also provides custom visualizations with hourly to yearly data depending on your needs.
Electricity Prices Monitor is a centralized platform of power market data for 35 countries and 43 trading zones.
If you have special needs, we can provide you this platform data by hourly prices instead aggregated / hourly rate. You can send us your specific request.
Key Features
Beyond simple reporting, our experts have audited the data and have incorporated key technology specific market indicators to market data:
Captured price: it is a calculated price that will seek to estimate the technology specific price capture in a certain period based on the amount of power sold at the same period.
Market Value: also called "realised price" is a metric expressed in % that takes the the average sales prices of a specific technology (wind onshore, wind offshore or solar PV), aka "captured price" divided by the average wholesale price. This metric is also called the "captured price" or the "value factor" measures how significant the price erosion for the technology is (if any). If market value is above =>100% the technology is rather present (sold) in moments when the overall price is higher than the average. On the other hand when the value is < 100% trading for this technology occurs rather when prices are below average.
Revenue: is the revenues generated by the sales of power within the wholesale market. This revenue is before the occurrence of subsidies and premiums.
Zone: also called "trading zone", it refers to a trading market not necessarily covering all power traded in a specific country. For countries with a "nationwide" market we use the country's ISO code as the zone name.
Screenshots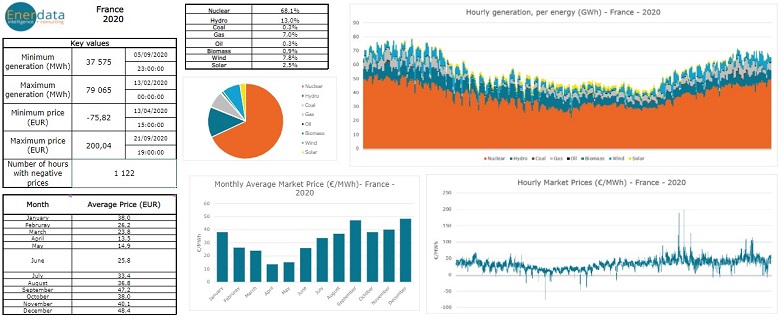 Australia
Austria
Belgium
Brazil
Bulgaria
Canada
Croatia
Czechia
Denmark
Estonia
Finland
France
Germany
Greece
Hungary
Ireland
Italy
Latvia
Lithuania
Mexico
Netherlands
Norway
Poland
Portugal
Romania
Russia
Serbia
Slovakia
Slovenia
Spain
Sweden
Switzerland
Turkey
United Kingdom of Great Britain and Northern Ireland
United States of America