Statistics
Annual stats from 1990 to 2022
Why bother struggling with multiple data sources? Global Energy & CO2 Data brings you the most comprehensive and up-to-date energy database, providing data and trends for all energies by sector as well as emissions for 186 countries. This database leverages the most reputable national and international information sources.
Through an exclusive update process and recognised expertise, Enerdata provides a comprehensive set of statistics and indicators on decarbonisation, electrification, global supply, demand and prices for all energies as well as GHG emissions by sector.
World decarbonisation indices in 2021
Discover a selection of countries which present the highest decarbonisation indicator in 2021
(intensity are given at purchasing power parities)
CO2 indicators
CO2 emissions per capita
32 tCO2/cap
Energy efficiency
Energy intensity of industry
0.43 koe/$15p
Renewable energies
Share of biofuels in road transport
23.4%
On CO2 emissions:
CO2 intensity to GDP
CO2 intensity of industry to value added
CO2 intensity of transport to GDP
CO2 intensity of households to private consumption
CO2 intensity of services to value added
CO2 intensity of agriculture to value added
CO2 emissions factor of the electricity production
CO2 emissions from refineries
On renewable energies:
Share of renewables in electricity production (incl. hydro)
Share of renewables in electricity production (excl. hydro)
Share of renewables in gross electricity consumption
Share of renewables in primary consumption
Share of biomass in industry consumption
Share of biofuels in road transport
On energy efficiency:
Final energy intensity of GDP
Electricity intensity of GDP
Energy intensity at constant GDP structure
Energy intensity of industry
Energy intensity of households
Energy intensity of services
Energy intensity of transport
Energy intensity of agriculture
Electricity intensity of industry
Electricity intensity of households
Electricity intensity of services
Electricity intensity of agriculture
Why Subscribe?
Comprehensive

Annual energy and GHG data from 1990 onwards
Up to 2000+ data series and indicators by country
Coverage of all energies in 186 countries
Reliable

30-year experience in energy balances and statistics
Data and indicators compliant with best international norms (International Recommendations for Energy Statistics - IRES)
400+ global premium sources
Proven data compilation and expertise process by experienced data specialists
Continuously updated: 2023 data estimates available as early as March 2024!
Easy to use: intuitive interface, multiple data export formats and query saving
Compatible with your work environment
All data are available in raw format and downloadable in Excel and csv format*
Both Excel and database formats (row-oriented or column-oriented) available
No ruptures in time series means easier modelling work
Query saving to regularly fuel your model or analysis
*Limited to 125 000 values
Key Features
Global supply, demand, prices, indicators and emissions
Multi-energy approach: crude oil, oil products, gas, LNG, coal, power, renewables, heat, biomass
Production, imports/exports, demand by sector, prices and taxes
Energy balances: across country comparable simplified and detailed energy balances compliant with IRES.
Advanced data: economic and activity data, indicators
CO2 emissions by fuel, activity and industry process
CO2 information with indicators and balances by country
CH4, N2O, PFC, SF6 emissions data included
Data export in .csv format to integrate with your own databases and models
All data is compiled according to a tested process, enhanced over the years to provide the most up-to-date information.
Primary past energy data mostly comes from the International Energy Agency (IEA).
Data is completed with statistics from regional organisations (Eurostat, Olade, ADB, OPEC, AUPTDE, etc) or specialised institutions (CEDIGAZ, EurObserv'ER, etc.), as well as from data from national sources (national statistics or data specially prepared by local correspondents from more than 100 partners in over 60 countries). Our international network of partners and independent research allows our analysts and data specialists to update and refine data in a timely manner.
The methodology and definitions used by Enerdata are the same as those used by the IEA and Eurostat.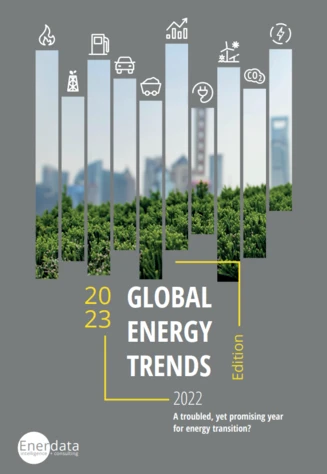 Related Information
An In-depth analysis of consolidated 2022 energy and climate statistics, of the Global Stocktake and of the natural gas crisis.
Related Products & Solutions