EnerFuture provides energy projections to 2050. Our service offers clear insight into the future of energy demand, electricity generation, prices and GHG emissions by energy source and sector at both country and regional levels. The service provides a consistent set of data based on an exclusive and well proven modelling methodology.
A useful tool to assess the evolution and drivers of energy markets worldwide, EnerFuture will help you define your business' strategic decisions.
New
2023 Updates:
All scenarios consider the impacts of two game-changing crises: COVID-19 and the war in Ukraine.
The EnerBlue scenario has evolved based upon the latest NDCs (Nationally Determined Contributions)
Scenarios now better account for the role of heat pumps in the decarbonisation of low temperature processes in industry
Improved coverage of the district heat supply
Refined techno-economic approach of the different energy uses in the buildings sector
A new "Wedges" module was added to show a breakdown of the levers enabling to reduce emissions between two scenarios
EnerFuture Scenarios
EnerBase
EnerBase describes a world in which existing policies and historical trends are continued without any further climate ambition. The lack of support for GHG emission mitigation affects entire energy systems over a long period, with increasing energy demand and limited fuel diversification. This scenario leads to a temperature rise above 3°C.
EnerBlue
EnerBlue is based on the successful achievement of NDCs (Nationally Determined Contributions) and other national pledges for 2030, as well as a continuation of consistent efforts post 2030. Sustained growth in emerging countries is a powerful driver of global energy demand, but policies play a key role in controlling the pace of growth. This scenario leads to a global temperature rise of around 2.5°C.
EnerGreen
EnerGreen explores the implications of more stringent climate policies, with countries fulfilling or overachieving their NDC commitments and then regularly revising their emissions goals. These changes lead to significant improvements in energy efficiency and a strong deployment of renewables. In this cleaner trajectory, global temperature increase is limited to well below 2 °C.
All scenarios consider the impacts of two game-changing crises: COVID-19 and the war in Ukraine.
Related Products & Solutions
Related Information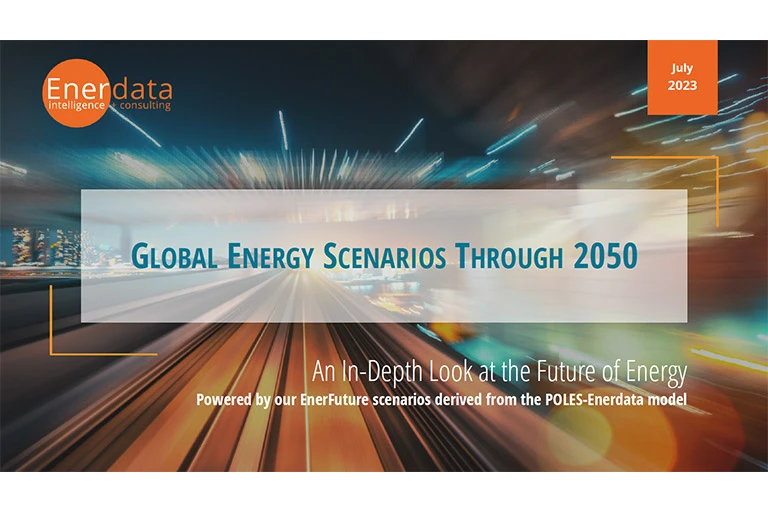 Our forecasting experts just released the 2023 edition of our in-depth look at the future of energy. This analysis leverages the last update...
More