Our forecasting experts just released the 2022 edition of our 2050 Global Energy & Climate scenarios.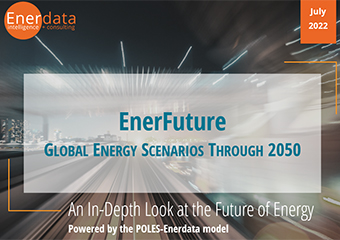 The analysis has been realised with :
New  projections to 2050 covering all EnerFuture data series: energy demand and supply, and emissions, leveraging the most recent updates of our energy scenarios:

The Ukrainian crisis and its impacts on fossil fuel supply and prices
Energy and climate policy developments, including up-to-date NDCs
Electrification trends
Penetration of renewable energies

Integration of historical statistics up to 2020
In addition, new developments on the POLES-Enerdata model have been made, including:
A refined techno-economic approach of the different energy uses in the buildings sector
The enhancement of the coverage of the iron and steel sector
A detailed integrated assessment of natural gas decarbonisation potential from biogas and hydrogen
New approach to scenario construction: incorporation of further demand-side decarbonisation drivers
Besides the introduction and key take-aways, the Global Energy Scenarios publication details the three Enerdata scenarios including: Enerbase (B.A.U.), EnerBlue (NDCs) and EnerGreen (2°C), with a specific conclusion for each one.