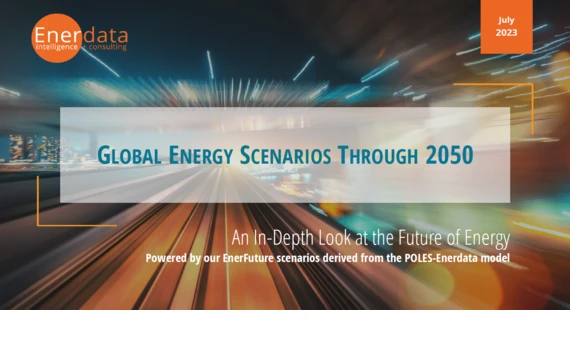 The analysis has been realised with:
New projections (for all EnerFuture data) including the latest developments:

The Ukrainian crisis and its impacts on fossil fuel supply and pricing.
Advanced in energy and climate policy, encompassing the most recent NDCs.
Trends in electrification.

Integration of the latest historical data up to 2021
Fully upgraded web interface, offering an easier data access and more user-friendly experience than ever before.
A new "Wedges" module to facilitate scenario comparisons, providing insights into the emission reduction strategies applied and the levers used.
Moreover, new developments have been implemented in the POLES-Enerdata model, including:
Enhanced representation of the potential of heat pumps in the industrial sector.
Expanded coverage of the district heat supply
Reminder: in 2022, POLES model underwent a refined techno-economic approach to various energy uses in the buildings sector.
Besides the introduction and key takeaways, the Global Energy Scenarios publication details the three Enerdata scenarios including: Enerbase (+3°C), EnerBlue (+2.5°C) and EnerGreen (<+2°C), with a specific conclusion for each one.