Our free web-application that's based on our professional, 2040 energy forecasting is now available in Korean and Japanese. You can now use EnerOutlook to look up useful energy statistics and browse interactive maps and graphs in three languages.
Click here to peruse EnerOutlook in Korean, in Japanese or in English.
Daily Energy News
The Chinese National Energy Administration (NEA) has outlined plans to restrict new coal-fired power projects in eight regions across the country taking effect immediately until 2022 in order to further cut air pollution and ease oversupply.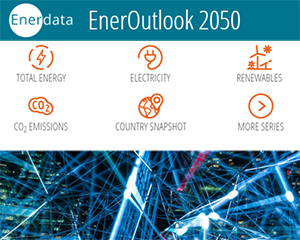 EnerOutlook is a free interactive online application, displaying long-term energy trends at world region level through maps and graphs. Intuitively browse and visualize annual projections on primary and final energy consumption and prices, CO2 emissions, electricity and natural gas. Access long-term trends from the globally recognized POLES model, covering both fossil fuels and renewable energy.
Energy Research & Data Services
Access Our Services
Request a free trial of our services