Southeast Asia has made important advances in access to electricity and economic development, but struggles to reduce its carbon intensity in balance with these development demands.
Even more concerning, current NDCs are not strong enough to address the decarbonisation needed in a global two-degree scenario.
Daily Energy News
The New York State Energy Research and Development Authority (NYSERDA) has launched an 800 MW offshore wind solicitation. The notice of intent to propose has to be sent before the end of December 2018 and bids are due in February 2019.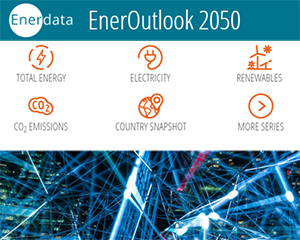 EnerOutlook is a free interactive online application, displaying long-term energy trends at world region level through maps and graphs. Intuitively browse and visualize annual projections on primary and final energy consumption and prices, CO2 emissions, electricity and natural gas. Access long-term trends from the globally recognized POLES model, covering both fossil fuels and renewable energy.
Energy Research & Data Services
Access to our services
Request a free trial to our services