Here at Enerdata, we've been busy updating and redesigning some of our main services this spring. The latest overhaul is that of Key Energy News, which is now called Key Energy Intelligence.
Key Energy Intelligence is an analyst-curated daily email brief that provides global energy news selected by energy experts, plus independent analyses and a historical energy news archive.
Daily Energy News
The four German power transmission system operators (TSOs), namely Amprion, TenneT, 50Hertz and TransnetBW, have submitted the second version of the future domestic power grid development strategy (Netzentwicklungsplan or NEP 2030) to the energy regulator Federal Network Agency (BNetzA)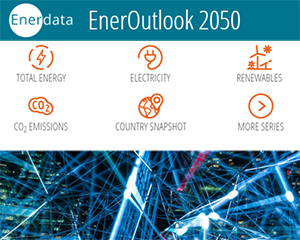 EnerOutlook is a free interactive online application, displaying long-term energy trends at world region level through maps and graphs. Intuitively browse and visualize annual projections on primary and final energy consumption and prices, CO2 emissions, electricity and natural gas. Access long-term trends from the globally recognized POLES model, covering both fossil fuels and renewable energy.
Energy Research & Data Services
Access Our Services
Request a free trial of our services