Many developed countries are now moving away from coal – the most carbon-intensive way to produce electricity – in their domestic power-mixes. But some emerging nations are just now starting to build coal-fired power plants. Find out why, and what this could mean for the transition to low-carbon global electricity, from our latest executive brief.
Daily Energy News
The Mexican government has updated its plan to save the ailing state-held oil and gas company Pemex, in an attempt to improve its balance sheet and prevent a further downgrade of its credit rating.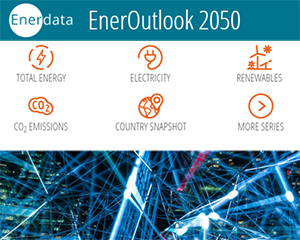 EnerOutlook is a free interactive online application, displaying long-term energy trends at world region level through maps and graphs. Intuitively browse and visualize annual projections on primary and final energy consumption and prices, CO2 emissions, electricity and natural gas. Access long-term trends from the globally recognized POLES model, covering both fossil fuels and renewable energy.
Energy Research & Data Services
Access Our Services
Request a free trial of our services