We are happy to announce the release of the 2019 edition of Global Energy Trends , one of our most anticipated annual publications. Each year, our analysts produce this comprehensive, independent study of the past year's energy market trends and resulting emissions in the G20.
You can request the full publication in PDF here, the official Press Release, and the recorded webinar
Daily Energy News
The European Commission has approved a €5.4bn support scheme for renewable power generation in Italy, considering that the measure was in line with EU State aid rules and did not unduly distort competition.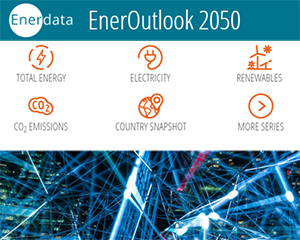 EnerOutlook is a free interactive online application, displaying long-term energy trends at world region level through maps and graphs. Intuitively browse and visualize annual projections on primary and final energy consumption and prices, CO2 emissions, electricity and natural gas. Access long-term trends from the globally recognized POLES model, covering both fossil fuels and renewable energy.
Energy Research & Data Services
Access Our Services
Request a free trial of our services