The development of information and communication technologies (ICTs) entails a deep transformation of energy systems, as digitization drives several types of "disruptive" changes within the energy sector.
What impact, positive and/or negative, will such changes have on the global energy industry? Read our latest executive brief to find out.
Daily Energy News
The German Federal Network Agency (Bundesnetzagentur or BNetzA) has published the results of the third 2018 tender for onshore wind power projects.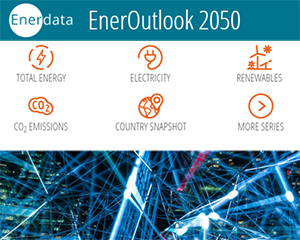 EnerOutlook is a free interactive online application, displaying long-term energy trends at world region level through maps and graphs. Intuitively browse and visualize annual projections on primary and final energy consumption and prices, CO2 emissions, electricity and natural gas. Access long-term trends from the globally recognized POLES model, covering both fossil fuels and renewable energy.
Energy Research & Data Services
Access to our services
Request a free trial to our services