This brief is an update on our April and May analyses on the energy impacts of the current covid-19 pandemic around the world, leveraging latest macro-economic assumptions and Enerdata energy statistics.
We show that variations in the final energy consumption of countries are strongly linked to GDP trends, with China the only country we expect to show a (small) growth. CO2 emissions should also drop, while power generation from renewables will significantly increase.
Daily Energy News
The newly-created Chinese oil and gas pipeline company PipeChina has signed an agreement with the Southern Guangdong province (China) to take over its gas pipeline network. PipeChina plans to build six trunk gas pipelines in Guangdong in 2020, with a total length of 751 km.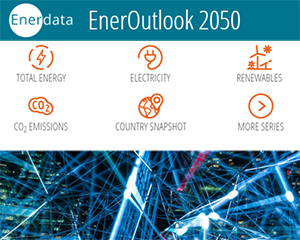 EnerOutlook is a free interactive online application, displaying long-term energy trends at world region level through maps and graphs. Intuitively browse and visualize annual projections on primary and final energy consumption, CO2 emissions, electricity and natural gas. Access forecasts long-term trends from the globally recognized POLES model, covering both fossil fuels and renewable energy, with regional and country snapshots.
Energy Research & Data Services
Access Our Services
Request a free trial of our services