A first analysis of our preliminary global CO2 estimates for 2019 based on monthly data, derived from energy-related CO2 emissions from Global Energy and CO2 data and energy-consumption data from EnerMonthly.
Our findings: the global CO2 emissions from energy combustion should grow by +1-1.5% in 2019, driven by an increase in energy consumption. Fossil fuels consumption is growing by +1.5-1.9%, the repartition however is changing, with a significant increase in gas, a slight decrease in coal, and a steady increase in oil.
Daily Energy News
The European Commission has presented The European Green Deal, its policy roadmap aimed at making the climate policy the new growth strategy for the European Union and at making the continent climate neutral by 2050.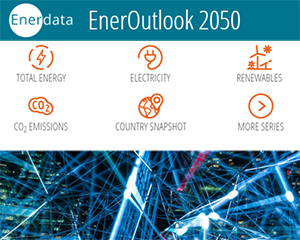 EnerOutlook is a free interactive online application, displaying long-term energy trends at world region level through maps and graphs. Intuitively browse and visualize annual projections on primary and final energy consumption and prices, CO2 emissions, electricity and natural gas. Access long-term trends from the globally recognized POLES model, covering both fossil fuels and renewable energy.
Energy Research & Data Services
Access Our Services
Request a free trial of our services