Our latest analyst brief takes an in-depth look at foreign investments in the European electricity sector. It presents the strategies of the biggest players (China, Russia and the United States): where they have invested, in which kind of assets and technologies… This article offers an overview and details the latest moves of key companies.
Daily Energy News
China should increase its nuclear capacity by more than 40% between 2020 and 2025,with six to eight nuclear reactors commissioned per year. The country should raise total nuclear power capacity from the current 48.7 GW (at the end of 2019) to 70 GW in 2025.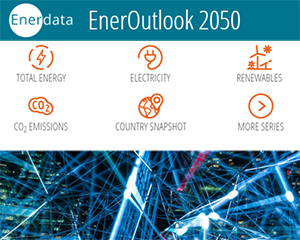 EnerOutlook is a free interactive online application, displaying long-term energy trends at world region level through maps and graphs. Intuitively browse and visualize annual projections on primary and final energy consumption, CO2 emissions, electricity and natural gas. Access forecasts long-term trends from the globally recognized POLES model, covering both fossil fuels and renewable energy, with regional and country snapshots.
Energy Research & Data Services
Access Our Services
Request a free trial of our services