One effect of a successful energy transition will be a lessening of economic and geostrategic dependence on fossil fuels. But dependence will increase on certain critical materials, including lithium, cobalt and others.
With this in mind, how can advanced economies avoid becoming critically dependent on these materials?
Daily Energy News
In light of recent market conditions, the United Kingdom Crown Estate has proposed to raise the offshore wind capacity offered under the framework of the upcoming Round 4 offshore wind leasing from 6 GW to 7 GW.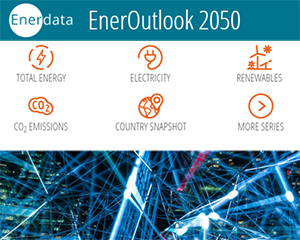 EnerOutlook is a free interactive online application, displaying long-term energy trends at world region level through maps and graphs. Intuitively browse and visualize annual projections on primary and final energy consumption and prices, CO2 emissions, electricity and natural gas. Access long-term trends from the globally recognized POLES model, covering both fossil fuels and renewable energy.
Energy Research & Data Services
Access to our services
Request a free trial to our services