The French government recently updated its assessment of the value of not emitting GHGs – significantly increasing the figure from when it was first published a decade ago.
Enerdata contributed to the modelling upon which the report is based, using our POLES model to elaborate several carbon-neutrality scenarios.
Daily Energy News
The Swiss Parliament has approved a November 2017 agreement for linking the Swiss and EU emissions trading schemes (ETS). The EU and Swiss ETS both cover the 2013-2020 period (with negotiations under way to extend beyond 2021) and have similar structures.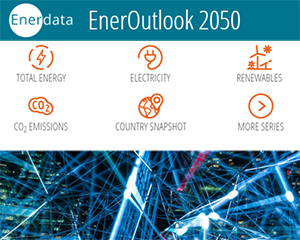 EnerOutlook is a free interactive online application, displaying long-term energy trends at world region level through maps and graphs. Intuitively browse and visualize annual projections on primary and final energy consumption and prices, CO2 emissions, electricity and natural gas. Access long-term trends from the globally recognized POLES model, covering both fossil fuels and renewable energy.
Energy Research & Data Services
Access Our Services
Request a free trial of our services