Happy New Year!
01 Jan
Dear partners, clients, friends and followers,
As we transition into the new year, we'd like to say thank you for being part of a busy and exciting 2018 here at Enerdata.
We look forward to again bringing you the best possible service and insight throughout the new year.
Here's wishing you joy and energy for 2019!
Daily Energy News
The French and Spanish energy regulators, respectively CRE (Commission de régulation de l'énergie) and CNMC (Comisión Nacional de los Mercados y la Competencia), have dismissed the STEP (South Transit East Pyrenees) gas interconnection project submitted by the gas transmission netwo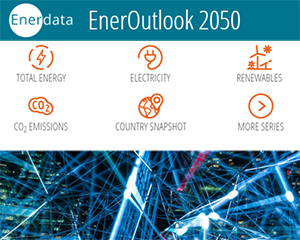 EnerOutlook is a free interactive online application, displaying long-term energy trends at world region level through maps and graphs. Intuitively browse and visualize annual projections on primary and final energy consumption and prices, CO2 emissions, electricity and natural gas. Access long-term trends from the globally recognized POLES model, covering both fossil fuels and renewable energy.
Energy Research & Data Services
Access Our Services
Request a free trial of our services