Electrification is progressing worldwide, and often described as a low-carbon option. But electricity still generates a large amount of GHG emissions, with coal accounting for 38% of power generation. How can electrification be further decarbonised and can it be a key contributor to the energy transition? Read our latest analysis.
Daily Energy News
The Brazilian national oil and gas company Petrobras has released its 2019 results, posting a 9.5% decrease in net revenues to US$76.6bn, mostly due to the fall of average oil prices from US$71/bbl in 2018 to US$64/bbl in 2019.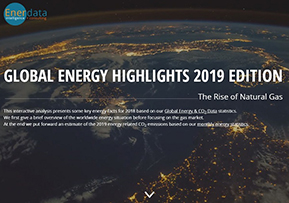 Global Energy Highlights is a new interactive analysis leveraging our comprehensive set of global statistics. This digital tool presents some key energy facts, with a focus on the gas market, one of the most dynamic nowadays. Early estimates of the 2019 CO2 emissions based on our monthly energy database are also available.
Energy Research & Data Services
Access Our Services
Request a free trial of our services