According to the 2018 Enerdata EnerFuture scenarios, half of the car fleet could be electric by 2050. Electric vehicles and other decarbonated EV technologies will contribute to limiting both GHG emissions and local air pollution by displacing gasoline and diesel consumption.
In the Ener-Green scenario, with 16% of the total CO2 emissions, road transportation will hence play a key role in limiting and reducing CO2 emissions.
In 2040, up to 13 Mbl/d oil consumption could be avoided (20% of the total daily oil production) thanks to electric and hybrid vehicles.
* EnerGreen scenario (2°C compatible), including electric and hybrid cars
Daily Energy News
Italian energy group Eni has unveiled its 2018-2021 strategy, announcing €32bn of capital expenditure over this four-year period (including €7.7bn in 2018).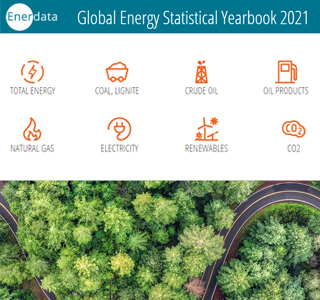 Enerdata publishes now its 2017 Yearbook – a free online application providing up-to-date energy statistics, visual maps and graphs on a user-friendly online platform. Get unlimited access to premium annual data on supply, demand and trade for oil, gas, coal and electricity markets up to 2016. Covering 40 countries through a unique multi-energy approach, Enerdata's Yearbook is a unique introduction to a full suite of interactive information services dedicated to the energy industry.
Energy Research & Data Services
Access to our services
Request a free trial to our services