Daily Energy News
Indonesia has submitted an updated Nationally Determined Contribution (NDC). The country has set unconditional reduction target of 29% and conditional reduction target up to 41% of the business-as-usual scenario by 2030. Similar targets were included in Indonesia's first NDC in November 2016. The country estimates finance needs for mitigation actions at INR4,520,000bn (US$323bn).
In the energy sector, the country pledged to increase...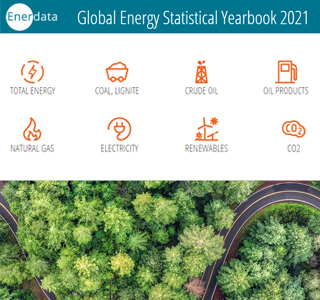 The 2021 edition of our yearbook is an application providing up-to-date 2020 energy statistics, 2021 estimates and decarbonisation indicators. With this user-friendly interactive tool, you can select the area and the period, and benchmark countries. Get unlimited access to premium annual data on supply, demand and trade for oil, gas, coal, renewable, and electricity markets up to 2020, as well as CO2 emission key figures. Covering 60 countries and regions through a unique multi-energy approach, Enerdata's Yearbook is a unique introduction to a full suite of interactive information services dedicated to the energy industry.
Energy Research & Data Services
Access Our Services
Request a free trial of our services