Worldwide coal consumption decreased in 2019 for the first time, marking a decisive turning point. Meanwhile, many countries are planning a coal phase-out, and some funders are turning away from financing coal projects. However consumption in other countries, especially in Asia, still shows a strong growth. What are the long-term perspectives for coal?
Daily Energy News
Gazprom plans to build a new gas pipeline in Eastern Siberia, Power of Siberia 2, with a capacity of 50 bcm/year. The new project would connect Russia to western China via Mongolia.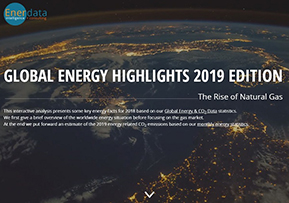 Global Energy Highlights is a new interactive analysis leveraging our comprehensive set of global statistics. This digital tool presents some key energy facts, with a focus on the gas market, one of the most dynamic nowadays. Early estimates of the 2019 CO2 emissions based on our monthly energy database are also available.
Energy Research & Data Services
Access Our Services
Request a free trial of our services