The French Ministry for Ecological and Inclusive Transition (MTES) aims at contributing to the upcoming European debate (the Commission will soon be publishing its long-term energy roadmap).
The Ministry has selected Enerdata to lead a project and build scenarios targeting Zero Net Emissions at the EU level in 2050.
This study will be conducted in partnership with Solagro and Seureco.
Daily Energy News
According to the Mexican National Center for Electricity Control (Cenace), Mexico will begin to incorporate 12,420 MW of new generation capacity from now onwards until June 2019.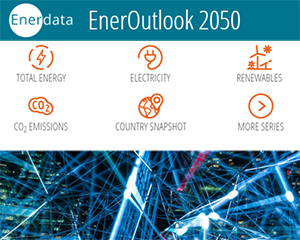 EnerOutlook is a free interactive online application, displaying long-term energy trends at world region level through maps and graphs. Intuitively browse and visualize annual projections on primary and final energy consumption and prices, CO2 emissions, electricity and natural gas. Access long-term trends from the globally recognized POLES model, covering both fossil fuels and renewable energy.
Energy Research & Data Services
Access to our services
Request a free trial to our services