To which extent is China present on the African continent and for which reasons? What policies sustain its actions? This analysis focuses on China's energy policy, its economic diplomacy through the Belt and Road initiative, and how this shapes its relationship with Africa. It stems from a report by Enerdata, the French Institute for International and Strategic Affairs (IRIS) and Cassini for the French Ministry of Defence.
Daily Energy News
China has set aside CNY1.5bn (US$217m) to finance new solar power projects in 2020.
Headlines
Enerdata has been contracted by IRENA through a public procurement process to enhance its analytical framework in the field of energy efficiency and the synergies with renewable energy. More specifically, Enerdata will upgrade IRENA's REmap tool to explicitly model energy efficiency measures and their likely interactions with national energy systems.
Enerdata has recently won a new contract from the African Development Bank (AfDB) and the African Energy Commission aiming at improving the existing African Energy Information System (AEIS).
07 Jan
Happy New Year!
Dear partners, Dear customers,
Thank you for your confidence in Enerdata and for all projects achieved together in 2019!
We are committed to continue to innovate and to bring you the best support in energy transition implementation and follow-up.
We wish you all the best for 2020!
Pascal Charriau
Enerdata attended the COP 25 in Madrid begining of December 2019. There was a lot of interest and exchanges on energy transition topics, and to continue the discussion, we organised a webinar on Energy Transition Monitoring (EnerTraM) in emerging markets on 17th December 2019.
A first analysis of our preliminary global CO2 estimates for 2019 based on monthly data, derived from energy-related CO2 emissions from Global Energy and CO2 data and energy-consumption data from EnerMonthly.
Our findings: the global CO2 emissions from energy...
Enerdata organised a webinar on 4th December, 2019. This live session featured in-house analysis by our experts, as part of our work on EnerFuture scenarios and the Energy Transition.
Enerdata was invited to the Wind of Energy Transition seminar organised by the World Energy Council – Italy on 29th November 2019. The event's objectives were the exchange of experiences between all stakeholders of the wind energy sector in Europe. Our head of Global Energy Forecasting, Sylvain Cail, spoke at the "Outlook on Global and European Wind Energy" roundtable, presenting an overview of the global situation for the wind industry and future capacity planning, as well as an in-depth look at the wind sector in France.
Enerdata continues its collaboration with the Tunisian National Agency for Energy Management (ANME). We are starting a new study funded by the United Nations Development Programme (UNDP) as part of the project "Support for carbon pricing for NDC implementation and low-carbon transition".
The Observatory for the Security of Energy Trade Flows and Materials is coordinated by the Institute for International and Strategic Relations (IRIS), in consortium with Enerdata and the consulting firm Cassini, under a contract with the General Directorate for International Relations and Strategy (DGRIS) of the French Ministry of the Armed Forces.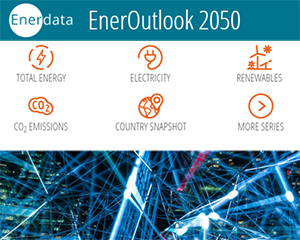 EnerOutlook is a free interactive online application, displaying long-term energy trends at world region level through maps and graphs. Intuitively browse and visualize annual projections on primary and final energy consumption and prices, CO2 emissions, electricity and natural gas. Access long-term trends from the globally recognized POLES model, covering both fossil fuels and renewable energy.
Energy Research & Data Services
Access Our Services
Request a free trial of our services