Pakistan Energy Information
Population: 217 million
GDP growth rate: 1.90 %/year
Energy independence: 63.2%

Data of the last year available: 2019
Total consumption/GDP:* 83.5 (2005=100)
CO2 Emissions: 0.92 tCO2/capita
Rate of T&D power losses: 16.5%

* at purchasing power parity
View all news, archive your new and create your own daily newsletters only on your topics/countries of interest with Key Energy Intelligence
Pakistan Related Research
Total Energy Consumption
Per capita consumption is about 0.51 toe, including 550 kWh of electricity (2019).
The country's total consumption experienced a slight decrease in 2019, by 1% to 110 Mtoe, after a period of significant increase between 2013 and 2018 (4.5%/year); the progression was more moderate between 2008 and 2013 (1.5%/year).
Graph: CONSUMPTION TRENDS BY ENERGY SOURCE (Mtoe)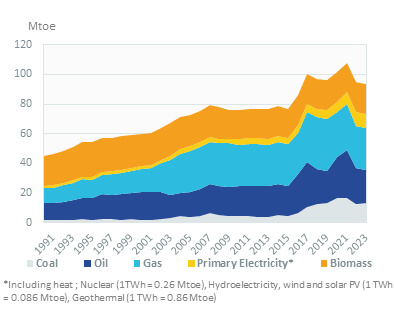 Interactive Chart Pakistan Total Energy Consumption
Crude Oil Production
Oil production has fluctuated around 4-5 Mt since 2014 (4.8 Mt in 2019). Production supplies just over 20% of the country's needs. Crude oil imports reached 8.5 Mt in 2019, corresponding to a drop by 20%, that comes after years of steady increases (+8%/year over 2011-2018).
Interactive Chart Pakistan Crude Oil Production
Renewable in % Electricity Production
AEDB, Alternative Energy Development Board, is the national agency for the promotion of renewables.
A new Alternative and Renewable Energy (ARE) Policy was published in 2019, which includes a target of at least 20% of alternative and renewable energy (excluding hydroelectricity) in the power capacity in 2025 and 30% in 2030. With hydropower, this corresponds to a share of 60%. In 2020, Pakistan announced its intention to reach 27 GW of solar by 2047.
Interactive Chart Pakistan Share of Renewables in Electricity Production (incl hydro)
CO2 Fuel Combustion/CO2 Emissions
In its NDC, Pakistan announced its targets to reduce its GHG emissions by up to 20% relative to a BAU scenario in 2030, subject to international financial support.
CO2 emissions from fuel combustion dropped by 2% in 2019 to around 199 MtCO2, after a period of rapid increase (8%/year over 2013-2018). Before that, they had remained stable over 2007-2013. In 2019, they were about 3 times higher than in 1990.
The industry, transport, and energy sectors each represent around 30% of the total, while household, tertiary, and agriculture combined account for the remaining 10%.
Shopping cart
Your shopping cart is empty.
Secured payment by