Mozambique Energy Information
Population: 30.4 million
GDP growth rate: 2.28 %/year
Energy independence: 100%

Data of the last year available: 2019
Total consumption/GDP:* 56.0 (2005=100)
CO2 Emissions: 0.21 tCO2/capita
Rate of T&D power losses: 15.5%

* at purchasing power parity
View all news, archive your new and create your own daily newsletters only on your topics/countries of interest with Key Energy Intelligence
Mozambique Related Research
Total Energy Consumption
Per capita consumption is around 0.36 toe and around 440 kWh of electricity (2019). It is below the regional average.
Graph: CONSUMPTION TRENDS BY ENERGY SOURCE (Mtoe)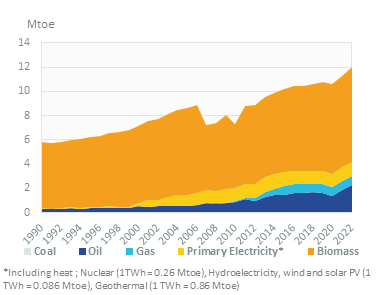 Total energy consumption has been increasing by 2%/year, on average, since 2000 to 11 Mt in 2019.
Biomass supplied 65% of the country's supplies in 2019, oil 16%, hydroelectricity 11%, and gas 6%.
Graph: TOTAL CONSUMPTION MARKET SHARE BY ENERGY (2019, %)
Interactive Chart Mozambique Total Energy Consumption
Renewable in % Electricity Production
The National Directorate of New and Renewable Energy is in charge of framing policies to stimulate the use of renewables in the country's energy mix.
The Master Plan for Electrical Infrastructure ("Plano Diretor de Infraestruturas Elétricas 2018-2043") aims for a 20% share of renewables in the national grid by 2043. As a consequence, the government launched the first program for RES auctions, called Renewable Energy Auctions Initiative (PROLER). The first tender was launched in 2020, including four RES projects of around 40 MW each in the Maputo region.
Interactive Chart Mozambique Share of Renewables in Electricity Production (incl hydro)
CO2 Fuel Combustion/CO2 Emissions
In 2018, Mozambique submitted its NDC, which included a GHG emission reduction target of 76.5 MtCO2eq (-23 MtCO2eq for 2024) between 2020 and 2030 compared to 1995 levels (15.9 MtCO2eq). The targets, despite being ambitious, are conditional on financial assistance and technology transfer.
Shopping cart
Your shopping cart is empty.
Secured payment by