New Zealand Energy Information
Population: 5.18 million
GDP growth rate: 5.63 %/year
Energy independence: 72.9%

Data of the last year available: 2021
Total consumption/GDP:* 77.9 (2005=100)
CO2 Emissions: 6.09 tCO2/capita
Rate of T&D power losses: 6.67%

* at purchasing power parity
View all news, archive your new and create your own daily newsletters only on your topics/countries of interest with Key Energy Intelligence
New Zealand Related Research
Total Energy Consumption
Energy consumption per capita is high at 3.8 toe. Electricity consumption per capita reached around 7 600 kWh in 2021.
Energy consumption has slightly decreased since 2015 to 20 Mtoe in 2021 (-0.8%/year). It increased by 2.4%/year between 2010 and 2015.
Graph: CONSUMPTION TRENDS BY ENERGY SOURCE (Mtoe)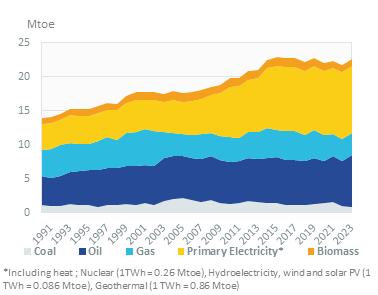 Interactive Chart New Zealand Total Energy Consumption
Crude Oil Production
Crude oil and condensate production more than halved between 2015 and 2021, from 2.1 Mt to 0.9 Mt. It had already decreased rapidly between 2009 and 2013 (-10%/year).
The 5 main oil and condensate fields are Maari, Pohokura, Mau Mangahewa and Kupe.
In 2021, New Zealand imported 3.1 Mt of crude oil and 2.9 Mt of refined oil products (i.e. 43% of its consumption).
Interactive Chart New Zealand Crude Oil Production
Renewable in % Electricity Production
NZEECS 2017-2022 has set a target of 90% of renewables in the power mix by 2025 (primarily hydro and geothermal). The latest NDC of the country underlines that the Government has a goal of 100 % renewable electricity by 2035.
Interactive Chart New Zealand Share of Renewables in Electricity Production (incl hydro)
CO2 Fuel Combustion/CO2 Emissions
In its revised NDC (2021), the country increased its GHG emissions reduction target to 50% below 2005 levels by 2030 (compared to 30% in the previous version of 2016). GHG emissions (without LULUCF) increased by 2% in 2019, reaching 80 MtCO2eq, i.e. similar to their 2005 level (and 28% above their 1990 level).
In 2019, the Government released its new energy and climate plan to become carbon neutral by 2050 (except for GHG emissions from the agricultural sector).
Shopping cart
Your shopping cart is empty.
Secured payment by