Congo Dr Energy Information
2018 Congo Dr Key Figures
Population: 84.1 million
GDP growth rate: 5.82 %/year
Energy independence: 100%

* at purchasing power parity
Total consumption/GDP:* 84.1 (2015=100)
CO2 Emissions: 0.03 tCO2/capita

Congo Dr Related Research
Total Energy Consumption
Energy consumption per capita is 0.4 toe, including around 90 kWh of electricity (2018).
Total consumption has increased by 2%/year since 2012.
Biomass covers approximately 95% of the country's energy needs. Although it has a large surplus of firewood, the eastern part of the country, which is more populated, is subject to fast deforestation, just like the periphery of the cities.
Graph: CONSUMPTION TRENDS BY ENERGY SOURCE (Mtoe)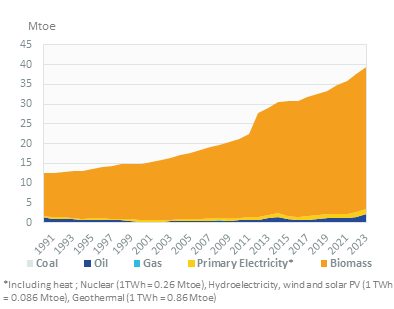 Interactive Chart Congo Dr Total Energy Consumption
Crude Oil Production
Oil production increased by 34% between 2016 and 2018 to 1.3 Mt. It had previously been declining by 3%/year as from 2004.
Since the closure of the SOCIR refinery in 2001, all the crude oil production is exported.
Interactive Chart Congo Dr Crude Oil Production
CO2 Fuel Combustion/CO2 Emissions
In its NDC, the country is committed to reducing its GHG emissions by 17% by 2030 compared to a BaU projection (-70 Mteq CO2). The total investment required to meet this objective is estimated at US$12.5 bn.
CO2 emissions from energy combustion increased by around 11%/year between 2001 and 2014 (to 2.8 MtCO2). More than 90% of total CO2 emissions are due to transport. The fall in oil consumption between 2014 and 2018 led to a 22% drop in CO2 emissions to 2.1 MtCO2.
Graph: CO2-ENERGY EMISSIONS (MtCO2)
Shopping cart
Your shopping cart is empty.
Secured payment by