Indonesia Energy Information
Indonesia Key Figures
Population:

279 million

GDP growth rate:

5.31 %/year

Energy independence:

100%
Data of the last year available: 2022
Total consumption/GDP:*

70.6 (2005=100)

CO2 Emissions:

2.65 tCO2/capita

Rate of T&D power losses:

8.70%
* at purchasing power parity
Indonesia Related Research
Total Energy Consumption
Total consumption per capita is 0.99 toe, while electricity consumption per capita is 1.131 MWh (2022).
Total energy consumption surged in 2021 and 2022 (20%/year), after a decline by around 5% in 2020. They increased before by 3.4%/year from 2013 to 2019.
Interactive Chart Indonesia Total Energy Consumption
Crude Oil Production
Oil production declined by 19% between 2019 and 2022 to 41 Mt, and reached 43 Mt in 2022. It had decreased by 44% between 2000 and 2015 from a peak of 70 Mt and rebounded by 5% in 2016. This decline is due to the depletion of the main fields and the lack of investments.
Indonesia became a net importer of crude oil in 2006. Net oil imports reached 45 Mt in 2022 (of which 21 Mt for crude oil and NGL).
Interactive Chart Indonesia Crude Oil Production
Oil Products Consumption
Oil consumption has been increasing since 2020 (10%/year average), up to 82 Mt in 2022, after a decline by about 12% in 2020.
Transport absorbs 57% of that consumption; the remainder goes mainly to the hydrocarbon sector (13%), industry (11%) and the residential, services, and agriculture sector (12%).
Graph: OIL CONSUMPTION (Mt)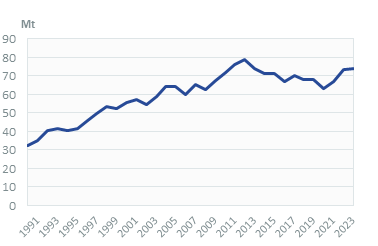 Graph: OIL CONSUMPTION BREAKDOWN BY SECTOR (2022, %)
Interactive Chart Indonesia Refined Oil Products Production
Natural Gas Consumption
Natural gas consumption has been decreasing since 2020, to 38 bcm in 2022 (-1.2%/year on average). This followed a sharp decline in 2020 (-13%). It remained relatively stable over 2010-2019.
Industry is the largest consumer of gas (43%), followed by power generation with 33% and the hydrocarbon sector (oil and gas extraction and LNG plants) with 23%.
Graph: NATURAL GAS CONSUMPTION (bcm)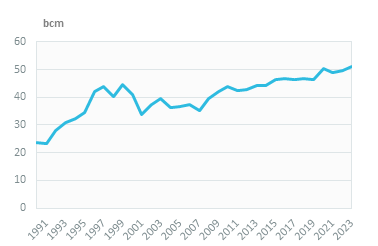 Graph: GAS CONSUMPTION BREAKDOWN BY SECTOR (2022, %)
Interactive Chart Indonesia Natural Gas Domestic Consumption
Coal Consumption
Consumption of coal and lignite (around 85% lignite) experienced a dramatic surge in 2022, reaching 216 Mt (+52% vs 2021). It had increased very rapidly over 2013-2019 (+14%/year on average) and remained close to 140 Mt in 2020 and 2021.
The electricity sector accounts for 60% of coal and lignite consumption and the remainder goes to industry.
Graph: COAL CONSUMPTION (Mt)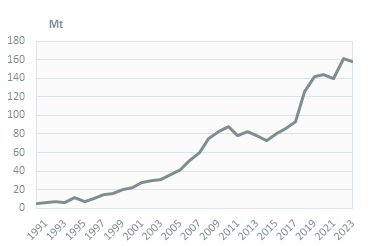 Graph: COAL CONSUMPTION BREAKDOWN BY SECTOR (2022, %)
Interactive Chart Indonesia Coal and Lignite Domestic Consumption
Power Consumption
Electricity consumption has increased very rapidly apart from 2020 (by about 6.5%/year over 2010-2022), reaching 316 TWh in 2022.
Households account for 40% of the consumption. The share of industry is increasing and now accounts for 37% (+6 pts since 2015), and services for 22% (2022).
Almost all households are electrified (99.6% in 2022, up from 86% in 2000). The 100% goal, initially set for 2020, was shifted to 2022 and is still to be reached.
Graph: ELECTRICITY CONSUMPTION (TWh)
Renewable in % Electricity Production
EBTKE, the Directorate General (DG) for New Energy, Renewable and Energy Conservation, focuses on renewables in power generation, whereas the DG of Electricity sets the FiT and the ceiling price for power from renewable sources.
Interactive Chart Indonesia Share of Renewables in Electricity Production (incl hydro)
CO2 Fuel Combustion/CO2 Emissions
In its new updated NDC (2022), Indonesia slightly increased the country's unconditional emission reduction target from 29% in 2030 to 31.89% compared to the BAU scenario. Similarly, conditional emission reduction targets were raised from 41% to 43.2%, conditioned upon the attainment of global agreements such as bilateral co-operations, technology development and transfer, financial help, etc.