Oman Key Figures
Population:

5.22 million

GDP growth rate:

2.90 %/year

Energy independence:

100%
Data of the last year available: 2021
Total consumption/GDP:*

164 (2005=100)

CO2 Emissions:

13.7 tCO2/capita

Rate of T&D power losses:

9.93%
* at purchasing power parity
Oman Related Research
Total Energy Consumption
Total consumption of energy per capita amounts to 5.3 toe (2021), i.e. three times higher than the global average. Per capita electricity consumption reached 6.8 MWh in 2021.
Graph: CONSUMPTION TRENDS BY ENERGY SOURCE (Mtoe)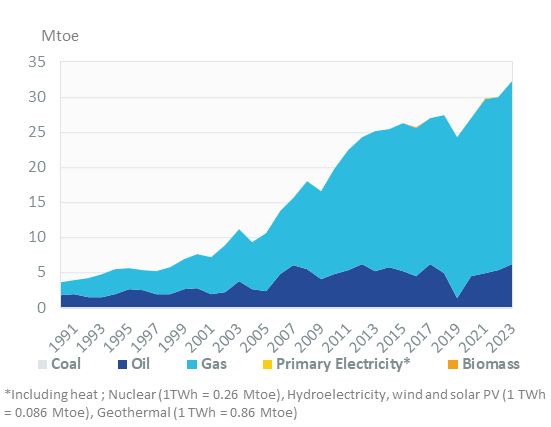 Interactive Chart Oman Total Energy Consumption
Crude Oil Production
Oil production rebounded to its 2019 level of 47.7 Mt in 2021, after a 2% drop in 2020. According to preliminary data, oil production increased by 10% in 2022. Previously, it had remained stable between 2015 and 2019. It increased rapidly from 2009 to 2015 (4.4%/year) as a result of enhanced oil recovery techniques and the development of new fields, in particular Western Bukhad and Makhaizna. From 2001 to 2007, oil production declined due to maturing oil fields, dropping from a peak of 50 Mt in 2001 to 38 Mt.
Interactive Chart Oman Crude Oil Production
Renewable in % Electricity Production
In 2020, OPWP revised its renewable energy development plan, which now aims to reach 3 GW of renewables by 2025, to cover 16% of the power generation (2.5 GW end of 2021). By 2030, Oman aims to reach 30% of renewables in power generation.
Interactive Chart Oman Share of Renewables in Electricity Production (incl hydro)
CO2 Fuel Combustion/CO2 Emissions
In its second NDC (2021), Oman set an unconditional GHG emission reduction target of 4% and a conditional reduction target up to 7% of the BAU scenario by 2030. Under its BAU scenario, Oman estimates GHG emissions at around 125 MtCO2eq by 2030; the 7% cut would limit GHG emissions to 116 MtCO2eq (up from 2% in its first NDC in 2019).
The Ministry of Energy and Minerals has announced net-zero emissions by 2050.