France Energy Information
Population: 67.3 million
GDP growth rate: -8.2 %/year
Energy independence: 55.8%

Data of the last year available: 2020
Total consumption/GDP:* 73.7 (2005=100)
CO2 Emissions: 4.04 tCO2/capita
Rate of T&D power losses: 7.88%

* at purchasing power parity
View all news, archive your new and create your own daily newsletters only on your topics/countries of interest with Key Energy Intelligence
Total Energy Consumption
Consumption per capita stood at 3.2 toe in 2020 and was 16% above the EU average in 2019. Electricity consumption per capita is 19% higher than the EU average due to the high penetration of electric heating (6 300 kWh in 2020).
Graph: CONSUMPTION TRENDS BY ENERGY SOURCE (Mtoe)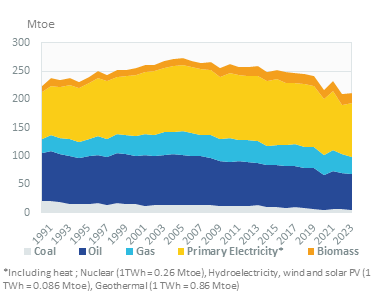 Interactive Chart France Total Energy Consumption
Crude Oil Production
In 2020, France imported more refined products than crude oil: 33 Mt of crude oil in 2020 (-33%) compared to 44 Mt of oil products in 2020 (stable).
Crude oil was mostly supplied by Kazakhstan (16%), USA (16%), and Saudi Arabia (13%)
France received crude oil from three ports: Donges (near Nantes), Le Havre and Marseille. Six additional import points of refined products are located in Bordeaux, Dunkerque, Frontignan, La Rochelle, Port La Nouvelle, and Strasbourg.
Petroleum products were mostly imported in 2020 from Russia (18%) and Belgium (13%).
Interactive Chart France Crude Oil Production
Oil Products Consumption
Oil product consumption decreased by 14% in 2020 to 58 Mt. Previously, it declined by 1.5%/year, on average, between its peak in 2001 (89 Mt) and 2019, reaching 68 Mt.
Graph: OIL CONSUMPTION (Mt)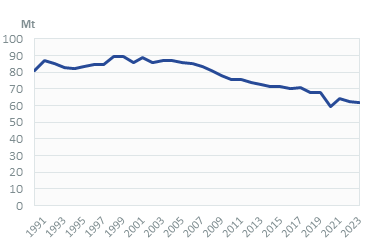 The share of oil is focused on captive uses, namely the transport sector, with a 59% share of oil consumption, up from 50% in 2000.
Graph: OIL CONSUMPTION BREAKDOWN BY SECTOR (2020, %)
Interactive Chart France Refined Oil Products Production
Natural Gas Consumption
Gas demand decreased by 7% in 2020 to 39 bcm. Previously, it declined slightly from 47 bcm in 2005 to 42 bcm in 2019.
Graph: NATURAL GAS CONSUMPTION (bcm)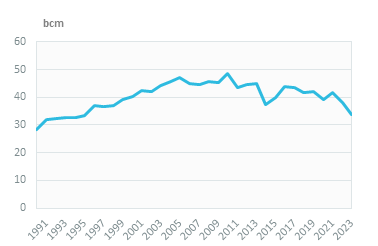 Buildings absorbed half of the gas consumption (48% in 2020), while 29% went to industry and 17% to power plants (2020).
Since 2010 and following the adoption of the new thermal regulation for buildings (RT 2012), natural gas has replaced electricity as the largest energy source for heating in new buildings.
Interactive Chart France Natural Gas Domestic Consumption
Coal Consumption
Consumption has fallen by almost 60% since 2013 as a result of the shutdown of several coal-fired power plants (including almost -20% in 2020). Coal consumption in the power sector has fallen by more than 90% since 2000. In 2020, the power sector accounted for 24%, down from 53% in 2013.
Graph: COAL CONSUMPTION (Mt)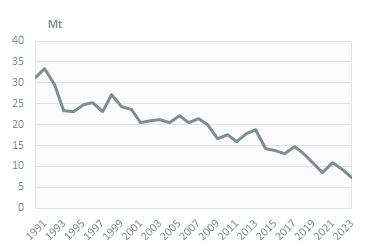 Graph: COAL CONSUMPTION BREAKDOWN BY SECTOR (2020, %)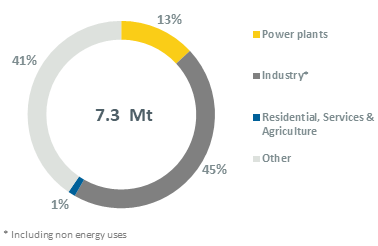 Interactive Chart France Coal and Lignite Domestic Consumption
Power Consumption
The country's electricity consumption declined by 4.5% in 2020. Previously, it fluctuated around 440-450 TWh depending on weather conditions (because of the high penetration of electric heating systems, i.e. around 1/3 of homes).
Graph: ELECTRICITY CONSUMPTION (TWh)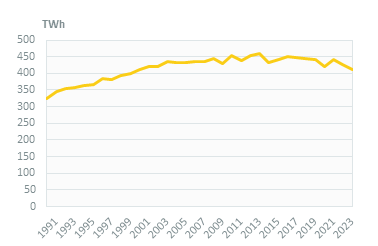 Renewable in % Electricity Production
The country missed the target set in the European Directive on renewables for a 23% share of renewables in final consumption in 2020 (19.1% in 2020), especially for electricity (24.8% in 2020 vs a target of 27%) and heating (23.3% vs 33%).
As part of its NECP, France set a target of 33% of renewables in the final consumption in 2030. According to the PPE (2020), this share should reach 35-38% in 2028 (49-53% of which in 2028 for electricity).
Interactive Chart France Share of Renewables in Electricity Production (incl hydro)
CO2 Fuel Combustion/CO2 Emissions
According to the CITEPA, GHG emissions dropped by 9% in 2020 to 396 MtCO2eq; this represents a level almost 27% below that of 1990.
The Energy-Climate Act (2019) has set 2050 as a deadline to achieve domestic carbon neutrality. The last coal-fired power plants will be closed by 2022. In addition, the Act targets a 40% reduction in the consumption of fossil-fuels by 2030.
CO2-energy related emissions decreased by 13% in 2020 (-24% compared to 2010 level), after declining by 3.5%/year on average between 2017 and 2019.
Graph: CO2-ENERGY EMISSIONS (MtCO2)
Shopping cart
Your shopping cart is empty.
Secured payment by