Czechia Energy Information
Population: 10.7 million
GDP growth rate: -5.7 %/year
Energy independence: 59.3%

Data of the last year available: 2020
Total consumption/GDP:* 66.6 (2005=100)
CO2 Emissions: 7.99 tCO2/capita
Rate of T&D power losses: 6.52%

* at purchasing power parity
View all news, archive your new and create your own daily newsletters only on your topics/countries of interest with Key Energy Intelligence
Total Energy Consumption
Energy consumption per capita is 31% higher than the EU average (3.7 toe in 2020), whereas electricity consumption per capita is 2.5% higher than the EU average, at around 5 400 kWh/capita in 2020.
Total energy consumption declined by an average of 1.1%/year between 2006 and 2016 to 41 Moe. After a recovery to around 43 Mtoe over 2017-2019, it decreased by 8% to 39 Mtoe in 2020.
Interactive Chart Czechia Total Energy Consumption
Crude Oil Production
Czechia is dependent on Russia for its oil supply, which is imported through the Druzhba pipeline ("Friendship" pipeline); deliveries were suspended in spring 2019 over oil contamination, affecting crude oil supply (resumption of oil deliveries in July 2019). In 2020, the country imported 6.1 Mt of crude oil (-20% on 2019 over pandemic-related transport restrictions); nearly half of crude oil imports came from Russia (49%) and 23% from Azerbaijan (2020).
Interactive Chart Czechia Crude Oil Production
Oil Products Consumption
Oil product consumption, which had been declining by 2.6%/year between 2008 and 2016, recovered in 2017 (+18%) and stabilised at around 9.2 Mt until 2019. In 2020, it fell by 11% to 8.2 Mt, due to transport restrictions (especially over March-May) and to the impacts of the COVID-19 pandemic on the Czech economy.
Interactive Chart Czechia Refined Oil Products Production
Natural Gas Consumption
Natural gas consumption has been increasing by 2.7%/year since 2014, to 8.8 bcm in 2020 (+1.6% in 2020 alone). In 2019 and even in 2020, gas consumption rose due to strong demand from the power sector (+22% in 2019 and +29% in 2020) and despite the pandemic and higher temperatures.
Graph: NATURAL GAS CONSUMPTION (bcm)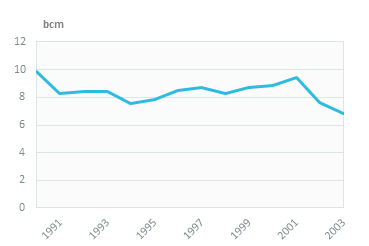 Interactive Chart Czechia Natural Gas Domestic Consumption
Coal Consumption
The consumption of coal and lignite, which had already been declining by 1.7%/year between 2000 and 2018, fell by 9.1% in 2019 and by 20% in 2020, reaching 33 Mt, in a context of lower electricity demand, rising carbon prices, and higher gas-fired power generation. Lignite accounts for 85% of solid fuel consumption.
Graph: COAL AND LIGNITE CONSUMPTION (Mt)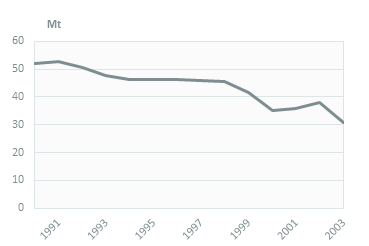 Most of the coal and lignite is consumed by the power sector (80% in 2020).
Interactive Chart Czechia Coal and Lignite Domestic Consumption
Power Consumption
The country's electricity consumption, which had grown by 2.4%/year between 2014 and 2017 before stabilising at around 60 TWh until 2019, declined by 3.4% in 2020 to 58 TWh as a result of the impact of the pandemic on the economy (5% drop in industrial electricity consumption, with 7.6% decrease for intensive users according to preliminary statistics). Due to lockdown measures, residential electricity consumption increased slightly in 2020.
Graph: ELECTRICITY CONSUMPTION (TWh)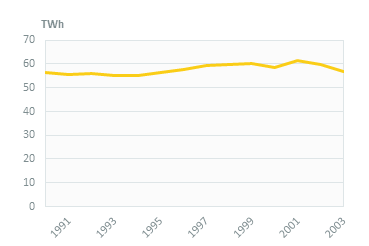 Renewable in % Electricity Production
The NECP (2019) aims to raise the share of renewables in final energy consumption to 22% in 2030, including 30.7% in heating and cooling, 16.9% in electricity, and 14% in transport. The target set for 2020 in the National Renewable Energy Action Plan of 13.5% of renewables in final energy consumption in 2020 has been easily exceeded (16% reached in 2019, of which, 14% for electricity, 23% for heating and cooling, and 7.8% for transport).
Interactive Chart Czechia Share of Renewables in Electricity Production (incl hydro)
CO2 Fuel Combustion/CO2 Emissions
GHG emissions were 38% below their 1990 level in 2019, at 120 Mt (-11% compared to 2018).
The NECP (2019) aims to cut GHG emissions by 34% by 2030 compared to 2005 levels, lowering emissions to 99 MtCO2eq. This is higher than the NDC target (-40% in 2030 compared to 1990, i.e. 120 MtCO2eq in 2030).
Energy-related CO2 emissions, which declined by 13% between 2008 and 2013, have averaged 100 MtCO2 since then. In 2020, they contracted by around 13%.
Graph: CO2-ENERGY EMISSIONS (MtCO2)
Shopping cart
Your shopping cart is empty.
Secured payment by