Czechia Energy Information
Czechia Key Figures
Population:

10.5 million

GDP growth rate:

2.44 %/year

Energy independence:

61.2%
Data of the last year available: 2022
Total consumption/GDP:*

67.1 (2005=100)

CO2 Emissions:

9.21 tCO2/capita

Rate of T&D power losses:

5.39%
* at purchasing power parity
Czechia Related Research
Total Energy Consumption
Energy consumption per capita is 38% higher than the EU average (4.1 toe in 2022), whereas electricity consumption per capita is 1% higher than the EU average, at around 5 600 kWh/capita in 2022.
In 2022, energy consumption remained stable after a 6% increase to 42.6 Mtoe in 2021, and a 6% drop in 2020. Total energy consumption declined by an average of 1.1%/year between 2006 and 2016 to 41 Moe and remained roughly stable until 2019.
Interactive Chart Czechia Total Energy Consumption
Crude Oil Production
In 2022, the country imported 7.4 Mt of crude oil (+9% on 2021); 31% of crude oil imports came from Russia (down from 50% in 2021), 19% from Germany, and 11% from Kazakhstan (2021).
Oil is imported from Russia through the Druzhba pipeline ("Friendship"). Since 1996, oil is also supplied from Germany through another oil pipeline (IKL) connected to the transalpine pipe (TAL) in Ingolstadt.
Interactive Chart Czechia Crude Oil Production
Oil Products Consumption
After the important drop of 2020 (-10%) due to transport restrictions, oil product consumption rose by 10% in 2021 and 3% in 2022, exceeding its 2019 levels. Oil product consumption, which had been declining by 2.6%/year between 2008 and 2016, recovered in 2017 (+18%) and stabilised at around 9.3 Mt until 2019.
Around 2/3 of oil is consumed by transport (65% in 2022). The share of transport has surged since 2000 (49%), as the number of cars rose by more than 50%. Industry accounted for 26% of oil consumption in 2022 (mainly non-energy uses).
Graph: OIL CONSUMPTION (Mt)
Interactive Chart Czechia Refined Oil Products Production
Natural Gas Consumption
Natural gas consumption dropped considerably in 2022 (-17%) due to the consequences of the war in Ukraine and the significant increase in gas prices. The drop was especially dramatic for power plants, with a 42% reduction in natural gas consumption in 2022. Consumption increased by 1%/year starting in 2016, reaching 9.5 bcm in 2021.
Graph: NATURAL GAS CONSUMPTION (bcm)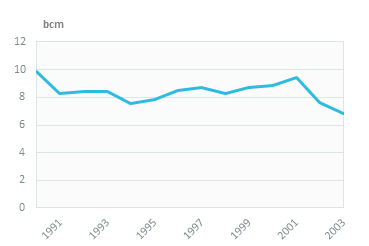 Interactive Chart Czechia Natural Gas Domestic Consumption
Coal Consumption
Due to rising natural gas prices, the consumption of coal and lignite increased by 12% in 2022 to 35 Mt, after a slight progression in 2021 (+1.7%) and a downward trend from 2000 to 2020 (-1.7%/year between 2000 and 2018, -23% from 2018 to 2020). Lignite accounts for 84% of solid fuel consumption.
Graph: COAL AND LIGNITE CONSUMPTION (Mt)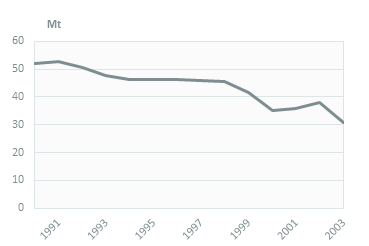 Most of the coal and lignite is consumed by the power sector (80% in 2022).
Interactive Chart Czechia Coal and Lignite Domestic Consumption
Power Consumption
After peaking at 61 TWh in 2021, electricity consumption dropped by 4% in 2022 to 59 TWh due to rising prices. In particular, electricity consumption for residential and services decreased by 9% in 2022, compared to 3% for industry. Electricity consumption remained stable between 2017 and 2019 at around 60 TWh, before dropping by 2.7% in 2020. It grew by 2.4%/year between 2014 and 2017.
Graph: ELECTRICITY CONSUMPTION (TWh)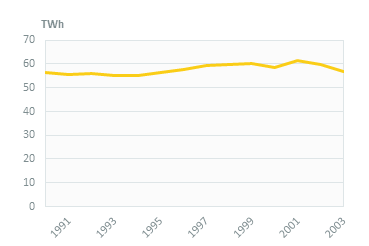 Renewable in % Electricity Production
The NECP aims to raise the share of renewables in final energy consumption to 22% in 2030, including 30.7% in heating and cooling, 16.9% in electricity, and 14% in transport. The target set for 2020 of 13.5% of renewables in final energy consumption in 2020 has been exceeded by almost 4 points (17.3%). In 2021, this share reached 17.7%, of which 14.5% is for electricity, 24.2% for heating and cooling, and 7.5% for transport).
Interactive Chart Czechia Share of Renewables in Electricity Production (incl hydro)
CO2 Fuel Combustion/CO2 Emissions
Total net GHG emissions increased by 2% in 2021 to 127 MteqCO2 and were 34% below their 1990 level.
GHG emissions have been increasing by 1.8%/year between 2014 and 2019 and dropped by 5% in 2020.
The NECP (2019) aims to cut GHG emissions by 34% by 2030 compared to 2005 levels, lowering emissions to 99 MtCO2eq. This is less ambitious than the EU NDC target updated in 2020 (-55% in 2030 compared to 1990, i.e. 68 MtCO2eq in 2030).