Azerbaijan Energy Information
2018 Azerbaijan Key Figures
Population: 9.96 million
GDP growth rate: 0.97 %/year
Energy independence: 100%

* at purchasing power parity
Total consumption/GDP:* 45.8 (2015=100)
CO2 Emissions: 3.16 tCO2/capita
Rate of T&D power losses: 9.65%

Azerbaijan Related Research
Total Energy Consumption
Per capita consumption is around 1.4 toe in 2018, including 2 086 kWh of electricity.
Total energy consumption increased at the rapid pace of 4%/year between 2010 and 2016; it remained stable throughout 2018 (14 Mtoe).
The energy intensity of GDP has been decreasing sharply since 1990 (-5%) and is now 12% above the EU's level at purchasing power parity.
Graph: CONSUMPTION TRENDS BY ENERGY SOURCE (Mtoe)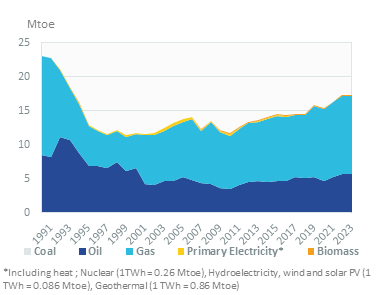 Interactive Chart Azerbaijan Total Energy Consumption
Crude Oil Production
Oil production has decreased by 30% since 2010, from 51 Mt to 39 Mt in 2019. Previously, foreign investments greatly boosted the country's oil production, which more than tripled between 2004 and 2010, partly with the start of the Shah-Deniz field in 2006.
The country is committed to reducing its production according to the agreements between OPEC and non-OPEC countries since 2016. Production cuts were extended in 2018 and Azerbaijan pledged to cut production by 20,000 b/d.
There are three main oil pipelines: BTC,Baku-Novorossiysk andwestern route (Baku-Supsa).
Interactive Chart Azerbaijan Crude Oil Production
Renewable in % Electricity Production
SAARES, the State Agency on Alternative and Renewable Energy Sources (ABEMDA in Azerbaijani) was established in 2009 to develop and implement renewable energy projects, along with various stakeholders such as the state-owned energy companies, Socar (oil/gas) and Azerenerji (electricity), international financial institutions and development organizations.
Alternative energy projects are funded through the Azerbaijan Investment Company (AIC) that was established in 2006.
Companies operating in the renewable energy sector are exempt from customs duties and taxes.
Interactive Chart Azerbaijan Share of Renewables in Electricity Production (incl hydro)
CO2 Fuel Combustion/CO2 Emissions
In its NDC (Nationally Determined Contribution), Azerbaijan made a commitment to reduce its level of GHG emissions by 35% by 2030 compared to 1990.
CO2 emissions from energy combustion increased between 2010 and 2014 and have remained stable since then (31.4 Mt in 2018).
Graph: CO2-ENERGY EMISSIONS (MtCO2)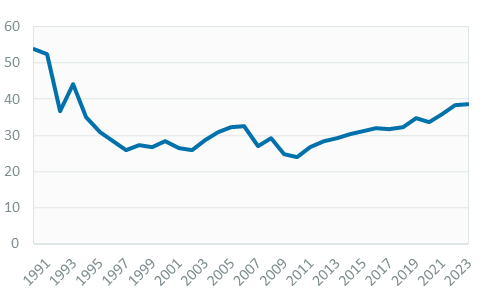 Shopping cart
Your shopping cart is empty.
Secured payment by