Israel Energy Information
Population: 9.23 million
GDP growth rate: -6.2 %/year
Energy independence: 42.5%

Data of the last year available: 2020
Total consumption/GDP:* 72.8 (2005=100)
CO2 Emissions: 6.39 tCO2/capita
Rate of T&D power losses: 4.50%

* at purchasing power parity
View all news, archive your new and create your own daily newsletters only on your topics/countries of interest with Key Energy Intelligence
Total Energy Consumption
Israel's consumption per capita is 2.3 toe (including around 6 600 kWh of electricity) (2020).
Between 2015 and 2019, consumption has been quite stable at around 22 Mtoe; it decreased by 3% in 2020 to around 21 Mtoe.
The total energy consumption per unit of GDP is decreasing very rapidly (around -3.4%/year since 2010).
Graph: CONSUMPTION TRENDS BY ENERGY SOURCE (Mtoe)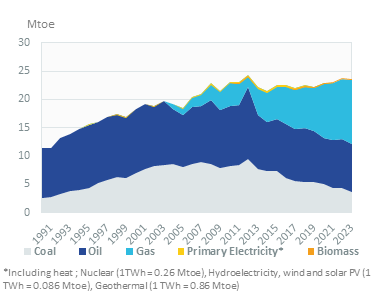 Interactive Chart Israel Total Energy Consumption
Crude Oil Production
Oil production is limited (322 kt). Crude oil imports dropped by = 17% in 2020.
The country has 2 refineries: Haifa (196 kb/d) and Ashdod (100 kb/d). Oil Refineries commissioned a new hydrocracking unit of 25 kb/d at its Haifa refinery in 2013 (investment of US$670m) to produce cooking gas, naphtha, kerosene, and high-quality diesel.
Interactive Chart Israel Crude Oil Production
Renewable in % Electricity Production
In 2011, the Cabinet approved a plan to promote the production of electricity from renewables, including a target of 2 760 MW of renewables in 2020, contributing 10% of the power mix. The goal was not achieved (1 773 MW of renewables in 2020, i.e. almost 9% of the power mix).
In its National Energy Efficiency Programme, the Government adopted a target of 30% of renewables in power generation in 2030 (intermediate target of 20% by 2025). In 2020, it approved a plan to deploy around 15 GW of solar capacity to help meet these targets.
Interactive Chart Israel Share of Renewables in Electricity Production (incl hydro)
CO2 Fuel Combustion/CO2 Emissions
In its updated NDC submitted in 2021, Israel set an emissions target of 58 MtCO2eq in 2030 (corresponding to a reduction of 29%). The country also committed to cut emissions by at least 85% by 2050 compared to 2015 levels. In its first NDC, the country had committed to cut per capita GHG emissions to 7.7 tCO2eq by 2030 (corresponding to total emissions of 81.6 MtCO2eq), i.e., a 26% reduction compared to 2015.
Shopping cart
Your shopping cart is empty.
Secured payment by