Kazakhstan Energy Information
Kazakhstan Key Figures
Population:

19.2 million

GDP growth rate:

3.21 %/year

Energy independence:

100%
Data of the last year available: 2022
Total consumption/GDP:*

68.3 (2005=100)

CO2 Emissions:

11.5 tCO2/capita

Rate of T&D power losses:

9.31%
* at purchasing power parity
Kazakhstan Related Research
Total Energy Consumption
Per capita consumption is about 3.7 toe and around 4 100 kWh of electricity (2022).
Graph: CONSUMPTION TRENDS BY ENERGY SOURCE (Mtoe)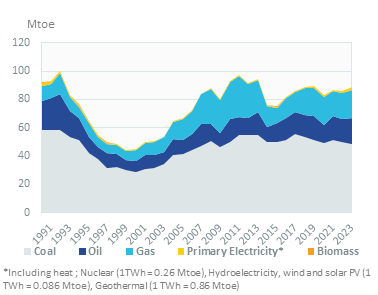 Total energy consumption rebounded by around 9% in 2021 and remained stable in 2022 after a 7% drop in 2020. It has slightly increased over 2O10-2019 (+0.6%/year).
Coal is the main energy source consumed (48% of total consumption in 2022), followed by gas (26%) and oil (24%, up from 17% in 2010).
Interactive Chart Kazakhstan Total Energy Consumption
Crude Oil Production
Oil production decreased by 2% in 2022 to 85 Mt after remaining stable since 2020. Previously it had decreased by 5% in 2020 due to the COVID-19 crisis, after a 5.1%/year rise between 2016 and 2019 (92 Mt). In 2016, the country agreed to cut a symbolic 20 000 bbl/d of its oil production under the OPEC/non-OPEC deal. The commitment was confirmed again in 2017 and extended again until the end of 2018. In January 2019, it pledged to cut 40 000 bbl/d from a baseline set at 1.9 mb/d, starting from January 2019. Production levels were raised in 2021.
Interactive Chart Kazakhstan Crude Oil Production
Renewable in % Electricity Production
The National Programme of Wind Power Sector Development set wind generation targets of 900 GWh in 2015 (700 GWh achieved) and 5 TWh in 2024.
According to the 2050 Strategy (2013), solar and wind were meant to account for 3% of the power mix by 2020 (2% reached in 2020), and about 10% by 2030. In 2021, the government raised the 2030 target to 15%. By 2050, the country aims to generate 50% of its power from "alternative (i.e. nuclear) or renewable sources".
Interactive Chart Kazakhstan Share of Renewables in Electricity Production (incl hydro)
CO2 Fuel Combustion/CO2 Emissions
In its first NDC (2015, updated in June 2023 with the same objective), the country set an unconditional target to reduce GHG emissions to 15% below 1990 levels by 2030 and a conditional target of 25%. In 2020, the government announced an unconditional target to reach carbon neutrality by 2060.
CO2 emissions from energy combustion more than doubled between 2000 and 2013. After a decrease until 2015, they are increasing again (3.3%/year on average) and reached 221 MtCO2 in 2022.
Graph: CO2-ENERGY EMISSIONS (MtCO2)