South Africa Energy Information
South Africa Key Figures
Population:

60.5 million

GDP growth rate:

2.04 %/year

Energy independence:

100%
Data of the last year available: 2022
Total consumption/GDP:*

72.8 (2005=100)

CO2 Emissions:

6.07 tCO2/capita

Rate of T&D power losses:

12.0%
* at purchasing power parity
South Africa Related News
South Africa Related Research
Total Energy Consumption
Total energy consumption per capita peaked in 2008 at 3 toe per capita and then progressively decreased to 2 toe per capita in 2022 (over 3 times the average energy consumption per capita in the other Southern African countries: Botswana, Eswatini, Lesotho, Namibia). Electricity consumption per capita peaked at 4 500 kWh in 2007 before decreasing to 3 300 kWh in 2022 (around 6 times the value of other Southern African countries).
Total energy consumption has been decreasing rapidly since 2017 (by 3.8%/year). It had previously been stable over 2010-2017.
Interactive Chart South Africa Total Energy Consumption
Crude Oil Production
Total oil production decreased by 10% between 2016 (5.5 Mt) and 2020 (4.9 Mt) and has remained stable since then. It mostly comes from synthetic fuels of the Secunda coal-to-liquid facility (Sasol, 150 kb/d), as conventional production of crude oil is marginal. Another plant, Mossel Bay GTL (PetroSA, 45 kb/d), is currently off due to a lack of gaseous feedstock.
Interactive Chart South Africa Crude Oil Production
Oil Products Consumption
Oil consumption decreased by 4% in 2022 after a 6% reduction in 2021 and a 14% drop in 2020; before that it remained roughly stable at around 35 Mt between 2011 and 2019.
Transport accounts for 53% of that consumption, followed by industry (including non-energy uses) with 25%, the hydrocarbon sector (11%), and residential-services-agriculture (11%).
Graph: OIL CONSUMPTION (Mt)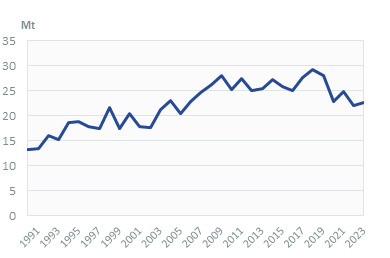 Graph: OIL CONSUMPTION BREAKDOWN BY SECTOR (2022, %)
Interactive Chart South Africa Refined Oil Products Production
Natural Gas Consumption
Gas consumption decreased by 2% in 2022 to 5.4 bcm; before that, it was quite stable between 2015 and 2020 and increased by 7% in 2021. Previously, it rose with strong fluctuations, at the average pace of 8%/year between 2000 and 2015.
Gas is mainly used to produce fuels in the gas-to-liquids plant (58%) and in industry (41%).
Graph: NATURAL GAS CONSUMPTION (bcm)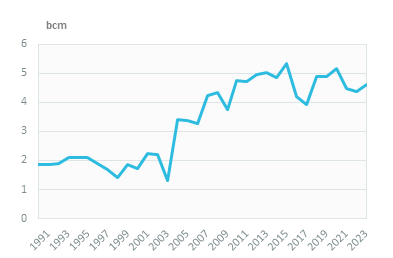 Graph: GAS CONSUMPTION BREAKDOWN BY SECTOR (2022, %)
Interactive Chart South Africa Natural Gas Domestic Consumption
Coal Consumption
Coal consumption has dropped by 21% since 2019, reaching 155 Mt in 2022. This represents the lowest consumption since 1999. Between 2008 and 2019, coal consumption fluctuated around 190 Mt.
Power generation absorbed 69% of the coal consumed in 2022, followed by coal transformation (20%), industry (8%), and the residential and services sectors (3%).
Graph: COAL CONSUMPTION (Mt)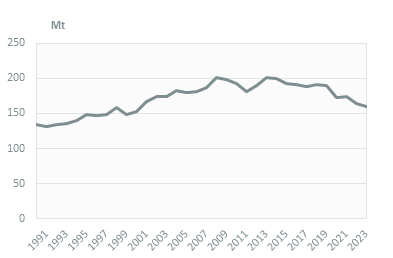 Graph: COAL CONSUMPTION BREAKDOWN BY SECTOR (2022, %)
Interactive Chart South Africa Coal and Lignite Domestic Consumption
Power Consumption
Electricity consumption decreased by 3% to 201 TWh in 2021, after decreasing by 2% in 2021 and 6% in 2020. It remained stable between 2005 and 2019, fluctuating between 204 and 220 TWh.
Industry is the main electricity consumer (50%), followed by the residential sector (23%) and services (18%).
Graph: ELECTRICITY CONSUMPTION (TWh)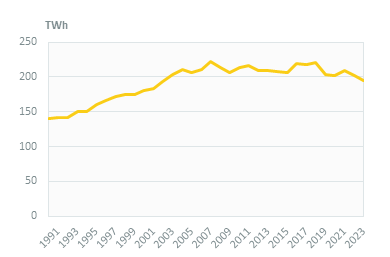 Graph: ELECTRICITY CONSUMPTION BREAKDOWN BY SECTOR (2022, %)
Renewable in % Electricity Production
The IRP2019 targets the addition of 16 GW of wind and solar by 2030 in relation to 2018, made up of 9.5 GW of wind and 6.5 GW of solar. Wind should account for 16% of installed capacity in 2030 and solar for 11%.
Interactive Chart South Africa Share of Renewables in Electricity Production (incl hydro)
CO2 Fuel Combustion/CO2 Emissions
In its updated NDC (2021), South Africa aims to limit GHG emissions to 398-510 MtCO2eq in 2025 and to 350-420 MtCO2eq in 2030 (aligned with 1.5 and 2 degrees of global warming, respectively). The upper end of the 2030 target has been reduced by 32% compared to the first NDC (2015).
CO2 emissions from fuel combustion decreased by 5% in 2022 to 367 MtCO2, in a continuous decline since the 2019 peak. Emissions now reach the 2004-2006 average level. They had previously increased quickly from 2000 to a peak of 440 Mt in 2014 (+3%/year), reaching that level again in 2019.