Mauritania Energy Information
Population: 4.55 million
GDP growth rate: 3.57 %/year
Energy independence: 43.5%

Data of the last year available: 2018
Total consumption/GDP:* 97.6 (2015=100)
CO2 Emissions: 0.68 tCO2/capita
Rate of T&D power losses: 28.0%

* at purchasing power parity
View all news, archive your new and create your own daily newsletters only on your topics/countries of interest with Key Energy Intelligence
Mauritania Related Research
Total Energy Consumption
Energy consumption per capita is estimated at 0.35 toe, including 220 kWh of electricity (2019).
Total energy consumption is growing rapidly (+3.8%/year, on average, over the last decade) and stood at 1.6 Mtoe in 2019.
Oil covers 66% of the country's energy needs, biomass 32%, and hydroelectricity only 2%. Oil is mainly used for electricity production (38%) and by the transport sector (53%) (2019).
Graph: CONSUMPTION TRENDS BY ENERGY SOURCE (Mtoe)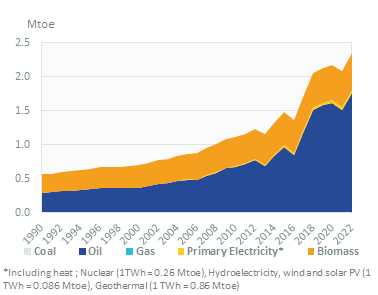 Interactive Chart Mauritania Total Energy Consumption
Crude Oil Production
Oil production started in 2006 at the Chinguetti oil field at a level of 1.5 Mt, but was halved in 2007 and has almost disappeared since then (0.13 Mt in 2018). This situation was mainly due to technical difficulties (geological problems, maintenance, gas leaks, false alarms, closure of a well, rise in the level of water, etc.) and the geological structure of the field.
The country's only refinery stopped operating in 2000.
Interactive Chart Mauritania Crude Oil Production
Renewable in % Electricity Production
In 2011, the Government, in the Poverty Reduction Strategy Paper (PRSP), set the objective of g a share of 15% of renewables in power production in 2015 and of 20% in 2020. In 2019, wind and solar represented 17% of power production and renewables, including hydro, accounted for 33% (20% and 37%, respectively, for public production only).
In the SCAPP, the Government has set the objective to reach a share of 50% in the "energy mix" in 2020, but the scope of this objective remains unclear.
Interactive Chart Mauritania Share of Renewables in Electricity Production (incl hydro)
CO2 Fuel Combustion/CO2 Emissions
In its NDC (Nationally Determined Contribution), the country set a GHG emissions reduction target of 22% in 2030, compared to a BAU scenario. The actual target will depend on the availability of international support for financing, capacity building and also technology transfer.
CO2 emissions from energy combustion are increasing rapidly (around 7%/year since 2013). In 2019, energy emissions stood at 3.2 MtCO2, i.e. over 3 times more than in 1990.
Graph: CO2-ENERGY EMISSIONS (MtCO2)
Shopping cart
Your shopping cart is empty.
Secured payment by