Serbia Energy Information
Serbia Key Figures
Population:

6.84 million

GDP growth rate:

7.39 %/year

Energy independence:

64.0%
Data of the last year available: 2021
Total consumption/GDP:*

69.5 (2005=100)

CO2 Emissions:

6.92 tCO2/capita

Rate of T&D power losses:

12.7%
* at purchasing power parity
Serbia Related Research
Total Energy Consumption
Energy consumption per capita amounts to 2.4 toe (22% below the EU average in 2021), including 4 500 kWh of electricity (22% below the EU average, 2021).
Total energy consumption grew by 3.7%/year between 2019 and 2021 to 16.5 Mtoe. It declined by 3%/year between 2004 and 2014 to 13 Mtoe, mainly because of the 2014 floods that cut lignite consumption by 23%.
Graph: CONSUMPTION TRENDS BY ENERGY SOURCE (Mtoe)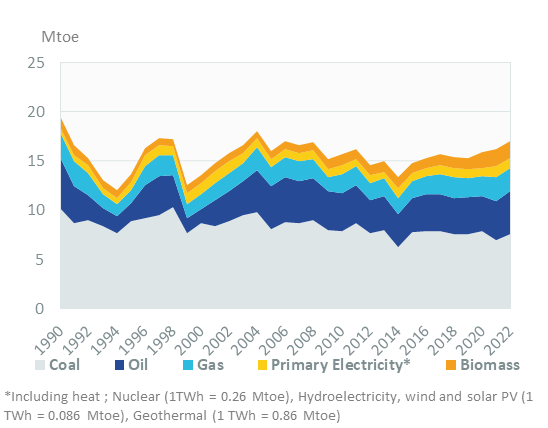 Interactive Chart Serbia Total Energy Consumption
Crude Oil Production
Crude oil production has been declining by 4.2%/year since 2013, reaching 0.88 Mt in 2021. It nearly doubled between 2008 and 2013 following the acquisition of NIS by Gazprom. Production covered 22% of domestic oil supply in 2021. Oil fields are located in Vojvodine, in the north of the country.
Interactive Chart Serbia Crude Oil Production
Renewable in % Electricity Production
The National Action Plan for Renewable Energy (NREAP, 2013) set a target of 27% of renewables in the final energy consumption in 2020 (37% for electricity, 30% for heating and 10% for transport). Serbia missed this target by 1 point, with a share of 26% in 2020; in 2021, this share dipped to 25% (30% for electricity, 35% for heating, and 0.6% for transport).
Interactive Chart Serbia Share of Renewables in Electricity Production (incl hydro)
CO2 Fuel Combustion/CO2 Emissions
In its updated NDC (August 2022), Serbia raised its GHG emissions reduction target to 33.3% by 2030 compared with 1990 levels or 13% compared to the 2010 level.
In August 2022, Serbia presented its draft Integrated National Energy and Climate Plan (INECP). It introduces a higher GHG emission reduction target by 2030 (-40.3% compared to 1990 levels) and aims to reach carbon neutrality by 2050.