Latvia Energy Information
Population: 1.91 million
GDP growth rate: 2.20 %/year
Energy independence: 63.0%

Data of the last year available: 2019
Total consumption/GDP:* 75.4 (2005=100)
CO2 Emissions: 3.67 tCO2/capita
Rate of T&D power losses: 6.05%

* at purchasing power parity
View all news, archive your new and create your own daily newsletters only on your topics/countries of interest with Key Energy Intelligence
Total Energy Consumption
Energy consumption per capita is 2.3 toe (24% below the EU average), including 3 500 kWh of electricity, i.e. around 38% below the EU average (2019).
Graph: CONSUMPTION TRENDS BY ENERGY SOURCE (Mtoe)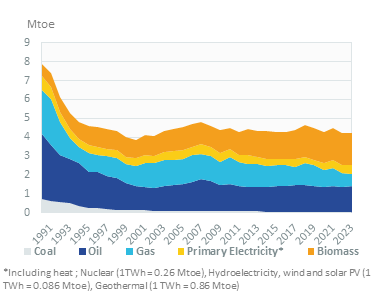 Total energy consumption increased slightly between 2015 and 2018 (4.6 Mtoe) and decreased in 2019 to 4.5 Mtoe. It declined by 1.5%/year between 2007 and 2015, after increasing rapidly between 2000 and 2007 (3.2%/year).
Interactive Chart Latvia Total Energy Consumption
Crude Oil Production
Latvia does not have a refinery. It imports all its refined products by rail and pipeline from Russia, Belarus, and the Lithuanian refinery of Mazeikiai. Oil product imports dipped by 6%/year from 2016 to 2.3 Mt in 2019; in 2020, imports declined again by 14% (1.9 Mt) and exports fell by 31% (to 0.3 Mt) (preliminary estimates). They had increased steadily (+6.2%/year) between 2010 and 2016. Its geographical location makes Latvia an important transit area for oil products, which represent approximately half of the imported energy products.
Interactive Chart Latvia Crude Oil Production
Oil Products Consumption
The demand for oil products has been recovering slightly since 2012, reaching 1.4 Mt in 2019, and was stable in 2020 according to preliminary estimates. It fell before by 5.3%/year between 2007 and 2012.
Graph: OIL CONSUMPTION (Mt)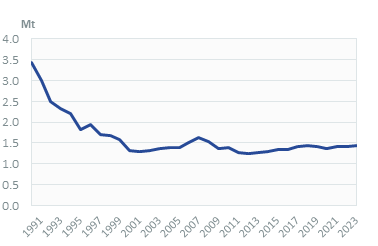 Transport accounts for nearly 3/4 of oil product consumption (74% in 2019), the residential-tertiary-agriculture sector for 16% and industry for 9% (including non-energy uses).
Graph: OIL CONSUMPTION BREAKDOWN BY SECTOR (2019, %)
Interactive Chart Latvia Refined Oil Products Production
Natural Gas Consumption
Natural gas consumption decreased by 5.4% in 2019 to 1.35 bcm after increasing in 2018. According to preliminary estimates, gas consumption fell by 18% to 1.1 bcm in 2020. Previously, it had decreased by 5.6%/year between 2010 and 2017.
The power sector, which accounted for more than 51% of total gas consumption in 2019, is the main driver of gas demand.
Graph: NATURAL GAS CONSUMPTION (bcm)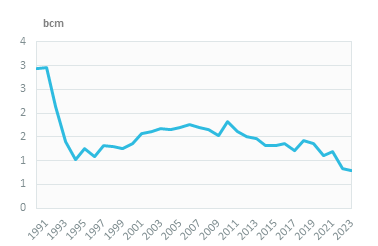 Graph: GAS CONSUMPTION BREAKDOWN BY SECTOR (2019, %)
Interactive Chart Latvia Natural Gas Domestic Consumption
Coal Consumption
Coal and lignite consumption has halved since 2011 (-61% between 2011 and 2019) after a tenfold decrease between 1990 and 2004 (reduced use for CHP and heat plants). It is now marginal in Latvia's energy mix (1%, less than 0.1 Mt in 2019).
Graph: COAL CONSUMPTION (Mt)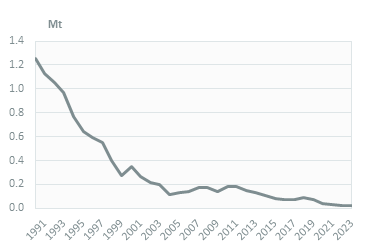 Industry is the main consumer (69% of the demand in 2019), followed by the residential and services sectors with 18%. Power plants account for just 6% (2019).
Interactive Chart Latvia Coal and Lignite Domestic Consumption
Power Consumption
Electricity consumption remained broadly stable between 2013 and 2019 (6.6 TWh in 2019). According to preliminary estimates, it declined by 2.2% in 2020 to 7.1 TWh. It had previously soared between 2000 and 2007 (+5.7%/year, reaching 6.6 TWh).
Graph: ELECTRICITY CONSUMPTION (TWh)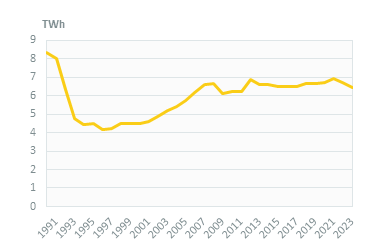 Services dominate electricity consumption (43%). They are followed by industry (28%), households (25%), and transport 1% (2019).
Graph: ELECTRICITY CONSUMPTION BREAKDOWN BY SECTOR (2019, %)
Renewable in % Electricity Production
Latvia already met the target set by the European Directive as to the share of renewables in the final energy consumption (41% achieved in 2019 for a target of 40% in 2020, including 53% in electricity, 58% in heating, and 5.1% in transports). The Strategy 2030 raised this share to 50% in 2030 (same as in the NECP), including 7% in transport (3.5% of the final energy consumption in transport should be met by advanced biofuels). By 2030, Latvia aims to generate more than 60% of its electricity and 58% of its heat from renewables.
Interactive Chart Latvia Share of Renewables in Electricity Production (incl hydro)
CO2 Fuel Combustion/CO2 Emissions
Latvia issued its NDC in 2015, stating an objective of reducing GHG emissions by 55% for 2030 (compared to 1990 levels). The NECP (2020) sets a higher reduction target of 65% by 2030 compared to 1990, including a 6% cut in emissions from non-ETS activities by 2030 (compared to 2005).
GHG emissions fell until 2000 and have remained relatively stable at around 10-12 MtCO2eq since then; they were 38% below 1992 level in 2018 (12.2 MtCO2eq).
Shopping cart
Your shopping cart is empty.
Secured payment by