Latvia Energy Information
Latvia Key Figures
Population:

1.88 million

GDP growth rate:

1.98 %/year

Energy independence:

63.9%
Data of the last year available: 2022
Total consumption/GDP:*

73.6 (2005=100)

CO2 Emissions:

3.33 tCO2/capita

Rate of T&D power losses:

5.36%
* at purchasing power parity
Latvia Related Research
Total Energy Consumption
Energy consumption per capita is 2.4 toe, including 3 500 kWh of electricity, i.e. around 40% below the EU average (2022).
Graph: CONSUMPTION TRENDS BY ENERGY SOURCE (Mtoe)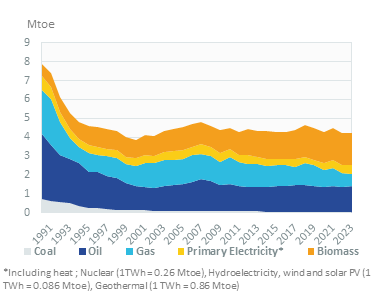 Since 2011, total energy consumption has fluctuated around 4.3 Mtoe (4.5 Mtoe in 2022), after a slight increase between 2015 and 2018. It declined by 1.5%/year between 2007 and 2015.
Interactive Chart Latvia Total Energy Consumption
Crude Oil Production
Latvia does not have a refinery. It imports all its refined products by rail and pipeline from the Lithuanian refinery of Mazeikiai, Russia and Finland. Oil product imports increased to 19% in 2022, after dipping by 7%/year between 2016 and 2021; imports in 2021 mainly came from Lithuania (50%), followed by Russia and Finland (both 20%).
Interactive Chart Latvia Crude Oil Production
Oil Products Consumption
The demand for oil products recovered slightly since 2012 (+2%/year), reaching 1.5 Mt in 2022. It fell before by 5.3%/year between 2007 and 2012.
Graph: OIL CONSUMPTION (Mt)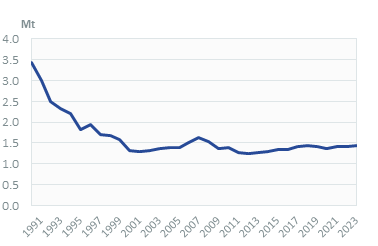 Transport accounts for nearly 3/4 of oil product consumption (70% in 2022), the residential-tertiary-agriculture sector for 18% and industry for 11% (including non-energy uses).
Graph: OIL CONSUMPTION BREAKDOWN BY SECTOR (2022, %)
Interactive Chart Latvia Refined Oil Products Production
Natural Gas Consumption
In 2022, natural gas consumption dropped by 30% to 0.8 bcm, after a 4%/year decline by over 2010-2021. Previously, it grew by 3%/year between 1994 and 2010.
The power sector, which accounted for more than 37% of total gas consumption in 2022, is the main driver of gas demand.
Graph: NATURAL GAS CONSUMPTION (bcm)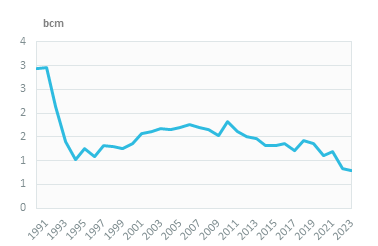 Graph: GAS CONSUMPTION BREAKDOWN BY SECTOR (2022, %)
Interactive Chart Latvia Natural Gas Domestic Consumption
Coal Consumption
Coal and lignite consumption has halved since 2011 (-14%/year between 2011 and 2022) after a tenfold decrease between 1990 and 2004 (reduced use for CHP and heat plants). It is now marginal in Latvia's energy mix (1%, less than 0.1 Mt in 2022).
Graph: COAL CONSUMPTION (Mt)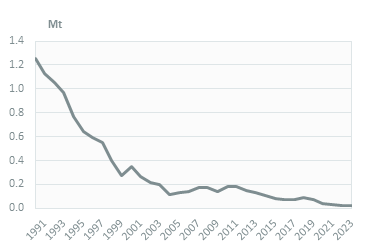 Industry is the main consumer (80% of the demand in 2020), followed by the residential and services sectors with 13% (2020).
Graph: COAL CONSUMPTION BREAKDOWN BY SECTOR (2022, %)
Interactive Chart Latvia Coal and Lignite Domestic Consumption
Power Consumption
Electricity consumption dropped by 4% to 6.7 TWh in 2022. It slightly increased between 2013 and 2021). It had previously soared between 2000 and 2007 (+5.7%/year).
Graph: ELECTRICITY CONSUMPTION (TWh)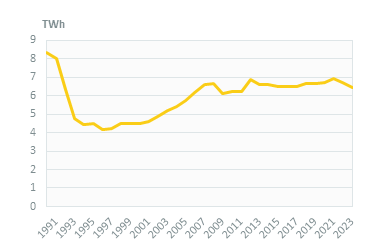 Services dominate electricity consumption (39%). They are followed by industry (28%), households (26%), and transport 1% (2020).
Graph: ELECTRICITY CONSUMPTION BREAKDOWN BY SECTOR (2022, %)
Renewable in % Electricity Production
Latvia exceeded by 5 pp the target set by the European Directive for a share of 40% of renewables in the final energy consumption. The Strategy 2030 and NECP raised this share to 50% in 2030, including 60% for electricity, 58% for heat, and 7% for transport (of which 3.5% are advanced biofuels). These targets should be easily reached as, in 2021, the share of renewables was 42.1% (of which 51.4% for electricity, 57.4% for heat, and 6.4% in transport).
Interactive Chart Latvia Share of Renewables in Electricity Production (incl hydro)
CO2 Fuel Combustion/CO2 Emissions
Latvia issued its NDC in 2015, stating an objective of reducing GHG emissions by 55% for 2030 (compared to 1990 levels). The NECP (2020) sets a higher reduction target of 65% by 2030 compared to 1990, including a 6% cut in emissions from non-ETS activities by 2030 (compared to 2005).
Total GHG emissions (with international aviation) have increased by almost 50% since 2019, reaching 13.1 MtCO2eq in 2021; they fluctuated quite a lot between 2010 and 2019 (10- 12 MtCO2eq).