Albania Energy Information
Population: 2.87 million
GDP growth rate: 4.06 %/year
Energy independence: 85.0%

* at purchasing power parity
Total consumption/GDP:* 68.8 (2015=100)
CO2 Emissions: 1.56 tCO2/capita
Rate of T&D power losses: 16.0%

Total Energy Consumption
Consumption per capita is much lower than the EU average, at approximately 0.8 toe (74% below the EU average), including around 2 200 kWh of electricity (60% below the EU average) (2018).
Total energy consumption has grown slowly since 2004 (+0.6%/year), reaching 2.4 Mtoe in 2017 (stable in 2018). It soared between 1995 and 2004 (+5.6%/year).
Graph: CONSUMPTION TRENDS BY ENERGY SOURCE (Mtoe)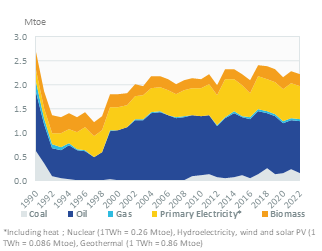 Interactive Chart Albania Total Energy Consumption
Crude Oil Production
Oil production has fallen by 33% since 2014 to 0.9 Mt in 2018, due to low international prices that cut investments in the sector. Most of this production is exported. Production tripled between 2004 and 2014 to 1.4 Mt.
The two refineries located in Ballshi (17 800 bbl/d) and Fier (8 500 bbl/d) need to be modernised and only run at around 30% of their capacity (0.4 Mt produced in 2018). The Ballshi refinery stopped operations in December 2017 and in January 2019 due to a halt in crude oil supplies. Therefore, Albania relies on imports for its oil products supply (1.2 Mt in 2018).
Interactive Chart Albania Crude Oil Production
Renewable in % Electricity Production
Albania adopted its first National Renewable Energy Action Plan (NREAP) in 2016 (2015-2020) and revised it in 2018 (2018-2020). It set a target of 38% of renewables in final energy consumption in 2020 (34.6% in 2017). The 2018-2030 energy strategy aims to raise the share of renewables in primary consumption to 42% in 2030.
In March 2019, the Ministry of Infrastructure and Energy set up a working group to start preparatory work on the National Energy and Climate Plan.
Interactive Chart Albania Share of Renewables in Electricity Production (incl hydro)
CO2 Fuel Combustion/CO2 Emissions
In its NDC, Albania committed to reduce GHG emissions by 11.5% in 2030 compared to a baseline scenario, corresponding to a 708 kt reduction in 2030.
CO2 emissions from fuel combustion remained relatively stable at around 4 MtCO2 between 2004 and 2016; they rose by 10%/year between 2016 and 2018. Emissions, which had collapsed between 1990 and 1997, increased by 15%/year from 1998 to 2004.
Graph: CO2-ENERGY EMISSIONS (MtCO2)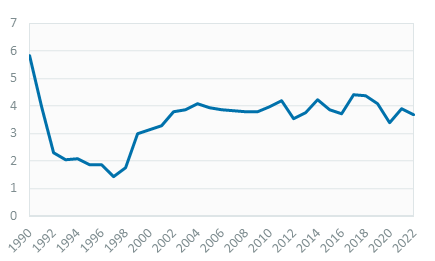 Shopping cart
Your shopping cart is empty.
Secured payment by