Congo Key Figures
Population:

5.66 million

GDP growth rate:

-3.5 %/year

Energy independence:

100%
Data of the last year available: 2021
Total consumption/GDP:*

279 (2005=100)

CO2 Emissions:

0.66 tCO2/capita

Rate of T&D power losses:

50.3%
* at purchasing power parity
Congo Related Research
Total Energy Consumption
In 2021, total energy consumption per inhabitant was around 0.6 toe (0.2 toe without biomass), in line with the Sub-Saharan Africa average, including 270 kWh of electricity (around 20% below the regional average).
Graph: CONSUMPTION TRENDS BY ENERGY SOURCE (Mtoe)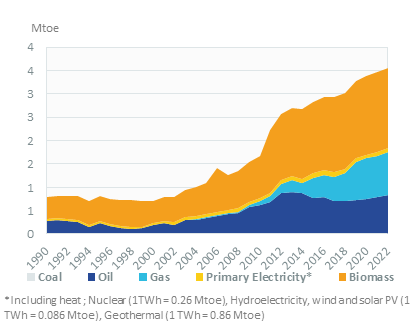 Graph: TOTAL CONSUMPTION MARKET SHARE BY ENERGY (2021, %)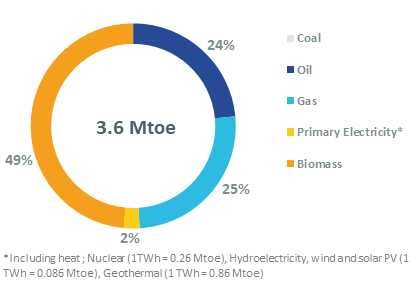 Interactive Chart Congo Total Energy Consumption
Crude Oil Production
Oil production has decreased by 19% since 2019 to 14.4 Mt in 2021; it rose by 21% in 2018 with the commissioning of several new fields (Moho Nord deep offshore, Lianzi, and Nené Marine). Production had previously been decreasing between 2010 and 2016, following a rapid increase between 2007 and 2010 (+12%/year) with the start of several fields: the first deep offshore field, Moho Bilondo, in 2008 (90 kb/d), the Awa-Paloukou and Ikalou-Ikalou fields (peak production of 13 kb/d for the two fields) in 2008, and the Azurite field (40 kb/d) in 2009.
Interactive Chart Congo Crude Oil Production
CO2 Fuel Combustion/CO2 Emissions
In its updated NDC (2021), Congo set an unconditional GHG emission reduction target of 21.5% (excluding forests) compared to a BAU scenario in 2030 and a conditional reduction target of 32%.
Under its BAU scenario, GHG emissions are expected to rise from 11.4 MtCO2eq in 2020 to 15.3 MtCO2eq in 2030, of which 10.2 MtCO2eq from the energy sector and 468 ktCO2eq from the waste sector. The unconditional reduction target would limit GHG emissions to 12 MtCO2eq in 2030 (of which 9.4 MtCO2eq from the energy sector), while the conditional reduction target could limit them to 7.1 MtCO2eq.