Italy Key Figures
Population:

59.0 million

GDP growth rate:

3.68 %/year

Energy independence:

22.5%
Data of the last year available: 2022
Total consumption/GDP:*

77.4 (2005=100)

CO2 Emissions:

5.27 tCO2/capita

Rate of T&D power losses:

5.95%
* at purchasing power parity
Italy Related Research
Total Energy Consumption
Italy's per capita energy consumption is nearly 17% lower than the EU average (2.5 toe in 2022). Electricity consumption per capita is around 5 000 kWh (5050 kWh in 2022), i.e. 9% below the EU average.
Total energy consumption declined by 3.3% to 145 Mtoe in 2022, in a context of high energy prices and geopolitical concerns. It had declined slightly between 2017 and 2019 (-1.5%/year) and fell by 7.6% in 2020 before rebounding by 8.8% in 2021.
Graph: CONSUMPTION TRENDS BY ENERGY SOURCE (Mtoe)
Interactive Chart Italy Total Energy Consumption
Crude Oil Production
After a 25% increase in 2020, crude oil and NGL production has been decreasing again (-10% in 2021 and -13% in 2022 to 4.6 Mt).
Crude oil imports rose by 9% in 2022 to nearly 65 Mt (86% of oil consumption). Four suppliers accounted for 61% of crude oil supply in 2022, namely Russia (19%), Libya, and Azerbaijan (14% each), and Iraq (13%). In March 2022, in the wake of the invasion of Ukraine, Eni stopped buying oil and oil products from Russia, and Italy, among other G7 nations, pledged in May 2022 to end Russian oil imports.
Interactive Chart Italy Crude Oil Production
Oil Products Consumption
Oil product consumption rebounded by 13% in 2021 to 50 Mt (stable in 2022), after a slight decrease (-1.7%/year) between 2015 and 2019 and a 15% drop in 2020.
Graph: OIL CONSUMPTION (Mt)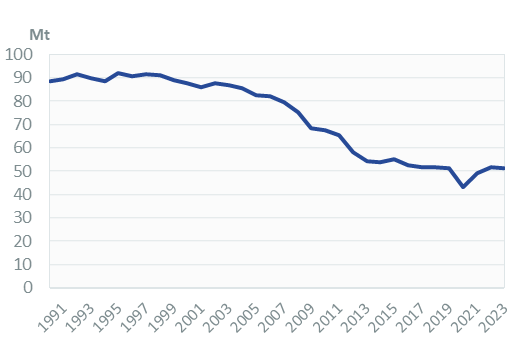 The transport sector absorbs a growing share of total oil product consumption (64% in 2022). It is followed by industry, the hydrocarbon industry, and non-energy uses (20% in 2022). Power plants accounted for just 8% of oil consumption in 2022, compared to 11% in 2010.
Interactive Chart Italy Refined Oil Products Production
Natural Gas Consumption
In 2022, record high gas prices, warmer weather, and consumer behaviours reduced gas consumption by 10% to 69 bcm (-14% in industry and buildings).
Natural gas consumption increased by 7% in 2021 after a 4% decline in 2020. It reached a peak at 86 bcm in 2005 and declined by 3.6%/year until 2014, before recovering by 3.8%/year until 2019 (rising consumption in the power sector).
Graph: NATURAL GAS CONSUMPTION (bcm)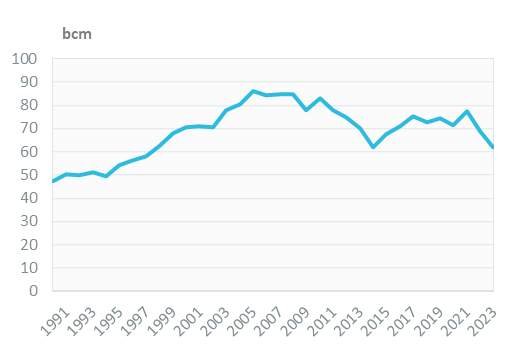 Interactive Chart Italy Natural Gas Domestic Consumption
Coal Consumption
Coal consumption rebounded by 10% in 2021 and by 48% in 2022 to nearly 13 Mt, as lower hydropower generation and high gas prices increased coal demand from the power sector (+56% in 2022). It more than halved between 2010 and 2020 (-64%, including -25% in 2019 and -27% in 2020) because of the closure of coal fired power plants and higher competition from gas and renewables.
Power generation accounted for 77% of coal consumption in 2022 (as in 2010) and industry consumed most of the remainder (23%).
Graph: COAL CONSUMPTION (Mt)
Interactive Chart Italy Coal and Lignite Domestic Consumption
Power Consumption
Electricity consumption decreased slightly in 2022 to 209 TWh, after a surge of 6% in 2021. It remained stable between 2014 and 2019 and contracted by 6% in 2020. It fell by 1.5%/year on average, from its peak in 2008 through 2014.
Graph: ELECTRICITY CONSUMPTION (TWh)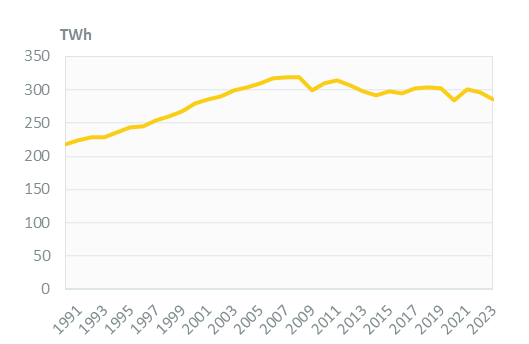 The industrial sector is the main consumer of electricity, with 42% in 2021. Services account for 27% and households for 22%. These shares have remained stable since 2010.
Renewable in % Electricity Production
Italy exceeded by 3.4 points its 2020 renewable targets (17%), as the share of renewables in final energy consumption reached 20.4% (38% for electricity vs target of 26%), 20% for heating and cooling (target of 17%) and 10.7% in transport. In 2021, renewables covered 19% of final energy consumption (36% in electricity, 19.7% in heating and cooling, and 10% in transport).
The NECP 2030 targets a share of 30% of renewables in final consumption, including 55% in electricity consumption, 34% for heat, and 20% in transport. It plans 50 GW of solar PV in 2030 (+30 GW).
Interactive Chart Italy Share of Renewables in Electricity Production (incl hydro)
CO2 Fuel Combustion/CO2 Emissions
GHG emissions decreased by 38% from their peak at 565 MtCO2eq in 2007 until 2020. They rebounded by nearly 11% to 390 MtCO2eq in 2021 and remained stable in 2022, according to preliminary estimates.
The NECP 2030 aims at cutting GHG emissions for all ETS sectors by 43% and for all non-ETS sectors by 33% in 2030 (compared to 2005): this corresponds to an overall reduction of 40% compared to 1990 levels (-25% in 2022). Italy is considering raising this target to 60% in 2030 (compared to 1990).