Saudi Arabia Energy Information
Population: 35.1 million
GDP growth rate: -4.0 %/year
Energy independence: 100%

Data of the last year available: 2020
Total consumption/GDP:* 115 (2005=100)
CO2 Emissions: 14.2 tCO2/capita
Rate of T&D power losses: 8.30%

* at purchasing power parity
Saudi Arabia Related News
View all news, archive your new and create your own daily newsletters only on your topics/countries of interest with Key Energy Intelligence
Saudi Arabia Related Research
Total Energy Consumption
Consumption per capita is very high, reaching 5.9 toe in 2020, including about 9.1 MWh of electricity.
Total energy consumption has stopped growing since 2015 and dropped by around 4% in 2020 to 207 Mtoe (-0.7%/year since 2015) due to subsidy cuts and economic slowdown. Before 2015, it had increased rapidly (4%/year over 2010-2015), driven by high sustained economic growth combined with low energy prices.
Graph: CONSUMPTION TRENDS BY ENERGY SOURCE (Mtoe)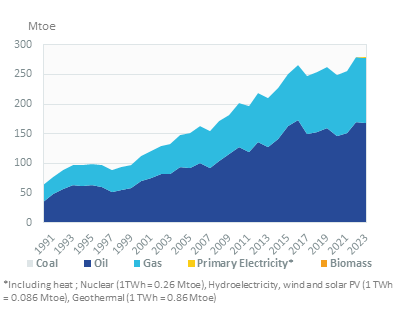 Interactive Chart Saudi Arabia Total Energy Consumption
Crude Oil Production
Production has decreased by 10% since 2019 (-5% in 2019, -6% in 2020 and, -1% estimated for 2021). It had increased before by 24% between 2010 and 2018 (+34% since 2000). Total oil production reached 513 Mt in 2020 (12% of the global production). Crude oil represents 90%, while the rest is made up of NGLs. In 2020, Saudi Arabia was the world's second largest producer, behind the US, at the same level as Russia.
Interactive Chart Saudi Arabia Crude Oil Production
Renewable in % Electricity Production
In April 2020, a Supreme Committee for Energy Mix Affairs, for Electricity Production and Enabling Renewable Energy, chaired by the Crown Prince, was established to oversee renewable energy projects.
REPDO, the Renewable Energy Projects Development Office under the Mistry of Energy, oversees the National Renewable Energy Program and regularly calls for bids.
Interactive Chart Saudi Arabia Share of Renewables in Electricity Production (incl hydro)
CO2 Fuel Combustion/CO2 Emissions
Saudi Arabia updated its NDCs in 2021, with the objective of reducing GHG emissions by 278 MtCO2eq by 2030 compared to 2019 levels (646 MtCO2eq); this doubles the previous target of 130 MtCO2eq reduction by 2030. The NDC also pledged to reach net-zero emissions of greenhouse gas by 2060.
In addition to the target of 50% renewable energy in the energy mix by 2030, Saudi Arabia wants to develop green hydrogen production, carbon capture, use and storage (CCUS), and to reduce global methane emissions in 2030 by 30% compared to 2020 levels.
Shopping cart
Your shopping cart is empty.
Secured payment by