Turkmenistan Energy Information
Turkmenistan Key Figures
Population:

6.12 million

GDP growth rate:

4.62 %/year

Energy independence:

100%
Data of the last year available: 2021
Total consumption/GDP:*

41.5 (2005=100)

CO2 Emissions:

10.3 tCO2/capita

Rate of T&D power losses:

15.5%
* at purchasing power parity
Turkmenistan Related News
Turkmenistan Related Research
Total Energy Consumption
Per capita consumption is 4.4 toe, with electricity accounting for around 2 600 kWh in 2021.
Total energy consumption has been increasing by 3.4%/year since 2018, reaching 27 Mtoe in 2021. It had increased rapidly from 2000 to 2015 (4%/year, on average) and then remained stable until 2018. Natural gas represents 71% of that consumption and oil 28%.
Graph: CONSUMPTION TRENDS BY ENERGY SOURCE (Mtoe)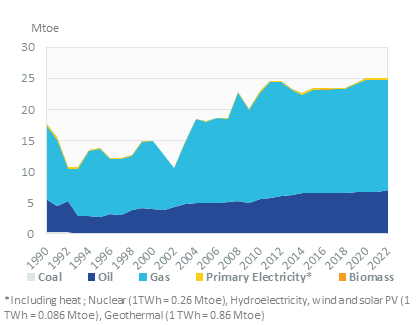 Graph: TOTAL CONSUMPTION MARKET SHARE BY ENERGY (2021, %)
Interactive Chart Turkmenistan Total Energy Consumption
Crude Oil Production
The country's oil production has remained roughly stable since 2017 (9.2 Mt in 2021). It reached a peak at 13 Mt in 2015.
The country has a refining capacity of 271 kb /d, distributed mainly over 2 refineries (Seydi, 120 kb/d and Türkmenbaşy/Krasnovodsk, 116 kb/d).
The country is a net exporter of oil products. Oil exports decreased by 7% in 2021 to 2.4 Mt. Previously they had remained stable around 2.6 Mt since 2017. The main destinations of crude oil exports in 2021 were Denmark (60%) and Uzbekistan (26%).
Interactive Chart Turkmenistan Crude Oil Production
Renewable in % Electricity Production
In 2021, the Ministry of Energy launched the first international tender for the construction of a hybrid renewable power plant (solar and wind) with a capacity of 10 MW (7 MW solar and 3 MW wind). The plant is intended to be built on the territory of the Serdar etrap of the Balkan velayat (both expected in 2024).
In March 2023, the country launched a new international tender for the supply of equipment and materials for PV projects in remote locations. As of end 2021, there was no renewable energy capacity in the country.
Interactive Chart Turkmenistan Share of Renewables in Electricity Production (incl hydro)
CO2 Fuel Combustion/CO2 Emissions
In its updated NDC (2023), the government aims to reduce its GHG emissions by 20% by 2030 (relative to 2010 emissions).
CO2 emissions from energy combustion increased by 5% to 63 MtCO2 in 2021, after remaining quite stable between 2015-2020 (at around 60 MtCO2).
Graph: CO2-ENERGY EMISSIONS (MtCO2)