Ghana Energy Information
Population: 31.1 million
GDP growth rate: 0.93 %/year
Energy independence: 100%

Data of the last year available: 2020
Total consumption/GDP:* 83.3 (2005=100)
CO2 Emissions: 0.64 tCO2/capita
Rate of T&D power losses: 17.2%

* at purchasing power parity
View all news, archive your new and create your own daily newsletters only on your topics/countries of interest with Key Energy Intelligence
Total Energy Consumption
In 2020, total per capita energy consumption was 0.39 toe and electricity consumption was 485 kWh/cap.
Total energy consumption has increased very rapidly since 2017 (+8%/year).
Oil and biomass represent the bulk of consumption with 36% each, but gas has been progressively gaining ground since 2009, reaching 23% in 2019. The remainder is supplied by hydro and solar electricity with 4%.
Graph: CONSUMPTION TRENDS BY ENERGY SOURCE (Mtoe)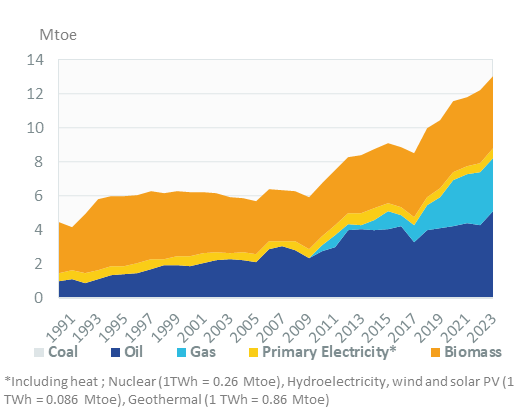 Interactive Chart Ghana Total Energy Consumption
Crude Oil Production
Oil production has tripled since 2011 and reached 9.7 Mt in 2020 (of which, -7% in 2020). The entire production is exported, mainly to China (35%) and South Africa (18%) (2019).
The main areas of production in 2020 are Jubilee (45% of the total), Sankofa and Gye Nyame (27%), as well as Ten (27%).
Interactive Chart Ghana Crude Oil Production
Renewable in % Electricity Production
The new Renewable Energy Masterplan (2019) aims at increasing the penetration of wind and solar in the power mix from 45 MW in 2015 to 1.4 GW in 2030. In 2019, the target of 10% of renewables in the power mix included in the Renewable Energy Act (2011) was postponed by 10 years to 2030.
Interactive Chart Ghana Share of Renewables in Electricity Production (incl hydro)
CO2 Fuel Combustion/CO2 Emissions
In November 2021, the country updated its NDC. Ghana aims to implement 34 mitigation measures to achieve absolute emission reductions of 64 MtCO2e by 2030. Out of the 34, nine unconditional measures are expected to lead to an emission reduction of 24.6 MtCO2e. The country's contribution did not include a value for the 2030 target year.
CO2 emissions from energy combustion are increasing rapidly; they have more than tripled since 2004 from 5.9 MtCO2 to 19.9 MtCO2 in 2020.
Graph: CO2-ENERGY EMISSIONS (MtCO2)
Shopping cart
Your shopping cart is empty.
Secured payment by