Algeria Energy Information
Algeria Key Figures
Population:

45.3 million

GDP growth rate:

2.93 %/year

Energy independence:

100%
Data of the last year available: 2022
Total consumption/GDP:*

140 (2005=100)

CO2 Emissions:

3.41 tCO2/capita

Rate of T&D power losses:

12.0%
* at purchasing power parity
Algeria Related Research
Total Energy Consumption
Compared to other developing countries with a similar development level, Algeria's consumption is high (1.5 toe per capita), partly because of consumption and losses in the energy sector (oil & gas production and LNG plants, mainly). Electricity consumption per capita reaches 1 500 kWh (2022).
Total energy consumption increased by 3% in 2022 to 66 Mtoe after a 6% progression in 2021 and a 5% drop in 2020. It grew steadily by 5%/year on average over 2010-2019.
Graph: CONSUMPTION TRENDS BY ENERGY SOURCE (Mtoe)
Interactive Chart Algeria Total Energy Consumption
Crude Oil Production
Oil production (crude oil and NGL) increased by 11% in 2022 to 65 Mt, returning to similar levels to those reached in 2018. In 2021, there was a slight growth of 1%, after a significant decrease of 11% in 2020, as a consequence of the COVID pandemic. Oil production was stable over 2012-2019 at around 67 Mt, following a period of decline since 2007 from 86 Mt.
Around 1/3 of the crude oil production is exported (22 Mt in 2022); that figure has been decreasing over time (-2%/year on average since 2012).
Interactive Chart Algeria Crude Oil Production
Oil Products Consumption
Oil consumption increased by 15% in 2022 to 21 Mtoe. Previously, from 2019 to 2021, it decreased by 3%/year on average. In 2018, it increased by 6% and remained stable in 2019. Previously, it decreased over 2015-2017 partly due to higher fuel prices. Oil consumption increased steadily over 2006-2015 (+6%/year).
Transport absorbs almost 70% of total oil products consumption, followed by residential, services and agriculture with 13%.
Graph: OIL CONSUMPTION (Mt)
Interactive Chart Algeria Refined Oil Products Production
Natural Gas Consumption
Gas consumption decreased by 2% to 50 bcm in 2022, after a progression by 11% in 2021. Previously, it decreased by 3% in 2020 due to a fall in industrial and hydrocarbon activities and had been increasing by more than 6%/year over 2010-2019.
Power plants consume 45% of the gas, followed by buildings (residential and services, 24%) and industry (21%) (2022). The remaining 10% is used by the hydrocarbon sector.
Graph: NATURAL GAS CONSUMPTION (bcm)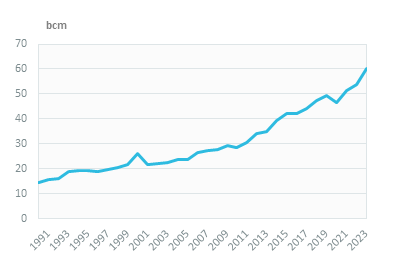 Interactive Chart Algeria Natural Gas Domestic Consumption
Coal Consumption
Coal consumption is low (0.42 Mt in 2022).
Graph: COAL CONSUMPTION (Mt)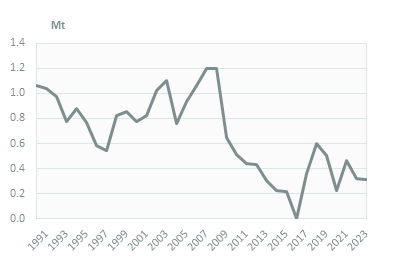 Graph: COAL CONSUMPTION BREAKDOWN BY SECTOR (2022, %)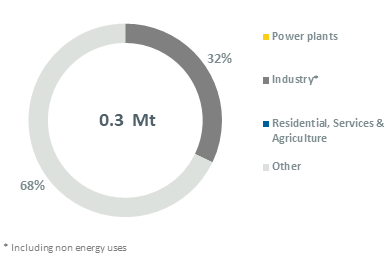 Interactive Chart Algeria Coal and Lignite Domestic Consumption
Power Consumption
Electricity consumption increased by 4% in 2022 to 69 TWh after a 7% progression in 2021. It had been increasing very rapidly over 2009-2019 (8%/year) and decreased by 3% in 2020 due to the activity slowdown caused by the COVID pandemic. The electrification rate is close to 100%.
Graph: ELECTRICITY CONSUMPTION (TWh)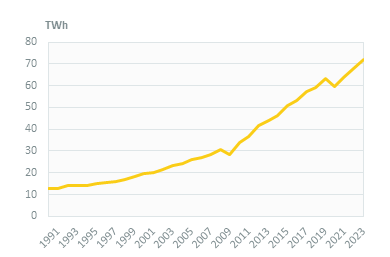 The residential sector accounts for 38% of electricity consumption, followed by the industry with 35% and services with 19% (2022).
Renewable in % Electricity Production
The Renewable Energies and Energy Efficiency Commission (CEREFE), created in 2019, contributes to the national development of renewables and energy efficiency as an adviser and evaluates the national policy.
Interactive Chart Algeria Share of Renewables in Electricity Production (incl hydro)
CO2 Fuel Combustion/CO2 Emissions
In its NDC, the country announced its aim to reduce GHG emissions by 7% by 2030 compared to a BAU scenario, which could be raised to 22% under the condition of access to new financial resources from bilateral and multilateral partners, as well as clean technology transfer on concessional and preferential terms.
emissions from energy use rose by 2% to 155 Mt in 2022 after a CO2 9% progression in 2021 and a sharp 6% contraction in 2020. Emissions had previously increased by 5%/year over 2010-2019. Algeria is the third largest emitter of CO2 in Africa.