South Korea Energy Information
Population: 51.9 million
GDP growth rate: 4.02 %/year
Energy independence: 18.4%

Data of the last year available: 2021
Total consumption/GDP:* 83.2 (2005=100)
CO2 Emissions: 11.9 tCO2/capita
Rate of T&D power losses: 3.39%

* at purchasing power parity
View all news, archive your new and create your own daily newsletters only on your topics/countries of interest with Key Energy Intelligence
South Korea Related Research
Total Energy Consumption
Total energy consumption exceeded its 2019 level in 2021 to 289 Mtoe (+4.8%) after a 1.4% fall in 2020.
Oil covered 37% of the energy needs, coal 26%, gas 19%, primary electricity 15% (of which nuclear 14%, hydro, wind, and solar 1%), and biomass 3%. Since 2017, the share of coal has decreased by 4 points, while that of gas has increased by 3 points.
Graph: CONSUMPTION TRENDS BY ENERGY SOURCE (Mtoe)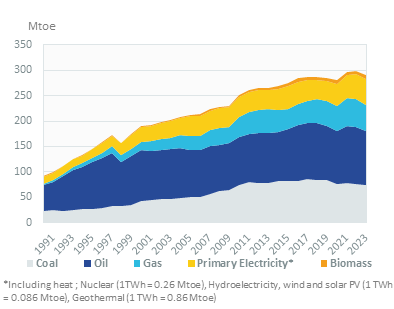 Graph: TOTAL CONSUMPTION MARKET SHARE BY ENERGY (2021, %)
Interactive Chart South Korea Total Energy Consumption
Crude Oil Production
Korea depends on imports to meet its entire oil demand. Thanks to the increase in its refining capacities, Korea has been a net exporter of oil products since 1997. Net oil product exports fell by 37% in 2021 to 13 Mt, a level similar to that of 2010, but bounced back in 2022, more than doubling over the first 8 months. Net crude oil imports were 10% below their 2019 level, at 130 Mt. In April 2022, following a decision by IEA member countries, the country released 7.2 mbl of strategic crude oil reserves to cope with high oil prices.
Interactive Chart South Korea Crude Oil Production
Oil Products Consumption
Oil consumption increased by 6.7% in 2021 to 108 Mt, after three years of decrease. It had increased strongly over 2014-2017 (5.4%/year), following relative stability over 2000-2014.
Because of significant consumption of oil for non-energy uses, industry represents over half of the oil demand, while transport accounts for almost one third.
Graph: OIL CONSUMPTION (Mt)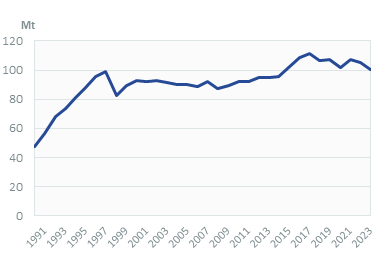 Graph: OIL CONSUMPTION BREAKDOWN BY SECTOR (2021, %)
Interactive Chart South Korea Refined Oil Products Production
Natural Gas Consumption
Gas demand has been increasing rapidly since 2015 (5.5%/year), reaching 61 bcm in 2021 (+10%). It contracted in 2014 and 2015 due to some nuclear restarts.
In 2021, 58% of the natural gas was used in power plants, 25% in buildings, and 14% in the industrial sector. Since 2015, buildings and industry have lost 5% points each, mainly in favour of power plants (+9% points).
Graph: NATURAL GAS CONSUMPTION (bcm)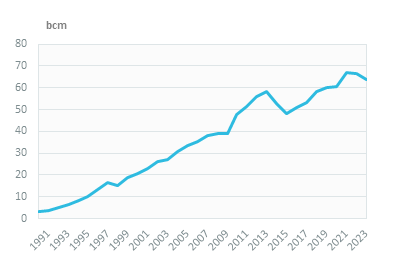 Graph: GAS CONSUMPTION BREAKDOWN BY SECTOR (2021, %)
Interactive Chart South Korea Natural Gas Domestic Consumption
Coal Consumption
Coal consumption remained stable in 2021 (117 Mt), after a 16% decrease over 2018-2020. The consumption had increased by around 2%/year over 2010-2018.
Power plants accounted for 68% of coal consumption in 2021 and industry for 23%.
Graph: COAL CONSUMPTION (Mt)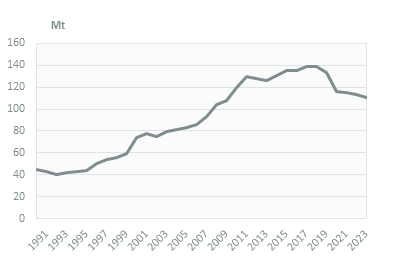 Graph: COAL CONSUMPTION BREAKDOWN BY SECTOR (2021, %)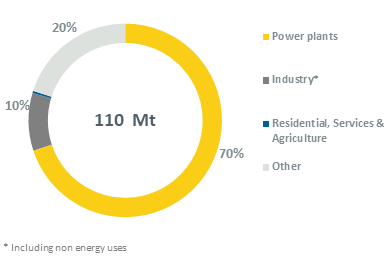 Interactive Chart South Korea Coal and Lignite Domestic Consumption
Power Consumption
Electricity consumption increased by 5% in 2021 to 554 TWh, after a decrease in 2019 and 2020 (-1.6%/year) and steady growth between 2010 and 2018 (2.2%/year).
Industry absorbs half of the electricity consumption, services 30%, and households 13%. The distribution has been similar since 2010.
Graph: ELECTRICITY CONSUMPTION (TWh)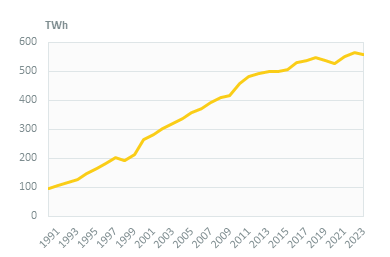 Graph: ELECTRICITY CONSUMPTION BREAKDOWN BY SECTOR (2021, %)
Renewable in % Electricity Production
KEA supports and promotes renewable energies.
In 2020, MOTIE unveiled the 9th Basic Plan for Long-Term Electricity Demand and Supply 2020-2034, in which it revised upwards its renewables target to 40% of the power mix in 2034 (against 30-35% in 2040 in the Third Energy Master Plan in 2019). MOTIE plans to add 49 GW of renewables by 2030, comprising 29 GW in large-scale projects and 20 GW from households, small businesses, and from rural projects.
Interactive Chart South Korea Share of Renewables in Electricity Production (incl hydro)
CO2 Fuel Combustion/CO2 Emissions
In its updated NDC (2021), the country almost doubled its reduction target for total GHG emissions in 2030 to 40%, compared to 2018 level, from 24.4% previously. In 2020, the country also committed to achieving carbon neutrality by 2050. Other related measures were announced in 2020, such as a proposal call for ending the financing of coal-fired power plants overseas and introducing a carbon tax, as well as increasing the renewables target.
Shopping cart
Your shopping cart is empty.
Secured payment by