Japan Key Figures
Population:

125 million

GDP growth rate:

1.08 %/year

Energy independence:

13.8%
Data of the last year available: 2022
Total consumption/GDP:*

73.0 (2005=100)

CO2 Emissions:

7.98 tCO2/capita

Rate of T&D power losses:

4.40%
* at purchasing power parity
Japan Related Research
Total Energy Consumption
Energy consumption per capita was 3.2 toe in 2022. Electricity consumption per capita was around 7 500 kWh.
Total energy consumption stabilized in 2022 (404 Mtoe), after a strong rebound in 2021 (+4.5%) following the 7% drop in 2020. Previously, it had decreased continuously between 2010 and 2019 (-2%/year).
Graph: CONSUMPTION TRENDS BY ENERGY SOURCE (Mtoe)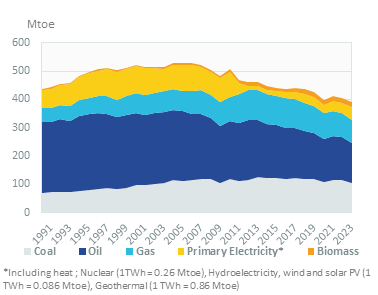 Interactive Chart Japan Total Energy Consumption
Crude Oil Production
Japan is the world's fifth largest oil importer. Crude oil imports increased in 2022, for the first time in a decade (+7% vs 2021), but are still 6% below their 2019 level. This recent surge can be explained by the continuing recovery from the 2020 pandemic, combined with protectionist measures ensuring energy security which followed the Russian invasion of Ukraine.
Interactive Chart Japan Crude Oil Production
Oil Products Consumption
Oil product consumption has generally been decreasing since 1996, except between 2010 and 2012 and since 2020. The increase over 2010-2012 was driven by an 80% progression in the oil demand of power plants to cope with the closure of nuclear plants. It declined by around 2%/year between 2012 and 2022 to 151 Mt, as utilities progressively switched to coal and thanks to a higher share of efficient and hybrid vehicles. Japan has the fifth highest oil consumption, after China, the United States, Russia, and India.
Graph: OIL CONSUMPTION (Mt)
Interactive Chart Japan Refined Oil Products Production
Natural Gas Consumption
Gas consumption has decreased by around 2%/year since 2012. Nearly two thirds of natural gas is used for power generation.
Graph: NATURAL GAS CONSUMPTION (bcm)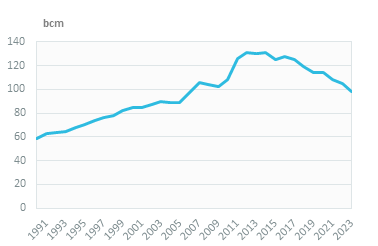 Graph: GAS CONSUMPTION BREAKDOWN BY SECTOR (2022, %)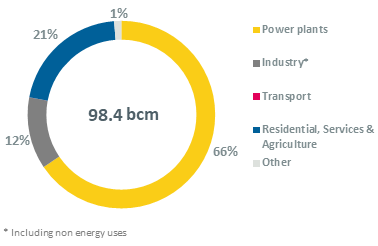 Interactive Chart Japan Natural Gas Domestic Consumption
Coal Consumption
After a sharp increase between 1990 and 2007, coal consumption has been declining slightly since 2013 (-1.1%/year), reaching 179 Mt in 2022.
Electricity production absorbs 67% of the coal demand, followed by industry (29%), especially for iron and steel production.
Graph: COAL CONSUMPTION (Mt)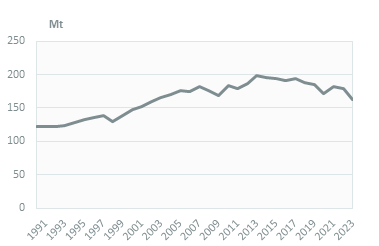 Graph: COAL CONSUMPTION BREAKDOWN BY SECTOR (2022, %)
Interactive Chart Japan Coal and Lignite Domestic Consumption
Power Consumption
Electricity consumption has generally been decreasing since 2010, especially since 2016 (-0.9%/year on average).
Graph: ELECTRICITY CONSUMPTION (TWh)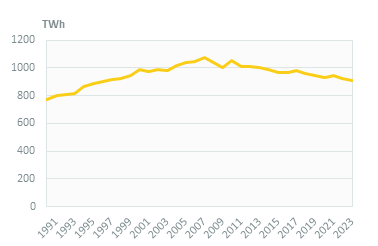 Industry accounts for 34% of electricity consumption, followed by services (34%) and households (26%).
Graph: ELECTRICITY CONSUMPTION BREAKDOWN BY SECTOR (2022, %)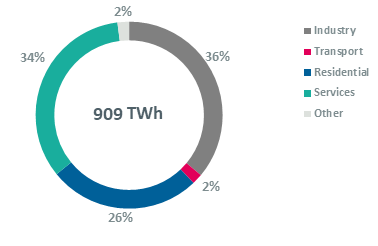 Renewable in % Electricity Production
The 6th Strategic Energy Plan (2021) aims to raise the share of renewables in the power mix to 36-38% (including hydropower) in 2030, with plans to make renewables the main power source in 2050 (19% in 2021).
Feed-in tariffs (FiTs) were removed in 2020 for large solar PV projects (>250 kW) and replaced by a tendering program initiated by METI. They were introduced for solar PV in 2009 (for surplus electricity production only) and for other renewables in 2011.
Interactive Chart Japan Share of Renewables in Electricity Production (incl hydro)
CO2 Fuel Combustion/CO2 Emissions
In 2021, Japan raised its NDC target from a 26% reduction in GHG emissions by 2030 to 46% (2013 as base year).
GHG emissions rose by +2% in FY 2022, after a 5.4% drop in FY 2020 during Covid. This represents a nearly 20% decrease compared to FY 2013 (around 45% of the 2030 target).
The long-term goal, announced in 2019 in the long-term growth strategy under the Paris Agreement, is to become carbon neutral in 2050.