Moldova Energy Information
Population: 3.55 million
GDP growth rate: 4.00 %/year
Energy independence: 20.3%

Data of the last year available: 2018
Total consumption/GDP:* 71.6 (2015=100)
CO2 Emissions: 2.25 tCO2/capita
Rate of T&D power losses: 9.98%

* at purchasing power parity
View all news, archive your new and create your own daily newsletters only on your topics/countries of interest with Key Energy Intelligence
Total Energy Consumption
Energy consumption per capita is approximately 1.1 toe/year (three times lower than the European average), including about 1 500 kWh of electricity (2018).
Graph: CONSUMPTION TRENDS BY ENERGY SOURCE (Mtoe)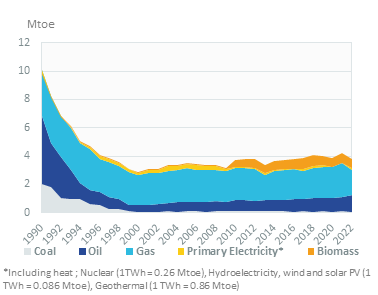 Graph: TOTAL CONSUMPTION MARKET SHARE BY ENERGY (2018, %)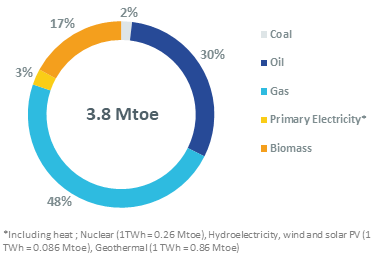 Interactive Chart Moldova Total Energy Consumption
Crude Oil Production
Moldova imports almost all the oil products it consumes (99.5% in 2018), mainly from Romania (98% for gasoline and 82% for diesel in 2018). Oil product imports increased by an average of 6%/year starting in 2015 and reached 0.99 Mt in 2018. The total consumption reached 0.9 Mt in 2018.
Interactive Chart Moldova Crude Oil Production
Renewable in % Electricity Production
According to the Moldovan Energy Strategy 2030, Moldova aims to increase the share of renewables in the country's final energy consumption to 17% in 2020 (27.8% reached in 2017), with a specific goal of 10% in transport. Electricity from renewables (mostly from wind and biogas) is expected to reach 17% of the total electricity consumption in 2020 (6% in 2018). The Strategy also planned 400 MW worth of additional wind and solar generation capacities through tenders.
Interactive Chart Moldova Share of Renewables in Electricity Production (incl hydro)
CO2 Fuel Combustion/CO2 Emissions
In its NDC, Moldova plans to reduce its GHG emissions by 64-67% by 2030, compared to 1990 levels.
CO2 emissions from energy combustion have remained quite stable since 2000, after an 80% decrease between 1990 and 2000 (8 MtCO2 in 2018).
Graph: CO2-ENERGY EMISSIONS (MtCO2)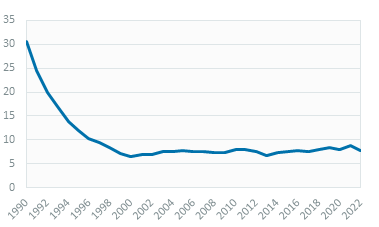 Shopping cart
Your shopping cart is empty.
Secured payment by