Lebanon Energy Information
Population: 6.83 million
GDP growth rate: -21 %/year
Energy independence: 3.70%

Data of the last year available: 2020
Total consumption/GDP:* 130 (2005=100)
CO2 Emissions: 3.10 tCO2/capita
Rate of T&D power losses: 10.2%

* at purchasing power parity
View all news, archive your new and create your own daily newsletters only on your topics/countries of interest with Key Energy Intelligence
Total Energy Consumption
Per capita energy consumption was 1.1 toe/cap in 2020. Per capita electricity consumption was 2 300 kWh in 2020.
Total energy consumption dropped by 14% in 2020 to 7.4 Mtoe, following a 6% fall in 2018 and a stability in 2019. It previously increased rapidly between 2011 and 2017 (around 6%/year).
Graph: CONSUMPTION TRENDS BY ENERGY SOURCE (Mtoe)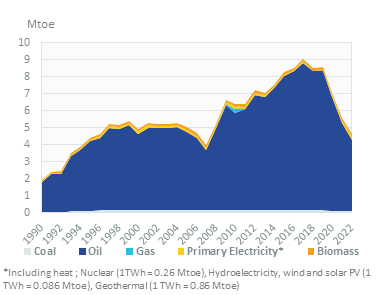 Oil accounts for 94% of the country's overall consumption, biomass for 2%, coal for 2%, and primary electricity for 2%.
Interactive Chart Lebanon Total Energy Consumption
Crude Oil Production
Lebanon imports all its oil products (6.7 Mt in 2020, after a peak at 8.5 Mt in 2017). In 2020, the country imported oil products from Greece (26% in value), Russia (15%), and United States (13%).
Lebanon does not have refining capacity. The country's two refineries (Tripoli in the north and Zahrani in the south) were both closed in 2005.
Interactive Chart Lebanon Crude Oil Production
Renewable in % Electricity Production
According to its updated NDC (March 2021), Lebanon pledged to unconditionally generate 18% of its power demand and 11% of its heat demand (in the building sector) from renewables in 2030. These renewable targets could conditionally be increased to 30% of its power demand and to 16.5% for heat with international support.
The target of 1 million m2 of solar water heaters in 2020 was not reached: only 735 000 m2 installed in 2020, i.e. 110 m2/1000 inhabitants, compared to 560 m2 in Israel and 920 m2 in Cyprus.
Interactive Chart Lebanon Share of Renewables in Electricity Production (incl hydro)
CO2 Fuel Combustion/CO2 Emissions
According to its updated NDC (March 2021), the country intends to unconditionally increase its GHG emission reduction target from 15% to 20% compared to a BAU scenario, and to conditionally increase it from 30% to 31%.
CO2 emissions from energy combustion have decreased by 19% since 2017 to 22 MtCO2 in 2020 (of which 15% in 2020). Before they increased rapidly between 2007 and 2017 (7.5%/year).
Graph: CO2-ENERGY EMISSIONS (MtCO2)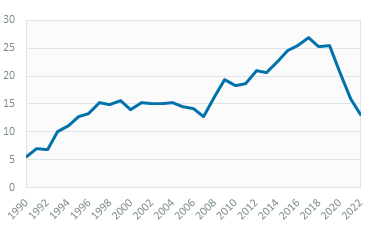 Shopping cart
Your shopping cart is empty.
Secured payment by