Belarus Energy Information
Population: 9.51 million
GDP growth rate: 3.15 %/year
Energy independence: 15.6%

Data of the last year available: 2018
Total consumption/GDP:* 63.8 (2015=100)
CO2 Emissions: 6.19 tCO2/capita
Rate of T&D power losses: 7.97%

* at purchasing power parity
View all news, archive your new and create your own daily newsletters only on your topics/countries of interest with Key Energy Intelligence
Total Energy Consumption
Per capita energy consumption stands at 2.8 toe (2018), including approximately 3 400 kWh of electricity.
Total energy consumption remained roughly stable between 2015 and 2017 (around 25 Mtoe) and rebounded in 2018 by 4% to reach 26.6 Mtoe.
Gas represents the largest share of total energy consumption with 64% in 2018, followed by oil (27%). Around 70% of gas is used for power generation (2018).
Graph: CONSUMPTION TRENDS BY ENERGY SOURCE (Mtoe)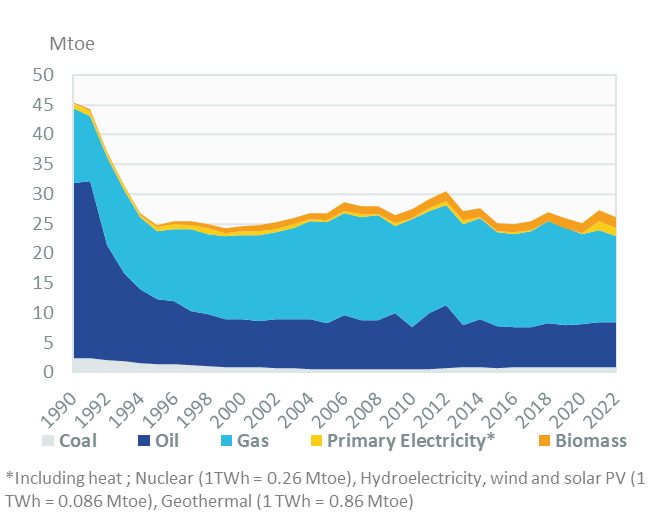 Interactive Chart Belarus Total Energy Consumption
Crude Oil Production
Oil production is limited; it has remained roughly stable since 2012 at 1.7 Mt. Oil production is located in the Pripyat area in the southeast of the country. Around 90% of oil supplies come from Russia.
The country has two refineries, one in Mozyr (capacity of 240 000 bbl/d) and one in Novopolotsk, operated by Naftan (222 000 bbl/d).
The refining capacity is higher than the domestic needs, making Belarus a net exporter of oil products (around 70% of total production since 2010).
Interactive Chart Belarus Crude Oil Production
Renewable in % Electricity Production
There is no binding target for renewables. However, the government is aiming to reach a 9% share of renewables in the energy mix by 2035 (up from just under 6% in 2013). Electricity generation from renewables is expected to grow 10-fold to 2.6 TWh by 2035.
Interactive Chart Belarus Share of Renewables in Electricity Production (incl hydro)
CO2 Fuel Combustion/CO2 Emissions
In its NDC (Nationally Determined Contribution), Belarus committed to reducing HGH emissions by at least 28% below the 1990 level by 2030, excluding emissions and removals in land use, land-use change and the forestry sector, and without any additional conditions.
Belarus's energy-related CO2 emissions were stable between 2005 and 2014, decreased until 2016, and then rose slightly to around 60 Mt in 2018. They are well below their 1990 level (-41%).
Graph: CO2-ENERGY EMISSIONS (MtCO2)
Shopping cart
Your shopping cart is empty.
Secured payment by