Australia Energy Information
Population: 25.4 million
GDP growth rate: 1.71 %/year
Energy independence: 100%

Data of the last year available: 2019
Total consumption/GDP:* 82.8 (2015=100)
CO2 Emissions: 15.9 tCO2/capita
Rate of T&D power losses: 5.35%

* at purchasing power parity
View all news, archive your new and create your own daily newsletters only on your topics/countries of interest with Key Energy Intelligence
Australia Related Research
Total Energy Consumption
Per capita energy consumption is around 40% higher than the average of OECD countries, amounting to 5.3 toe in 2019, while per capita electricity consumption was 9.2 MWh.
Total energy consumption had remained stable between 2008 and 2018 and increased by 6% in 2019 to 136 Mtoe in 2019.
Oil, natural gas, and coal (including lignite) all have similar market shares in energy consumption (32%, 31%, and 30%, respectively). The share of coal decreased by almost 10% points since 2010, while the share of natural gas increased by 8.5% points.
Interactive Chart Australia Total Energy Consumption
Crude Oil Production
Australia's production of liquid hydrocarbons (crude oil, condensates, and LPG) was halved between its peak at 32 Mt in 2000 and 2017, due to the decline in production from mature basins. However, it increased by 16% in 2019 to reach 16 Mt, mostly due to its two largest producing basins, the Browse and Carnarvon basins in north-western Australia, which account for 75% of total oil production and where production increased by 26% in 2019, in part due to the completion of the Greater Enfield Project in August 2019.
Interactive Chart Australia Crude Oil Production
Oil Products Consumption
The consumption of oil products rose by 6% between 2015 and 2018 and decreased by 2% in 2019, reaching 50 Mtoe.
The transport sector accounts for about 62% of oil consumption.
Graph: OIL CONSUMPTION (Mt)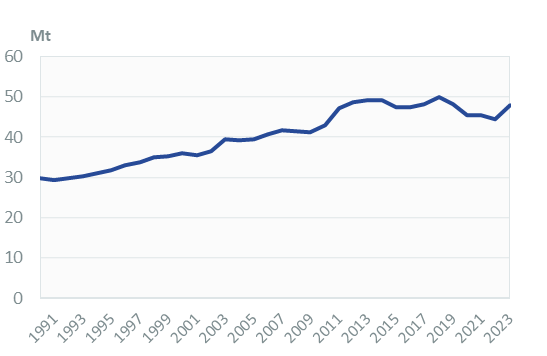 Graph: OIL CONSUMPTION BREAKDOWN BY SECTOR (2019, %)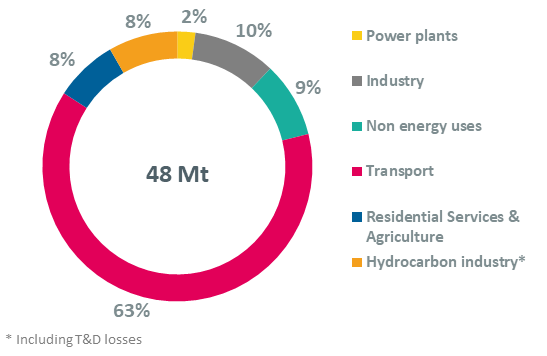 Interactive Chart Australia Refined Oil Products Production
Natural Gas Consumption
Natural gas consumption has been increasing very rapidly since 2000 at a rate of 3.4%/year until 2018 and surging by 27% in 2019 alone to 52 bcm.
Industry accounts for 26% of the consumption, electricity production for 32%, the hydrocarbon sector for 25%, and the residential and tertiary sector for around 16%.
Graph: NATURAL GAS CONSUMPTION (bcm)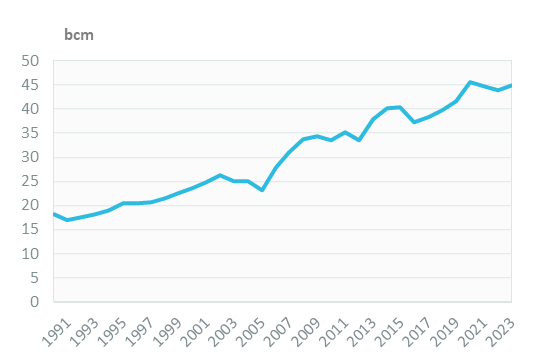 Graph: GAS CONSUMPTION BREAKDOWN BY SECTOR (2019, %)
Interactive Chart Australia Natural Gas Domestic Consumption
Coal Consumption
Coal and lignite consumption has declined sharply by 30% since 2009. Around 92% of the consumption goes to power generation.
Graph: COAL CONSUMPTION (Mt)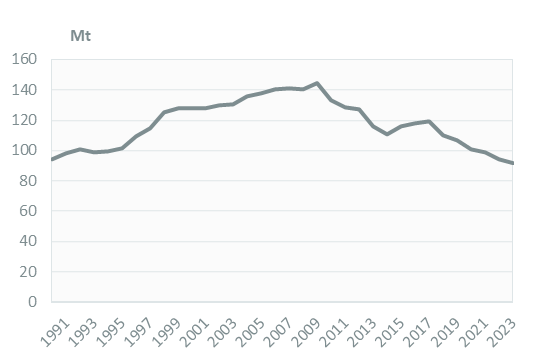 Graph: COAL CONSUMPTION BREAKDOWN BY SECTOR (2019, %)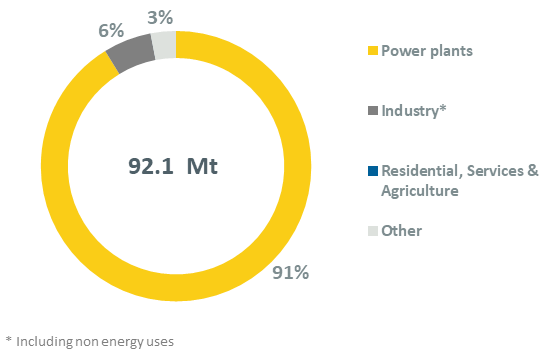 Interactive Chart Australia Coal and Lignite Domestic Consumption
Power Consumption
Electricity consumption has been increasing steadily since 2015, by 1%/year on average, and amounted to 235 TWh in 2019.
Industry is the largest user of electricity with 33% of electricity consumption, followed by services (30%) and households (26%).
Graph: ELECTRICITY CONSUMPTION (TWh)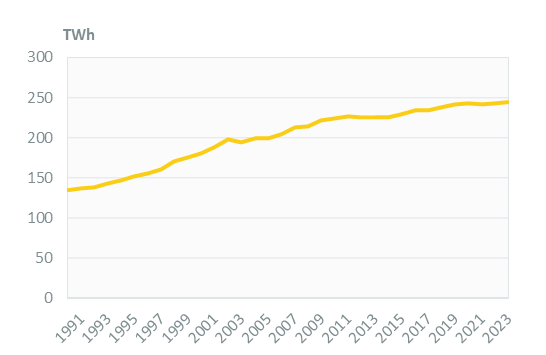 Graph: ELECTRICITY CONSUMPTION BREAKDOWN BY SECTOR (2019, %)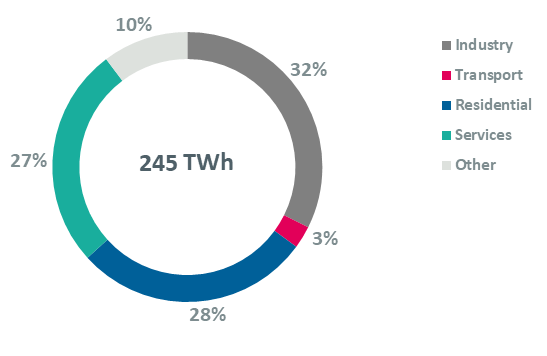 CO2 Fuel Combustion/CO2 Emissions
Australia's NDC aims to reduce GHG emissions to 26-28% below 2005 levels by 2030. GHG emissions have been decreasing since 2006 and were 12% below their 2005 level in FY 2018, reaching 534 MtCO2 in 2018. The Federal Energy Minister announced in February 2020 that Australia was considering the adoption of a net-zero emissions objective for 2050.
The state of New South Wales announced in March 2020 its objective to reach net-zero emissions by 2050, with an intermediate milestone of reducing emissions by 35% compared to 2005 levels by 2030 at a cost of A$2bn (US$1.2bn).
Shopping cart
Your shopping cart is empty.
Secured payment by