Netherlands Energy Information
The Netherlands Key Figures
Population: 17.3 million
GDP growth rate: 1.70 %/year
Energy independence: 46.5%

Data of the last year available: 2019
Total consumption/GDP:* 73.5 (2005=100)
CO2 Emissions: 9.26 tCO2/capita
Rate of T&D power losses: 4.49%

* at purchasing power parity
The Netherlands Related News
View all news, archive your new and create your own daily newsletters only on your topics/countries of interest with Key Energy Intelligence
The Netherlands Related Research
Total Energy Consumption
Energy consumption per capita (4.1 toe in 2019) is 24% higher than the EU average, mainly because of the large refining and petrochemical industries. Per capita electricity consumption is 6 500 kWh, which is 15% above the EU average.
Total energy consumption has decreased by -2.1%/year since 2017 to reach 72 Mtoe in 2019. Previously, it had increased by 1.4%/year over 2015-2017.
Interactive Chart The Netherlands Total Energy Consumption
Crude Oil Production
Crude oil production is low (1.1 Mt in 2019). Crude imports (65 Mt in 2019) mainly come from Russia (27%) and the UK (13%) (2019).
Interactive Chart The Netherlands Crude Oil Production
Oil Products Consumption
Oil consumption decreased by an average of 3.4%/year between 2017 and 2019 to reach 25 Mt. Oil demand rose by 1.7%/year between 2014 and 2017. Previously, oil consumption had decreased by 2.2%/year, on average, between its peak in 2007 and 2014.
Graph: OIL CONSUMPTION (Mt)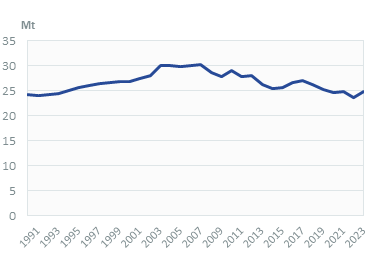 Oil consumption is almost exclusively confined to captive uses, which absorb almost 90% of the total: industry (46%) and transport (42%).
Graph: OIL CONSUMPTION BREAKDOWN BY SECTOR (2019, %)
Interactive Chart The Netherlands Refined Oil Products Production
Natural Gas Consumption
Over 2015-2019, gas consumption increased by 2%/year.
Graph: NATURAL GAS CONSUMPTION (bcm)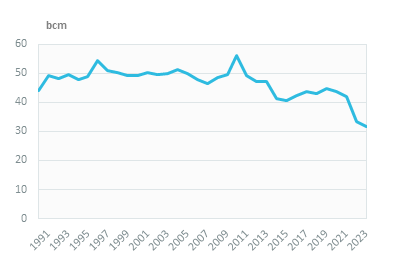 The residential-tertiary sector accounts for 36% of the natural gas consumption in 2019. Almost all households use gas for cooking and heating (98%). Electricity production represented 38% of gas consumption.
Graph: GAS CONSUMPTION BREAKDOWN BY SECTOR (2019, %)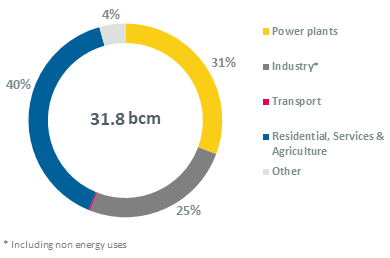 Interactive Chart The Netherlands Natural Gas Domestic Consumption
Coal Consumption
Coal is mainly consumed for power generation (65%). Since 2015, coal consumption has decreased on average by 13%/year due to the closures of coal-fired power plants, reaching 10 Mt in 2019. Previously, coal consumption saw a strong progression between 2011 and 2015 thanks to the gas-to-coal switch (+50%, including a 22% surge in 2015), bringing it to 18 Mt.
Graph: COAL CONSUMPTION (Mt)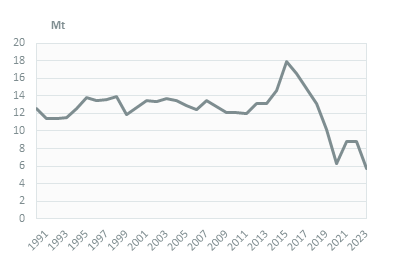 Graph: COAL CONSUMPTION BREAKDOWN BY SECTOR (2019, %)
Interactive Chart The Netherlands Coal and Lignite Domestic Consumption
Power Consumption
Electricity consumption remained stable in 2019 (114 TWh), after a 1.2% per year increase between 2015 and 2018. Electricity consumption had previously decreased slightly over 2009-2014 (-0.8%/year).
Electricity represents 16% of final energy consumption in 2019.
Graph: ELECTRICITY CONSUMPTION (TWh)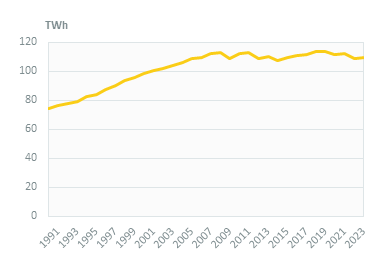 The services sector is the largest electricity user (32% in 2019), followed by industry (31%), and residential sector (21%).
Renewable in % Electricity Production
EZK is in charge of renewable energy policy, including the Stimulation of Sustainable Energy Production (SDE++ since 2020, Stimulering Duurzame Energieproductie) programme.
Interactive Chart The Netherlands Share of Renewables in Electricity Production (incl hydro)
CO2 Fuel Combustion/CO2 Emissions
GHG Emissions increased by 1.1% in 2019 and were 18% below their 1990 level. Between 2015-2018, emissions decreased by 1.6%/year in average.
Shopping cart
Your shopping cart is empty.
Secured payment by