Netherlands Energy Information
The Netherlands Key Figures
Population: 17.4 million
GDP growth rate: -4.1 %/year
Energy independence: 40.2%

Data of the last year available: 2020
Total consumption/GDP:* 74.8 (2005=100)
CO2 Emissions: 8.69 tCO2/capita
Rate of T&D power losses: 4.57%

* at purchasing power parity
The Netherlands Related News
View all news, archive your new and create your own daily newsletters only on your topics/countries of interest with Key Energy Intelligence
The Netherlands Related Research
Total Energy Consumption
Energy consumption per capita reached 4 toe in 2020 and is around 25% higher than the EU average, mainly because of the large refining and petrochemical industries. Per capita electricity consumption is 6 400 kWh, which is 20% above the EU average.
Total energy consumption has decreased by -1.6%/year at normal climate since 2017 (-1.5% in 2020), reaching 70 Mtoe in 2020. Previously, it had increased by 1.4%/year over 2015-2017.
Interactive Chart The Netherlands Total Energy Consumption
Crude Oil Production
The country plays a major role in Europe's oil supply, both in terms of exported volumes, as well as in terms of fixing the oil price (spot market of Rotterdam). In addition, the port of Rotterdam is a key location for oil transit in Europe. The Netherlands produced 55 Mt of oil products in 2020 (-10.5%).
The country is a net exporter of oil products; exports reached 92 Mt in 2020 (-13%) and imports 73 Mt (-13%). Exports mainly went to Germany (19%) and Belgium (16%), while imports mainly came from Belgium (24%) and the United Kingdom (12%).
Interactive Chart The Netherlands Crude Oil Production
Oil Products Consumption
Oil consumption has decreased by an average of 3%/year since 2017 (including -2% in 2020), reaching 25 Mt. Oil demand rose by 1.7%/year between 2014 and 2017. Previously, oil consumption had decreased by 2.2%/year, on average, between its peak in 2007 and 2014.
Graph: OIL CONSUMPTION (Mt)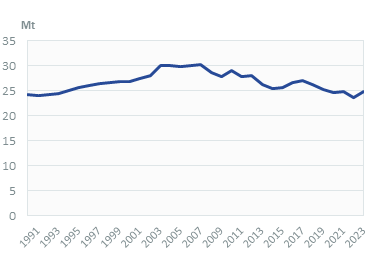 Oil consumption is almost exclusively confined to captive uses, which absorb almost 90% of the total: industry (52%) and transport (34%, -5% points in 2020).
Interactive Chart The Netherlands Refined Oil Products Production
Natural Gas Consumption
Gas consumption increased by 2%/year on average over 2015-2019 and then declined by around 2% in 2020.
Graph: NATURAL GAS CONSUMPTION (bcm)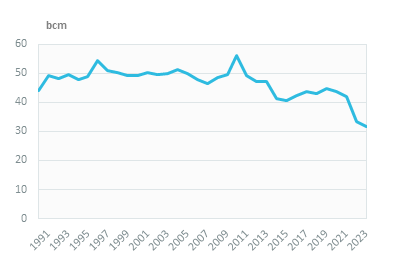 The residential-tertiary sector accounts for 35% of the natural gas consumption (2020). Almost all households use gas for cooking and heating (98%). Electricity production represented 40% of gas consumption.
Graph: GAS CONSUMPTION BREAKDOWN BY SECTOR (2020, %)
Interactive Chart The Netherlands Natural Gas Domestic Consumption
Coal Consumption
Coal is mainly consumed for power generation (51%). Since 2015, the decline in coal consumption has accelerated from -8% in 2016 to -37% in 2020, reaching 6 Mt, due to the closures of coal-fired power plants. Previously, coal consumption saw a strong progression between 2011 and 2015 thanks to the gas-to-coal switch (+50%, including a 22% surge in 2015), bringing it to 18 Mt.
Graph: COAL CONSUMPTION (Mt)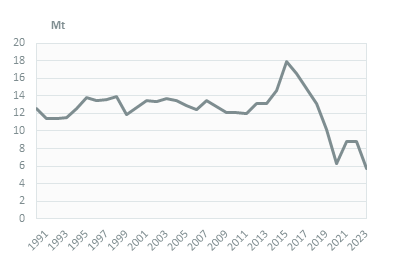 Graph: COAL CONSUMPTION BREAKDOWN BY SECTOR (2020, %)
Interactive Chart The Netherlands Coal and Lignite Domestic Consumption
Power Consumption
Electricity consumption declined by 1.2%/year since 2018 to 111 TWh, after a progression of 1.2% per year between 2015 and 2018. Electricity consumption had previously decreased slightly over 2009-2014 (-0.8%/year).
Electricity represents 16% of final energy consumption in 2020.
Graph: ELECTRICITY CONSUMPTION (TWh)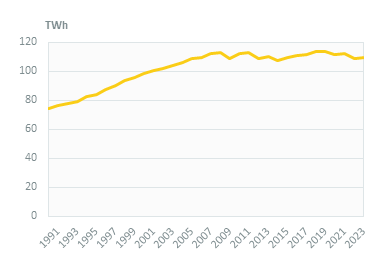 The services sector is the largest electricity user (31% in 2020), followed by industry (31%), and the residential sector (22%).
Renewable in % Electricity Production
EZK is in charge of renewable energy policy, including the Stimulation of Sustainable Energy Production (SDE++ since 2020, Stimulering Duurzame Energieproductie) programme.
The national target to increase the share of renewables in final consumption to 14% in 2020, according to the European Directive on renewables, has not been reached and was only 11.1% according to CBS (up from 8.8% in 2019. Consequently, the country had to buy between 8 and 16 TWh of renewable energy from Denmark to achieve its target.
Interactive Chart The Netherlands Share of Renewables in Electricity Production (incl hydro)
CO2 Fuel Combustion/CO2 Emissions
GHG Emissions increased by 1.1% in 2019 and were 18% below their 1990 level. Between 2015-2018, emissions decreased by 1.6%/year in average.
Shopping cart
Your shopping cart is empty.
Secured payment by