Japan Energy Information
Population: 126 million
GDP growth rate: 0.65 %/year
Energy independence: 13.5%

Data of the last year available: 2019
Total consumption/GDP:* 73.0 (2015=100)
CO2 Emissions: 8.26 tCO2/capita
Rate of T&D power losses: 4.43%

* at purchasing power parity
View all news, archive your new and create your own daily newsletters only on your topics/countries of interest with Key Energy Intelligence
Total Energy Consumption
Energy consumption per capita decreased from 4.1 toe in 2000 to 3.3 toe in 2019 (9% above the EU level). Electricity consumption per capita was around 7400 kWh in 2019 (34% above the EU level).
Total energy consumption has been decreasing since 2010 (by 2%/year on average) to 420 Mtoe in 2019.
Graph: CONSUMPTION TRENDS BY ENERGY SOURCE (Mtoe)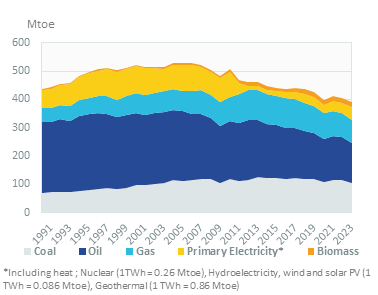 Interactive Chart Japan Total Energy Consumption
Crude Oil Production
Japan is the world's fifth largest oil importer. Crude oil imports have been decreasing by 2%/year since 2000. Slower economic growth coupled with structural trends in the transport sector (shift to electric cars and reduced car use among young generations) and the gradual phaseout of oil-fired power plants are reducing the oil demand.
Supplies are diversified, but mainly come from the Middle East (around 90% in 2018-2019). Japan's main suppliers are Saudi Arabia (around 40%) and the United Arab Emirates (25%).
Interactive Chart Japan Crude Oil Production
Oil Products Consumption
Oil product consumption has been generally decreasing steadily since 1996, except between 2010 and 2012, with the oil demand from power plants increasing by 80% to compensate for the closure of nuclear plants. It declined by 3.1%/year between 2012 and 2019 to reach 152 Mt in 2019, as utilities progressively switched to coal.
Graph: OIL CONSUMPTION (Mt)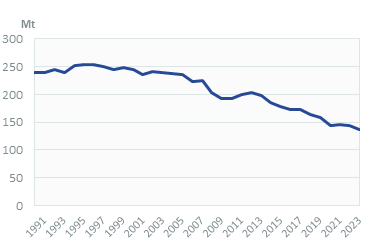 Interactive Chart Japan Refined Oil Products Production
Natural Gas Consumption
Two thirds of natural gas are used for power generation. Gas consumption increased by 21% following the Fukushima Daiichi nuclear disaster in 2011 and has declined since 2013 by -2.2%/year on average.
Graph: NATURAL GAS CONSUMPTION (bcm)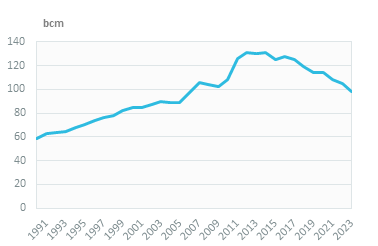 Graph: GAS CONSUMPTION BREAKDOWN BY SECTOR (2019, %)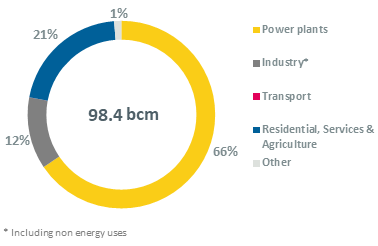 Interactive Chart Japan Natural Gas Domestic Consumption
Coal Consumption
Coal consumption is declining slightly since 2013, by 1%/year, and reached 186 Mt in 2019. It increased rapidly between 2000 and 2007 (3%/year) with most of the utilities switching to this cheap fuel.
Electricity production uses 63% of the coal consumed, and the remainder is consumed by industry, mainly by the iron and steel industry.
Graph: COAL CONSUMPTION (Mt)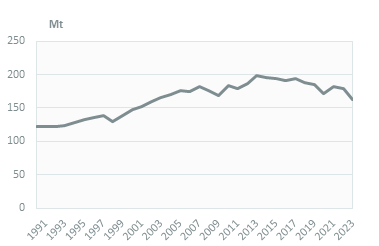 Graph: COAL CONSUMPTION BREAKDOWN BY SECTOR (2019, %)
Interactive Chart Japan Coal and Lignite Domestic Consumption
Power Consumption
Electricity consumption decreased generally between 2010 and 2018 (-1.1%/year), but dropped sharply in 2019 (-3%). Of that reduction, 20% is due to a cooler climate and a similar decline was seen in other sectors.
Graph: ELECTRICITY CONSUMPTION (TWh)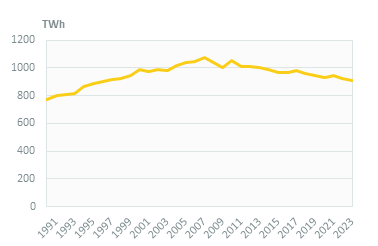 Industry accounts for 36% of electricity consumption, followed by services (33%) and households (27%).
Graph: ELECTRICITY CONSUMPTION BREAKDOWN BY SECTOR (2019, %)
Renewable in % Electricity Production
In the government's latest Energy White Paper (2020), renewables are recognised as a major energy source for Japan's future. The plan aims to raise the share of renewables in the power mix to 22-24% (including hydropower) in 2030, with plans to make renewables Japan's main power source by 2050.
Interactive Chart Japan Share of Renewables in Electricity Production (incl hydro)
CO2 Fuel Combustion/CO2 Emissions
Japan aims to reduce GHG emissions to 1.04 GtCO2eq by FY 2030, which is 26% below FY 2013 (NDC). In 2016, the country ratified the Paris Agreement on climate change.
GHG emissions dropped by 3.9% in FY 2019 for a fifth straight year and by 12% from FY 2013 to FY -2019.
The long-term goal, announced in June 2019 in the long-term growth strategy under the Paris Agreement, is to become carbon neutral in 2050.
CO2 emissions from energy combustion have declined regularly since 2013 (-2.5%/year) following the closure of nuclear reactors.
Shopping cart
Your shopping cart is empty.
Secured payment by