China Energy Information
Population: 1407 million
GDP growth rate: 1.80 %/year
Energy independence: 81.3%

Data of the last year available: 2020
Total consumption/GDP:* 58.0 (2005=100)
CO2 Emissions: 6.91 tCO2/capita
Rate of T&D power losses: 5.04%

* at purchasing power parity
View all news, archive your new and create your own daily newsletters only on your topics/countries of interest with Key Energy Intelligence
Total Energy Consumption
Total energy consumption per capita stabilized at 2.4 toe/cap in 2020 (3.5 times India's level).
Graph: CONSUMPTION TRENDS BY ENERGY SOURCE (MTOE)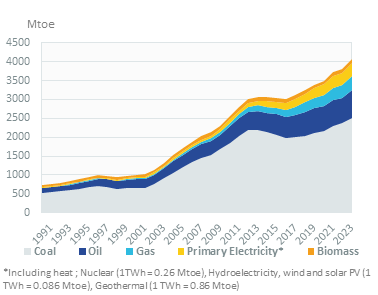 Total energy consumption has been growing slightly faster since 2017 (3.3%/year compared to 1.7%/year over 2012-2017). This is much lower than historical levels (7%/year between 2000 and 2012. In 2020, energy consumption continued to increase, despite the Covid-outbreak, but at a slower rate of 2.2%.
Interactive Chart China Total Energy Consumption
Crude Oil Production
Oil production increased by an average of 2%/year between 2000 and 2015, but declined by 10% between 2015 and 2018. It slightly rebounded in 2019 and 2020, reaching 201 Mt in 2020 (6th largest worldwide).
Most of the production is onshore and located in the fields close to the north-eastern coast (Daqing and Shenghi). Offshore production is in full development, with the Bohai basin being one of the most active areas.
Interactive Chart China Crude Oil Production
Oil Products Consumption
The consumption of oil products is increasing rapidly (4.7%/year since 2010).
The share of the transport sector decreased strongly in 2020 to 42% (-5 points) due to the pandemic; the second largest energy consuming sector is industry (including non-energy uses) with around 34%.
Graph: OIL CONSUMPTION (Mt)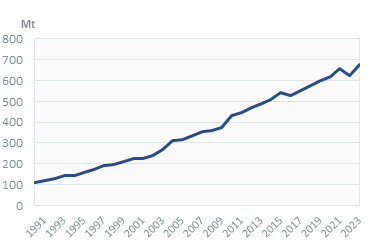 Graph: OIL CONSUMPTION BREAKDOWN BY SECTOR (2020, %)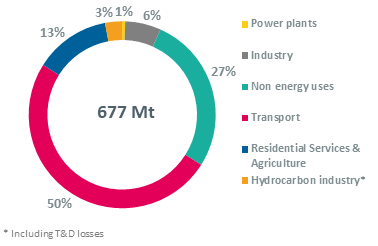 Interactive Chart China Refined Oil Products Production
Natural Gas Consumption
Natural gas consumption has accelerated strongly since 2009 (+12.5%/year over 2009-2020). Despite the pandemic, natural gas consumption reached 7% growth in 2020.
Industry represents nearly one-third of this consumption. The share of the power sector is still low (21%), but is increasing (+14 points since 2005).
Graph: NATURAL GAS CONSUMPTION (BCM)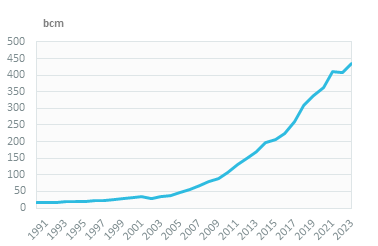 Graph: GAS CONSUMPTION BREAKDOWN BY SECTOR (2020, %)
Interactive Chart China Natural Gas Domestic Consumption
Coal Consumption
Coal and lignite consumption has been progressing slowly since 2016 (0.7%/year), reaching 3.8 Gt in 2020. It had increased very rapidly between 2000 and 2013 (8.3%/year) and then decreased between 2013 and 2016 (-2%/year).
The power sector is the largest user of coal and lignite, with 61%, followed by industry (30%). The share of the power sector has been continually increasing (around 50% in 2010).
Graph: COAL CONSUMPTION (MT)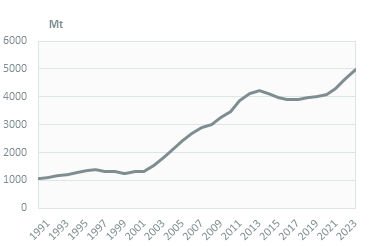 Interactive Chart China Coal and Lignite Domestic Consumption
Power Consumption
Electricity consumption has been increasing rapidly (6.8%/year over 2010-2019), with slower growth in 2020 (3.1%).
Industry is the main consumer (59% in 2020), followed by services and residential (17% and 16%, respectively).
Graph: ELECTRICITY CONSUMPTION (TWH)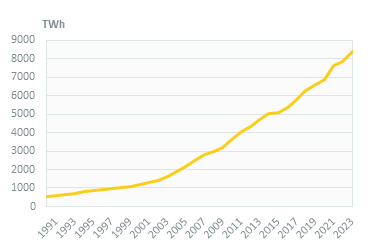 Graph: ELECTRICITY CONSUMPTION BREAKDOWN BY SECTOR (2020,%)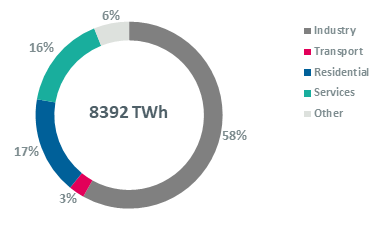 Renewable in % Electricity Production
The country targeted a share of 15% of renewables in the total primary energy consumption in 2020 ("Guiding Opinions on Establishing Renewable Energy Portfolio Standards", NEA, 2016); about 10% were reached in 2020.
The country also set a 9% target on the share of non-hydro renewables in electricity consumption for 2020 and 35% in 2030 (NDRC, 2018). In order to tackle curtailment issues, the Clean Energy Consumption Action Plan of 2018 set a goal of reducing wind and solar curtailment below 5% in all provinces by 2020.
Interactive Chart China Share of Renewables in Electricity Production (incl hydro)
CO2 Fuel Combustion/CO2 Emissions
China ratified the Paris Climate Agreement in 2016. China proposed an updated version of its first NDC in December 2020 with more ambitious targets: achieving a peak CO2 reduction before 2030, or earlier if possible; lowering CO2 per unit of GDP by over 65% in 2030 (from 2005 levels, vs 60-65% in first NDC version); increasing the share of non-fossil fuels in primary energy consumption to around 25% (vs 20%); and increasing the forest stock volume by around 6 bcm above the 2005 level (vs 4.5 bcm).
Shopping cart
Your shopping cart is empty.
Secured payment by