Slovakia Energy Information
Population: 5.45 million
GDP growth rate: 2.40 %/year
Energy independence: 39.0%

Data of the last year available: 2019
Total consumption/GDP:* 55.3 (2005=100)
CO2 Emissions: 6.06 tCO2/capita
Rate of T&D power losses: 4.39%

* at purchasing power parity
View all news, archive your new and create your own daily newsletters only on your topics/countries of interest with Key Energy Intelligence
Slovakia Related Research
Total Energy Consumption
At 3.1 toe, total energy consumption per capita is in line with the EU average; power consumption per capita is 10% lower (5 000 kWh) (2019).
Total energy consumption declined by 3.2% in 2019 to less than 17 Mtoe. It fell between 2002 and 2014 (-1.3%/year), then recovered until 2017 (+2.9%/year until 2017) before stabilising in 2018.
Interactive Chart Slovakia Total Energy Consumption
Crude Oil Production
Slovakia produces very limited amounts of crude oil, which is used in the petrochemical industry only.
Nearly all the imported crude oil (5.6 Mt in 2020) comes from Russia (97% from Russia and 2% from Hungary in 2019) through the Druzhba pipeline. The pipeline, with a capacity of 20 Mt/year in the Slovak section, runs through Belarus and Ukraine. Oil is exported to Croatia through the Adria pipeline, which is connected to the Druzhba (Friendship) pipeline. Oil deliveries were partly interrupted in the second quarter of 2019 due to tainted oil flows in the Druzhba pipeline.
Interactive Chart Slovakia Crude Oil Production
Oil Products Consumption
After 3.4%/year growth between 2013 and 2018, oil consumption dipped by 5.5% in 2019 as oil demand from industry decreased by 14% and that from transport by 1.8%. According to preliminary estimates, oil product consumption contracted by 5 to 7% in 2020.
Graph: OIL CONSUMPTION (Mt)
Interactive Chart Slovakia Refined Oil Products Production
Natural Gas Consumption
Natural gas consumption, which decreased sharply (-3.9%/year) between 2001 and 2014, recovered subsequently (+3.2%/year) until 2019, when it reached 5.3 bcm. In 2019, gas consumption rose by 8.3%, especially in the power sector (+85%, thanks to low wholesale gas prices). According to preliminary statistics, gas consumption remained stable in 2020.
Graph: NATURAL GAS CONSUMPTION (bcm)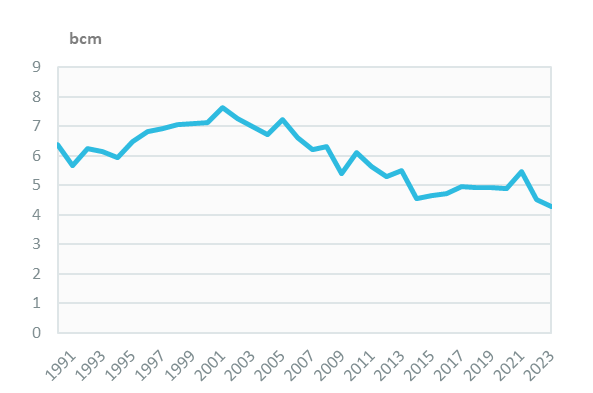 Interactive Chart Slovakia Natural Gas Domestic Consumption
Coal Consumption
Coal and lignite consumption fell by 14% in 2019 to 5.3 Mt, continuing its downward trend since 1990. It halved between 1990 and 2000, decreased by 30% until 2015 to 6.4 Mt and remained broadly stable until 2018.
Coal and lignite consumption from the power sector has been falling since 2000 (-49% between 2000 and 2019, including -16% in 2019) due to successive lignite-fired unit closures.
Graph: COAL CONSUMPTION (Mt)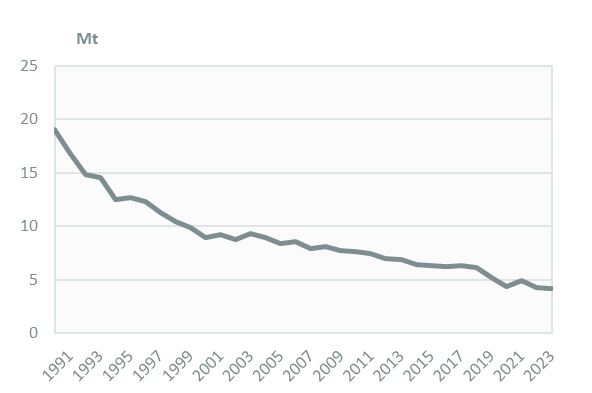 Interactive Chart Slovakia Coal and Lignite Domestic Consumption
Power Consumption
Electricity consumption has increased by an average of 1%/year since 2010, remaining stable in 2018 (-0.5%) and growing by 1.5% in 2019 to 27 TWh. According to preliminary statistics, it declined by 3% in 2020.
Graph: ELECTRICITY CONSUMPTION (TWh)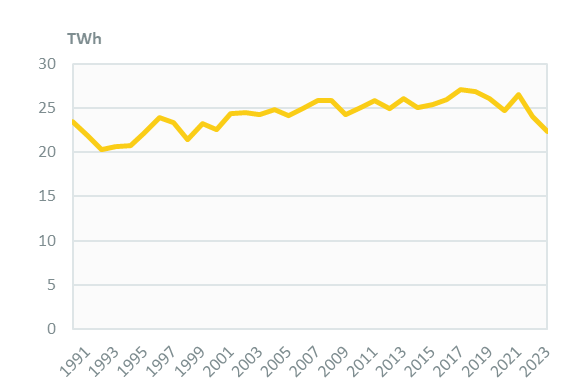 Electricity is mainly consumed by industry (48%), followed by services (27%) and the residential sector (19%) (2019).
Graph: ELECTRICITY CONSUMPTION BREAKDOWN BY SECTOR (9%)
Renewable in % Electricity Production
According to the European Directive on renewables, the national target to increase the share of renewables in final consumption to 14% in 2020 was achieved (17% in 2019), of which 24% was for electricity (22% in 2019), nearly 15% for heating (20% in 2019), and 10% for transport (8.3% in 2019). The NECP aims to raise this share to 19% in 2030, including 27% for electricity, 19% for heating, and 14% in transport.
Interactive Chart Slovakia Share of Renewables in Electricity Production (incl hydro)
CO2 Fuel Combustion/CO2 Emissions
GHG emissions, which declined until 2014 and rebounded until 2018, contracted by 8% in 2019 to 33.8 MtCO2eq (47% below the 1990 level).
In its NDC, Slovakia has a binding GHG emission reduction target of at least 40% by 2030 compared to 1990. By 2030, Slovakia aims to cut its GHG emissions in the ETS sectors by 43% (as other EU members) and those in the non-ETS sectors by 20% compared to 2005 levels.
Shopping cart
Your shopping cart is empty.
Secured payment by