Qatar Energy Information
Population: 2.93 million
GDP growth rate: -4.5 %/year
Energy independence: 100%

Data of the last year available: 2020
Total consumption/GDP:* 84.6 (2005=100)
CO2 Emissions: 27.3 tCO2/capita
Rate of T&D power losses: 5.97%

* at purchasing power parity
View all news, archive your new and create your own daily newsletters only on your topics/countries of interest with Key Energy Intelligence
Total Energy Consumption
The country's total energy consumption per capita is very high at around 15 toe, including 15 100 kWh of electricity (5th highest level for electricity in the world).
The total consumption grew more slowly between 2013 and 2019 (1.5%/year), after very rapid growth between 2000 and 2013 (+10%/year). It decreased by 4% in 2020 to 45 Mtoe. It is distributed between gas (81%) and oil (19%).
Graph: CONSUMPTION TRENDS BY ENERGY SOURCE (Mtoe)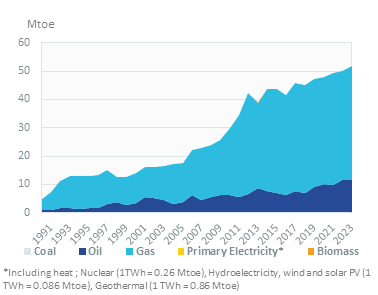 Interactive Chart Qatar Total Energy Consumption
Crude Oil Production
Oil production has remained stable since 2018 (77 Mt in 2020); it had increased up to 2013 (80 Mt). Growth in production was mainly explained by the increase in NGL production (around 50% of the production).
Qatar exports more than 60% (+6% in 2020) of its oil production (crude and NGL), as well as oil products (22 Mt produced, 15 Mt exported in 2020). In 2020, production and exports of oil products suffered a sharp decline due to the Covid pandemic (-9% and -14%, respectively).
Interactive Chart Qatar Crude Oil Production
Oil Products Consumption
Oil consumption increased very rapidly between 2000 and 2012 (12%/year), and then decreased until 2018 due to price adjustments for motor fuels. It has been increasing rapidly since then, pushing consumption up to 8.4 Mt in 2020 (+7% in 2020).
Transport absorbs 45% of consumption, followed by non-energy uses in the petrochemical industry (22%) and energy uses in industry (21%).
Graph: OIL CONSUMPTION (Mt)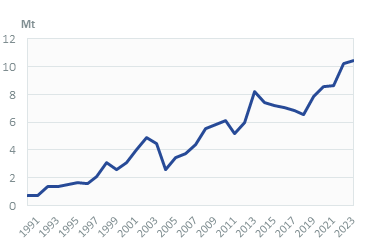 Graph: OIL CONSUMPTION BREAKDOWN BY SECTOR (2020, %)
Interactive Chart Qatar Refined Oil Products Production
Natural Gas Consumption
Natural gas consumption increased extremely rapidly between 2005 and 2012 (9%/year) and has been fluctuating since then with a 5% decrease in 2020. (47.7 bcm).
The oil and gas sector consumes 55% of the total, electricity production 24%, and industry 21% (including non-energy uses).
Graph: NATURAL GAS CONSUMPTION (bcm)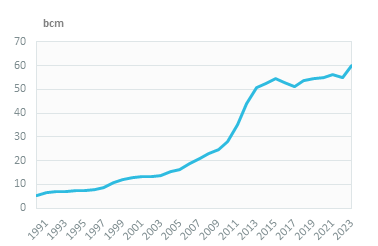 Graph: GAS CONSUMPTION BREAKDOWN BY SECTOR (2020, %)
Interactive Chart Qatar Natural Gas Domestic Consumption
Power Consumption
Electricity consumption ramped up very rapidly between 2000 and 2018 (10%/year on average) with the increasing use of air conditioning and the soaring water desalinisation industry. After a slight decline in 2019 (-3%), it reached around 44 TWh in 2020.
The residential sector accounts for 45% of that consumption and industry and services follow with 28% and 27%, respectively.
Graph: ELECTRICITY CONSUMPTION (TWh)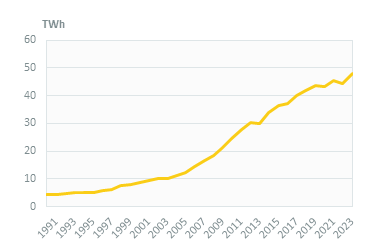 Renewable in % Electricity Production
The country strives to meet 20% of its energy demand from renewable sources by 2030. It initially aimed to reach a solar capacity of 1 800 MW by 2020, for an estimated cost between US$10bn and US$20bn. However, this target will not be reached, as the commissioning of the full 800 MW power plant is scheduled to be connected to the grid in 2022.
Interactive Chart Qatar Share of Renewables in Electricity Production (incl hydro)
CO2 Fuel Combustion/CO2 Emissions
In August 2021, Qatar unveiled its updated first NDC, in which the country pledged to reduce its GHG emissions in 2030 by 25% relative to the BaU scenario
CO2 emissions from fossil fuel combustion have almost quadrupled since 2000, from 24 MtCO2 to 92 MtCO2 in 2019 (+7%/year). In 2020, they dropped by 15%. Qatar's carbon-intensive economy, combined with a low population density, leads to the highest level of per capita emissions in the world (33.3 tCO2/capita in 2019 and27.3 t in 2020).
Graph: CO2-ENERGY EMISSIONS (MtCO2)
Shopping cart
Your shopping cart is empty.
Secured payment by