Morocco Energy Information
Population: 36.5 million
GDP growth rate: 2.20 %/year
Energy independence: 10.3%

Data of the last year available: 2019
Total consumption/GDP:* 87.8 (2005=100)
CO2 Emissions: 1.82 tCO2/capita
Rate of T&D power losses: 18.8%

* at purchasing power parity
View all news, archive your new and create your own daily newsletters only on your topics/countries of interest with Key Energy Intelligence
Total Energy Consumption
Per capita energy consumption is 0.6 toe (around 45% below the North Africa average), including around 900 kWh of electricity (38% below the regional average) (2019).
Graph: CONSUMPTION TRENDS BY ENERGY SOURCE (Mtoe)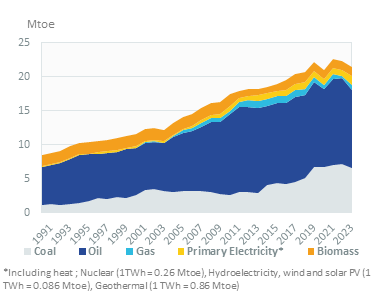 The progression of total energy consumption has slowed since 2010 (+3.1%/year, compared to 4.5%/year over 2000-2010), reaching around 22 Mtoe in 2019.
Interactive Chart Morocco Total Energy Consumption
Crude Oil Production
The national production of hydrocarbons is low. All the oil products are imported since the shutdown of the sole refinery of the country in 2015 (200 000 bbl/d). Oil product imports have increased rapidly since 2015 (+6%/year), to over 13 Mt in 2019.
Interactive Chart Morocco Crude Oil Production
Oil Products Consumption
Oil product consumption increased rapidly between 2000 and 2012 (+5.7%/year, on average), reaching a peak of 12 Mt, and has remained roughly stable since then (12.5 Mt in 2019).
The transport sector consumes 47% of oil products, followed by industry (25%) and the residential-tertiary sector (27%). The share of oil used in the power sector dropped by 10 points since 2010, due to the shift towards coal.
Graph: OIL CONSUMPTION (Mt)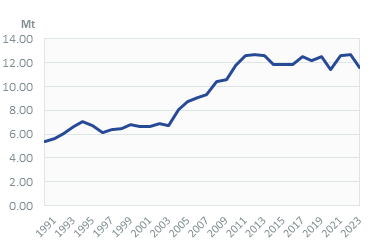 Interactive Chart Morocco Refined Oil Products Production
Natural Gas Consumption
Gas consumption declined slightly between 2017 and 2019, when it reached 1.1 bcm, due to the increased competition of coal in the power sector. It increased significantly between 2005 and 2012, after the commissioning of the Tahaddart and Tarfaya power plants, but remained roughly stable until 2017.
The power sector accounted for 92% of gas consumption in the country in 2019, the rest being consumed by the industrial sector (8%).
Graph: NATURAL GAS CONSUMPTION (bcm)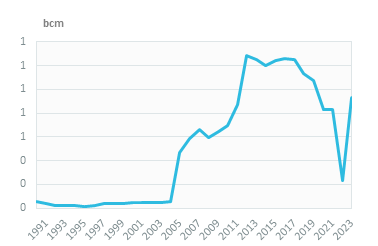 Interactive Chart Morocco Natural Gas Domestic Consumption
Coal Consumption
Coal consumption has surged (+10%/year) since 2014 with the commissioning of new coal power plants, reaching around 10 Mt in 2019 (+30% in 2019 alone). Between 2001 and 2013 it had remained roughly stable (4 to 5 Mt).
Coal is entirely used for power generation.
Graph: COAL CONSUMPTION (Mt)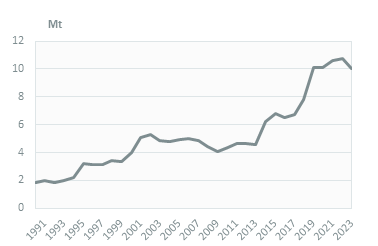 Graph: COAL CONSUMPTION BREAKDOWN BY SECTOR (2019, %)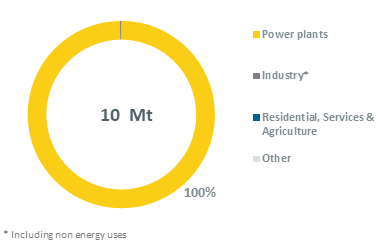 Interactive Chart Morocco Coal and Lignite Domestic Consumption
Power Consumption
Electricity consumption more than doubled between 2000 and 2012 with the implementation of the electrification program (+6.5%/year, on average). The progression was much slower between 2012 and 2017 (+2.7%/year) and electricity consumption has remained broadly stable at around 33 TWh since then.
Households are the largest electricity consumers (36% in 2019), followed by industry (33%) and services (19%).
Graph: ELECTRICITY CONSUMPTION (TWh)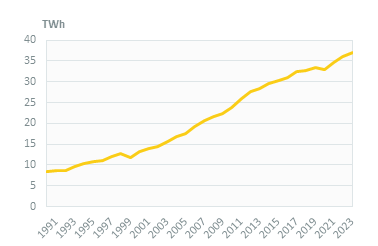 Renewable in % Electricity Production
Masen, the Moroccan Agency for Sustainable Energy, was established in 2010 to manage developments of solar power. Its responsibilities were extended in 2016 to coordinate all renewable energy projects, including wind and hydro. ONEE and AMEE will gradually transfer to Masen all projects and assets related to renewables over a transitional period of 5 years.
Interactive Chart Morocco Share of Renewables in Electricity Production (incl hydro)
CO2 Fuel Combustion/CO2 Emissions
Morocco ratified the Paris Agreement in 2016 and submitted its NDC, which sets an unconditional target of 17% in greenhouse gas (GHG) emissions reduction below BAU by 2030. The country will have to invest US$24bn to reach this goal. Morocco could commit to an additional 25% target on condition of international financial support of around US$26bn. The action plan consists of 55 options, 70% of which is in the energy sector. Achieving the 42% reduction in GHG emissions by 2030 implies reaching 52% of power capacity from renewables and reducing energy consumption by 15% by 2030.
Shopping cart
Your shopping cart is empty.
Secured payment by