Indonesia Energy Information
Population: 271 million
GDP growth rate: 5.03 %/year
Energy independence: 100%

Data of the last year available: 2019
Total consumption/GDP:* 62.9 (2015=100)
CO2 Emissions: 2.20 tCO2/capita
Rate of T&D power losses: 7.98%

* at purchasing power parity
View all news, archive your new and create your own daily newsletters only on your topics/countries of interest with Key Energy Intelligence
Indonesia Related Research
Total Energy Consumption
Total consumption per capita is 1 toe, while electricity consumption per capita is 906 kWh (2019).
Total energy consumption has increased by 3.1%/year since 2013.
Oil is the country's dominant source of energy, providing 31% of the total (2019), but its market share is decreasing (35% in 2012). Coal comes second with 28%, while gas accounts for 17%, biomass for 13%, and geothermal and hydro for 11% (2019). The share of coal is increasing (+15% points since 2012), largely at the expense of oil.
Graph: CONSUMPTION TRENDS BY ENERGY SOURCE (Mtoe)
Interactive Chart Indonesia Total Energy Consumption
Crude Oil Production
After decreasing 44% between 2000 and 2015 from a peak of 70 Mt, oil production has remained relatively stable since 2015 (37 Mt in 2019) due to the depletion of the main fields and the lack of investments. Indonesia became a net importer of crude oil in 2006. Net imports reached 23 Mt in 2019 (of which 13 Mt for crude oil).
The total refining capacity is 1.2 mb/d at end-2019, of which 97% is distributed among 5 large refineries: Cilacap (348 kb/d), Balikpapan (260 kb/d), Dumai (127 kb/d), Musi (127 kb/d), and Balongan (125 kb/d).
Interactive Chart Indonesia Crude Oil Production
Oil Products Consumption
Oil product consumption rebounded between 2016 and 2018 (+8%/year), catching up with the growth between 2009 and 2012; it declined by 3% in 2019 to 76 Mt.
Transport absorbs 66% of that consumption; the remainder goes to the hydrocarbon sector, the residential, services and agriculture sector (13%), industry (13%), electricity production (5%), and other uses (3%).
Graph: OIL CONSUMPTION (Mt)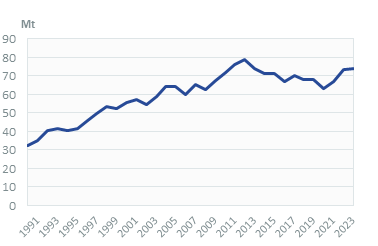 Graph: OIL CONSUMPTION BREAKDOWN BY SECTOR (2019, %)
Interactive Chart Indonesia Refined Oil Products Production
Natural Gas Consumption
Natural gas consumption remained stable in 2019 (44.5 bcm), after a rapid increase in 2018 (+12%) and relative stability over 2010-2016.
The hydrocarbons sector, in particular the oil and gas extraction and the liquefaction plants, absorbs a large fraction of the consumption (26%); the weight of industry is 43%, while power plants account for 31%.
Graph: NATURAL GAS CONSUMPTION (bcm)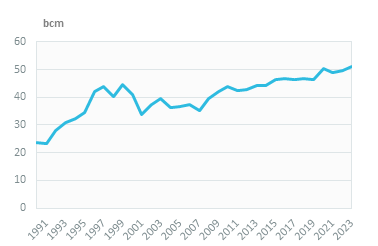 Graph: GAS CONSUMPTION BREAKDOWN BY SECTOR (2019, %)
Interactive Chart Indonesia Natural Gas Domestic Consumption
Coal Consumption
Consumption of coal and lignite is rising very rapidly (+14%/year since 2013. It reached 144 Mt in 2019 (of which 95% was lignite).
The electricity sector accounts for around 68% of coal and lignite consumption and the remainder goes to industry.
Graph: COAL CONSUMPTION (Mt)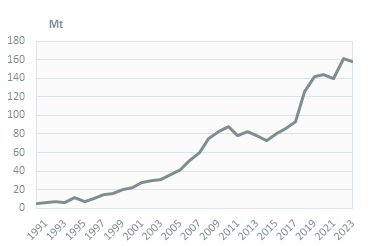 Graph: COAL CONSUMPTION BREAKDOWN BY SECTOR (2019, %)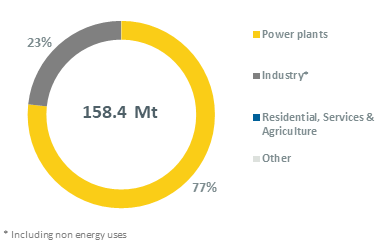 Interactive Chart Indonesia Coal and Lignite Domestic Consumption
Power Consumption
Electricity consumption increased very rapidly up to 2018 (+7.2%/year over 2010-2018) and rose slightly in 2019 to 260 TWh.
The industry sector accounted for 36% of the consumption, households for 39%, and services for 24% (2019).
Almost all households are electrified (99% in 2019, up from 28% in 1990 and 86% in 2000).
Graph: ELECTRICITY CONSUMPTION (TWh)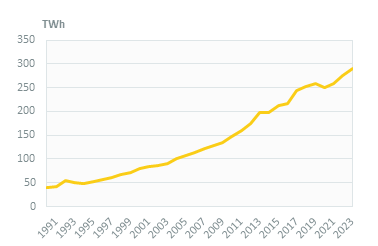 Graph: ELECTRICITY CONSUMPTION BREAKDOWN BY SECTOR (2019, %)
Renewable in % Electricity Production
EBTKE, the Directorate General (DG) for New Energy, Renewable and Energy Conservation, focuses on renewables in power generation, whereas the DG of Electricity sets the FiT and the ceiling price for power from renewable sources.
The national energy policy revision (Regulation No. 79/2014) sets a target of 23% of renewables in the total primary energy supply by 2025 (excluding traditional biomass). The RUKN 2019-38 sets a target of 23% of total power capacity from renewables by 2025 (equivalent to about 41 GW) and at least 28% in 2038.
Interactive Chart Indonesia Share of Renewables in Electricity Production (incl hydro)
CO2 Fuel Combustion/CO2 Emissions
In its first NDC, Indonesia has committed to reducing GHG emissions by 29% by 2030 (conditional target of 41% if global agreements are reached such as bilateral co-operations, technology development and transfer, financial help, etc.).
CCNCT, Climate Change National Coordination Team, was established in 2012 under BAPPENAS to develop and implement national and provincial action plans, coordinate NAMAs, and oversee MRV systems.
Shopping cart
Your shopping cart is empty.
Secured payment by