Congo Energy Information
Population: 5.38 million
GDP growth rate: -0.6 %/year
Energy independence: 100%

Data of the last year available: 2019
Total consumption/GDP:* 184 (2015=100)
CO2 Emissions: 0.53 tCO2/capita
Rate of T&D power losses: 42.9%

* at purchasing power parity
View all news, archive your new and create your own daily newsletters only on your topics/countries of interest with Key Energy Intelligence
Total Energy Consumption
Energy consumption per inhabitant is 0.6 toe (0.2 toe without biomass), in line with the Sub-Saharian Africa average, including 290 kWh of electricity (2019), i.e. around 20% below the regional average.
Graph: CONSUMPTION TRENDS BY ENERGY SOURCE (Mtoe)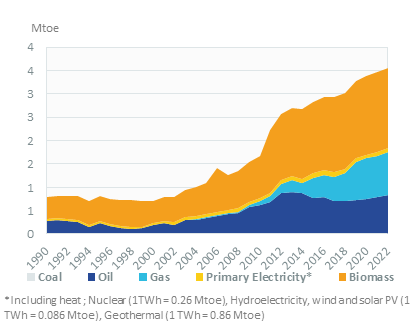 Graph: TOTAL CONSUMPTION MARKET SHARE BY ENERGY (2019, %)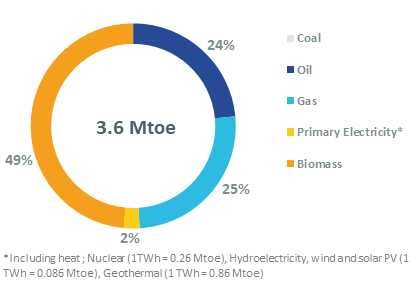 Interactive Chart Congo Total Energy Consumption
Crude Oil Production
Oil production increased slightly to 17.5 Mt in 2019 (+2.2%) after the 22% rise in 2018 due to the commissioning of several new fields (Moho Nord deep offshore, Lianzi and Nené Marine). Production had previously been decreasing between 2010 and 2016, following a rapid increase between 2007 and 2010 (+12%/year) with the start of several fields: the first deep offshore field, Moho Bilondo, in 2008 (90 000 bbl/d), the Awa-Paloukou and Ikalou-Ikalou fields (peak production of 13 000 bbl/d for the two fields) in 2008, and the Azurite field (40 000 bbl/d) in 2009.
Interactive Chart Congo Crude Oil Production
CO2 Fuel Combustion/CO2 Emissions
CO2 emissions from fuel combustion surged between 2002 and 2015, by 15%/year on average, and have decreased since then due to fuel shortages, reaching around 2.9 Mt in 2019. Most of the increase came from industry (+31%/year over 2002-2019), which now accounts for 52% of CO2 emissions (3% in 2002), overtaking transport (+7%/year over 2002-2019 to 47% of emissions in 2019, from 83% in 2002).
Graph: CO2-ENERGY EMISSIONS (MtCO2)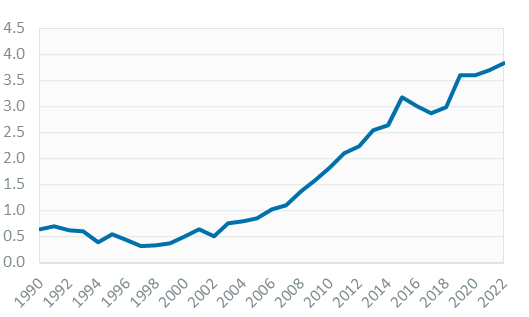 Shopping cart
Your shopping cart is empty.
Secured payment by