Uzbekistan launches a tender for 500 MW of solar capacity
The National Grid of Uzbekistan has initiated an auction for the construction of several solar power plants in the Namangan, Bukhara and Khorezm regions; the solar projects will have a combined capacity of 500 MW and will be developed by independent power producers (IPPs) on a build–own–operate–transfer (BOOT) basis. National Grid of Uzbekistan is holding a pre-qualification phase for interested developers runs until 29 November 2021.
Solar accounts for less than 1% of the country's installed capacity, with 4 MW. More than 380 MW of solar capacity are currently under construction, and 860 MW under development. Uzbekistan, which aims to deploy 5 GW of solar capacity by 2030, plans to launch a second tender at a later stage for 400 MW of solar capacity across the Kashkadarya and Fergana regions. In August 2021, Masdar inaugurated its 100 MW Nur Navoi solar project in Uzbekistan, the first IPP solar project in the country, which is expected to be fully operational by the end of 2021. In addition to this solar project, Masdar is developing two 220 MW solar projects to be built under public-private partnerships (PPPs) in the Jizzakh and Samarkand region, and the group has been selected to build a 457 MW solar plant in the Sherabad district in a tender for a 200 MW solar PV project.
---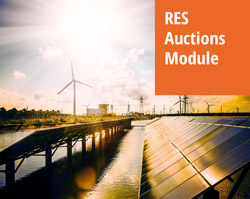 Discover our very detailed and regularly updated RES auctions database with worldwide coverage and a technical focus backed by academic research.
With our renewable energies auctions service you will be able to monitor auctions at a global level. Its (expanding) scope notably includes all major G20 countries and offers an especially fine tracking on Europe and South America.