Uzbekistan initiates tender for 1.1 GW of renewables capacity
The Uzbek Ministry of Energy has launched a tender for renewables projects totalling 1,100 MW, including 500 MW of solar in Bukhara, Khorezm and Namangan regions, 400 MW solar in Kashkadarya and Fergana regions and 200 MW of wind in the Republic of Karakalpakstan. In May 2020, the country unveiled, with the EBRD's support, a low carbon energy strategy, which emphasises the development of power sources with low-carbon emissions, including solar, hydro, wind and nuclear. Uzbekistan also aims at reducing its reliance on gas-fired power generation to 50% by 2030, and at raising the shares of nuclear, solar and wind power to 15%, 8% and 7%, respectively. Under a 10-year plan for power provision decided in partnership with the Asian Development Bank and the World Bank, the country plans to add up to 30 GW of new power capacity by 2030, including 5 GW of solar energy, 3.8 GW of hydropower, up to 3 GW of wind and 2.4 GW of nuclear power.
---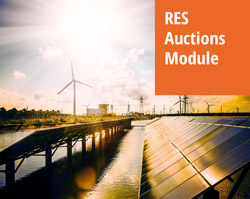 Discover our very detailed and regularly updated RES auctions database with worldwide coverage and a technical focus backed by academic research.
With our renewable energies auctions service you will be able to monitor auctions at a global level. Its (expanding) scope notably includes all major G20 countries and offers an especially fine tracking on Europe and South America.