Uzbekistan aims to tender 400 MW of solar capacity by end-2021
Uzbekistan will announce two new tenders for 400 MW of solar capacity and three tenders for over 400 km of power transmission lines by the end of 2021. The country also intends to award a 200 MW wind project in 2022. Uzbekistan aims to deploy 5 GW of solar capacity by 2030 and has launched several tenders for energy projects since 2019, including 1 GW of solar PV projects over the 2019-2025 period. Solar currently accounts for less than 1% of the country's installed capacity, with 4 MW. More than 380 MW of solar capacity are currently under construction, and 860 MW under development.
In addition, the Asian Infrastructure Investment Bank (AIIB) has approved a US$100m loan to ACWA Power Sirdarya to support the construction of the 1,500 MW Sirdarya CCGT power project in Uzbekistan. In April 2021, Mitsubishi Power was selected to supply two M701JAC gas turbines for the project. China Ghezouba Group won the EPC (engineering, procurement, and construction) contract for the power plant, and construction started in January 2021. The project will have an efficiency rate of over 60% and an approximate worth of US$1.2bn.
---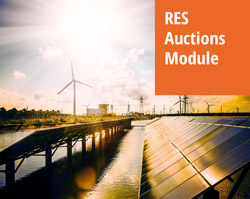 Discover our very detailed and regularly updated RES auctions database with worldwide coverage and a technical focus backed by academic research.
With our renewable energies auctions service you will be able to monitor auctions at a global level. Its (expanding) scope notably includes all major G20 countries and offers an especially fine tracking on Europe and South America.