Spain will auction 500 MW of renewable capacity in April 2022
Spain has launched a public consultation on its third renewables auction planned for April 2022 and that will offer 500 MW of renewable capacity, including 200 MW for thermoelectric solar (CSP), 140 MW for distributed solar photovoltaic (PV), 140 MW for biomass, and 20 MW for other technologies. The auction, which will the third under the mechanism for the 2020-2025 period, is expected to be held on 6 April 2022. Under the new auction systems, developers will bid on the price they will charge their power generation, with some exposure to the market price: CSP projects, biomass and biogas projects will secure 20-year contracts with a 15% market exposure, while solar PV and other projects will secure 12-year contracts with a 5% market exposure. The selected solar projects will have two years to be built from the date of awards, while the rest of the projects should be constructed within 4 years.
---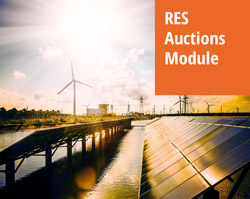 Discover our very detailed and regularly updated RES auctions database with worldwide coverage and a technical focus backed by academic research.
With our renewable energies auctions service you will be able to monitor auctions at a global level. Its (expanding) scope notably includes all major G20 countries and offers an especially fine tracking on Europe and South America.