Spain awards 3.1 GW of wind and solar in its 4th renewable tender
Spain has awarded 2,258 MW of wind and 866 MW of solar as part of its fourth renewables power auction. In total, 95% of the 3.3 GW on offer was allocated, with a weighted average price of €31.65/MWh for solar PV and €30.18/MWh for wind. Capital Energy secured 1,540 MW of wind and 8 MW of solar, followed by Forestalia Renovables with 576 MW of wind and 200 MW of solar, Naturgy with 221 MW of solar, and Repsol with 138 MW of wind. Iberdrola and Endesa did not bid in the auction. A 600 MW tranche of wind and solar projects must be commissioned by the end of September 2022. Onshore wind projects should enter commercial operations by the end of June 2024, while solar projects have to be commissioned in 2023.
In November 2020, the Spanish Council of Ministers approved a decree establishing a new regulatory framework for renewable energy auctions, the Economic Renewable Energy Regime (Régimen Económico de Energías Renovables, REER). The text creates a "pay as bid" system in which bids will be submitted sealed, and the winners will receive different prices based on their offers. The new scheme allows hybridisation between technologies, the expansion and modification of existing plants and will be compatible with electricity storage.
---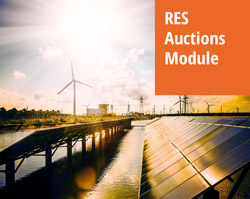 Discover our very detailed and regularly updated RES auctions database with worldwide coverage and a technical focus backed by academic research.
With our renewable energies auctions service you will be able to monitor auctions at a global level. Its (expanding) scope notably includes all major G20 countries and offers an especially fine tracking on Europe and South America.