Serbia's Ministry of Mining and Energy has launched a public call to select a partner to install 1 GW of solar power plants in the country, alongside at least 200 MW of battery storage capable of storing a minimum of 400 MWh. The deadline to file offers is set for 20 September 2023.
In May 2023, the Government of Serbia initiated the procedure for selecting a contractor to build the facilities and hand them over under a turnkey deal to the state-owned power utility Elektroprivreda Srbije (EPS). In July 2023, Serbia adopted a decree that defines the content and the process of implementation of the public call, the criteria for participation and the evaluation of bids as well as the method of choosing the strategic partner. The selected company will be tasked with operating and maintaining the solar power plants and energy storage units for two years.
In June 2023, Serbia launched its first renewable energy auction seeking to award 400 MW of wind projects and 50 MW of solar projects, to be supported through a 15-year contract for difference (CfD). The tender was the first round in Serbia's three-year auction plan seeking to develop 1.3 GW of renewable capacity (1 GW of wind and 300 MW of solar).
As of end-2021, Serbia had less than 400 MW of wind power and only 52 MW of installed solar capacity, representing less than 6% of its total capacity. The country, which commissioned its largest solar plant yet (10 MW) in April 2023, currently has 1.8 GW of solar and 5.5 GW of wind capacity under development.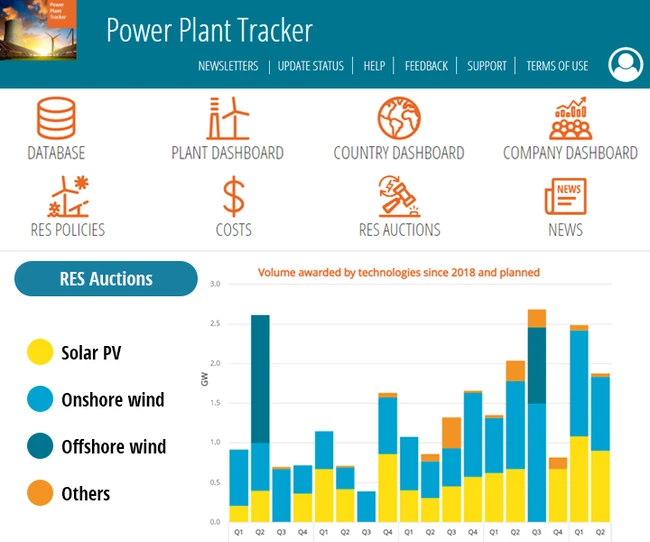 Discover our very detailed and regularly updated RES auctions database with worldwide coverage and a technical focus backed by academic research.
With our renewable energies auctions service you will be able to monitor auctions at a global level. Its (expanding) scope notably includes all major G20 countries and offers an especially fine tracking on Europe and South America.